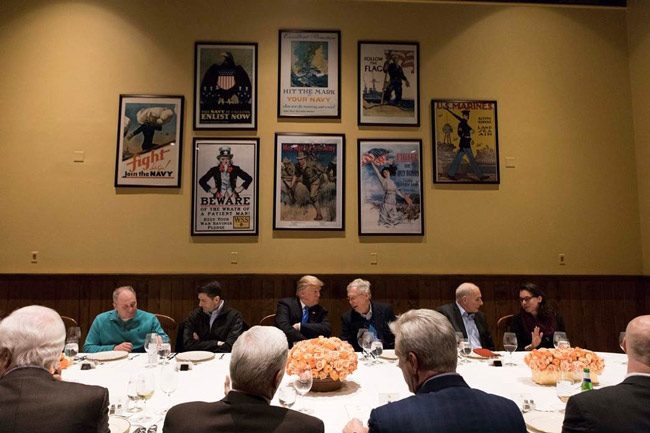 Gov. Rick Scott on Thursday blasted President Donald Trump for reportedly disparaging Haiti, El Salvador and Africa during a bipartisan White House meeting about immigration reform.
According to several news outlets, including The Washington Post, The New York Times and the Los Angeles Times, Trump reportedly questioned why the United States should accept immigrants from "shithole countries" like Haiti, El Salvador and countries in Africa, and singled out Haiti in particular, asking: "Why do we want people from Haiti here?" Last year The New York Times reported that Trump claimed of Haitians that ":they all have AIDS," though the White House denied he said that.
The president's comments immediately sparked outrage, especially from critics in Florida, which is home to more Haiti-born residents than any other state.
"If this report is true, it is absolutely wrong to say or think this. I do not think this way, nor do I agree with this kind of sentiment. I represent Florida, and we are an amazing melting pot where over 250 languages are spoken," Scott said in a statement.
The governor, a close ally of Trump, frequently visits the president and lunched with him less than two weeks ago at Trump's Mar-A-Lago estate in Palm Beach.
Florida state Sen. Daphne Campbell, a Haiti-born Democrat who lives in Miami-Dade County, quickly jumped on Trump's remarks Thursday evening, issuing a press release calling on Scott to denounce the "racist comments."
"The president's ongoing war against immigrants appears to be solely directed toward those immigrants of color," Campbell said. "I am appalled and disgusted that the man who stands as the symbol of a nation once offering refuge and sanctuary to all immigrants is doing his best to say: 'non-whites need not apply.' Governor Scott needs to denounce these remarks immediately on behalf of the people of Florida."
Trump's remarks are certain to further inflame Haitians already angered by his decision to rescind Temporary Protected Status, or TPS, for refugees from the island. The policy change could affect nearly 60,000 Haitians who fled to the U.S. following a devastating earthquake in 2010.
Scott's office issued the statement from the governor, a Republican who is widely expected to run this year against Democratic U.S. Sen. Bill Nelson, when asked for a response to Campbell's demand.
"I work every day to make this the most welcoming state for everyone — Haitians, Cubans, Venezuelans, and others from all around the world that call Florida home. I'm incredibly proud of our diversity," Scott said in the statement.
Many news outlets reported Trump's remark explicitly. The Washington Post, first to report it, used the president's most vulgar word in its headline, as did NBC and CNN in their online stories. An ABC News anchor warned viewers before using the word. It wasn't long before the word started taking on the sheen of a badge: just as Republicans embraced Hillary Clinton's "deplorables" slur during the 2016 campaign, Trump opponents began using his designation of poorer countries against him: ""I'm a proud shitholer!" CNN's Phil Mudd, who is of Irish and Italian descent, said on the Situation Room with Wolf Blitzer. "In the 1940s, we called people traitors because they came from a shithole country we call Japan. And we're ashamed."
Phil Corbett, the associate managing editor for standards at The New York Times, told the Post in an emailed statement: "The specific, vulgar language the president was reported to have used was really central to the news here. So it seemed pretty clear to all of us that we should quote the language directly. We wanted to be sure readers would fully understand what the story was about."
The News Service of Florida's story was sent to subscribers with the word dashed rather than reproduced whole ("s—hole countries"). FlaglerLive's policy is to not sanitize the vulgarities of public officials, however offensive.
–News Service of Florida and FlaglerLive