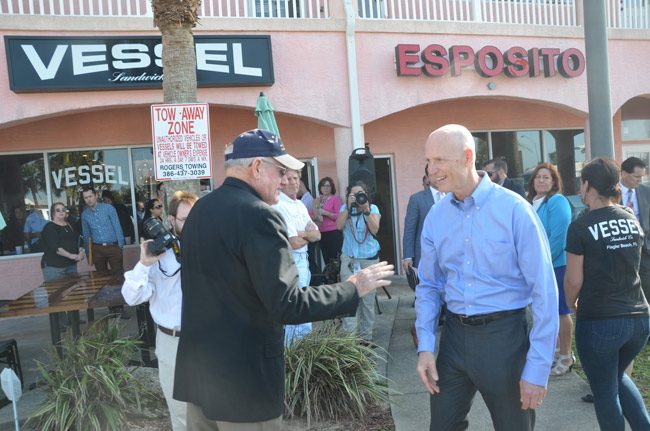 Gov. Rick Scott continued Monday to criticize legislative budget-slashing of the state's tourism marketing as he announced a record-setting quarter of visitors to Florida.
Still, Scott hasn't indicated what he'll do with a new $82.4 billion state budget when it lands on his desk. Scott has the power to veto all or parts of the budget, which lawmakers passed last week for the fiscal year starting July 1.
Scott requested $100 million for the tourism-marketing agency Visit Florida, but lawmakers approved only $25 million.
"In business, you would never stop marketing when you start to see great results," Scott said in a prepared statement. "Instead of decimating funding to Visit Florida, we should be investing in tourism marketing so we can continue to bring record visitors to our state."
Florida drew 31.1 million visitors during the first three months of the year, the highest number during any quarter in state history, according to the governor's office.
A year earlier, the state estimated 29.8 million visitors during the first three months.
Florida's tourism numbers were bolstered by a 3.2 percent increase in domestic travelers from the first quarter of 2016. People from other U.S. states accounted for 27 million of Florida's visitors during the first three months of this year.
Meanwhile, Florida attracted 2.2 percent fewer Canadians — due in part to a weaker Canadian dollar — in a comparison to the first three quarters of 2016, and overseas visitors dropped by 1.8 percent in the same time. Both are trends that have been underway for more than a year.
A good showing in December aside, when year-over-year tourism tax receipts jumped 18 percent, Flagler County has done less well, and not necessarily because of Hurricane Matthew: The county's tourism tax revenue has fallen, in comparison with the previous year, seven of the last 11 months since last May. And although it rose in December and January, it fell by almost 11 percent in February and by 3 percent in March. Overall this year, with six months counted, it's almost 1 percent behind tax receipts last year, when revenue increased by 2.8 percent.
The tourists flocking to Florida during the winter and early spring came as Scott publicly clashed with House leaders over the future of the public-private agencies Visit Florida and Enterprise Florida, which handles the state's business-recruitment efforts.
The budget does not include business-incentive money Scott sought for Enterprise Florida and substantially cut the money for tourism marketing.
Visit Florida, which has faced media scrutiny because of some controversial contracts, received $78 million for tourism marketing during the current fiscal year, which ends June 30.
Scott, who traveled to Jungle Island in Miami on Monday to announce the first-quarter numbers, called the reduced funding for next fiscal year "shortsighted."
Visit Florida President and CEO Ken Lawson said in a release from the governor's office that, at the proposed funding level, his agency won't be able to compete for tourists against California and Texas.
Scott attributes the growth in the number of tourists — from 87.3 million in 2011 to nearly 113 million last year — to a spike in state spending on marketing.
Visit Florida received $35 million from the state in 2011, Scott's first year in office, as Florida was slowly recovering from the recession.
House Speaker Richard Corcoran, a Republican from Land `O Lakes, contends people are driven to travel more by their personal finances than by state marketing.
Corcoran and other members of the Legislature from both parties have also pounced on questionable spending and management operations the past couple of years at Visit Florida.
The agency's marketing efforts have included $11.6 million to sponsor a cooking show hosted by celebrity chef Emeril Lagasse; $1 million to contract with rapper Pitbull as a state ambassador; $1.25 million this year to sponsor London-based Fulham Football Club; and $2.9 million to sponsor an IMSA racing team.
Also, Visit Florida has drawn fire in recent days because of a contract with a German advertising firm that included marketing Florida to travelers from Syria.
The Naples Daily News, which first reported the contract information, said the contract was replaced with new paperwork that did not include Syria, which is on the U.S. Department of State list of state sponsors of terrorism.
–Jim Turner, News Service of Florida, and FlaglerLive