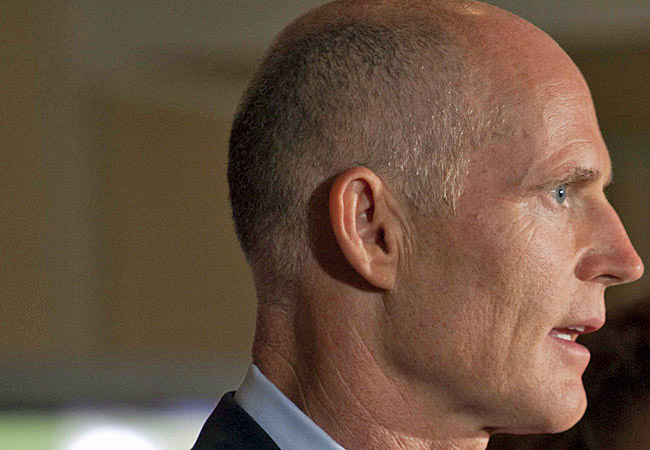 Gov. Rick Scott issued a statement Tuesday that some read as a veiled threat to the Monroe County supervisor of elections, escalating a conflict over early-voting days in the run-up to the November elections.
Harry Sawyer, the Republican supervisor in Monroe, said Monday he didn't support an effort by Secretary of State Ken Detzner to get federal approval for Monroe and four other counties to reduce the number of early-voting days from as many as 14 to eight. Because of a history of racial or language discrimination, those counties must get "preclearance" from the U.S. Department of Justice or a federal court for any changes to voting policies.
The Legislature in 2011 passed a law that included reducing the number of early-voting days statewide, but a three-judge federal court last week rejected that change in the preclearance counties. The panel, however, said it could likely approve a reduction in the number of voting days if all five counties agreed to keep offices open for 12 hours on each of the eight days, which would maintain the same number of hours for voting.
"There is an easy and clear path for the five supervisors of elections to comply with their legal duties under both state and federal law," Scott said in the statement. "I applaud the four supervisors who have unequivocally stated that they will adopt an early voting plan that allows 96 hours of early voting from 7 a.m. to 7 p.m. … Moving forward, I will continue to take all necessary and appropriate action to ensure that the laws are faithfully executed, that supervisors are fulfilling their duties, and that the voters of this state have free and fair elections."
That was interpreted by some as a threat to remove Sawyer if he doesn't go along with the state's plan to try to get preclearance for the changes.
In a follow-up email, a spokesman for Scott said Sawyer was refusing to do what he needed to in order to implement the new law.
"Four of the five supervisors have stepped up and submitted a plan (consistent with the court's recommendation to allow 96 hours of early voting), to obtain preclearance," spokesman Brian Burgess wrote. "It remains to be seen whether or not Monroe County's supervisor of elections will step up and faithfully carry out the duties of his office."
Sawyer believes the number of early-voting days is more important than the number of hours, a stance he reiterated Tuesday. But Sawyer also said he will go along with the law if the state prevails in court.
"I have yet to say, and I will not say, that I will not follow what the district court in Washington says," Sawyer said in an interview late Tuesday.
Democrats, who have largely opposed a reduction in early voting days as an attempt to discourage black voters from turning out, slammed the statement.
"I strongly urge the governor to clarify or retract any remarks that would suggest he would remove the supervisor, who is set to soon retire, for simply carrying out his constitutional duties and responsibilities to voters," said outgoing House Minority Leader Ron Saunders, D-Key West, who represents Monroe.
Sen. Arthenia Joyner, D-Tampa, said Scott "should be ashamed of himself" for issuing the statement.
"Republican Governor Rick Scott's actions and implied threat to remove the Monroe County Supervisor of Elections — who he considers an obstacle to his voter suppression goals — are a slap in the face to all people who believe in free and fair elections," Joyner said. "And he continues to govern as if the state is his very own Florida Inc., and he's the CEO."
–Brandon Larrabee, News Service of Florida