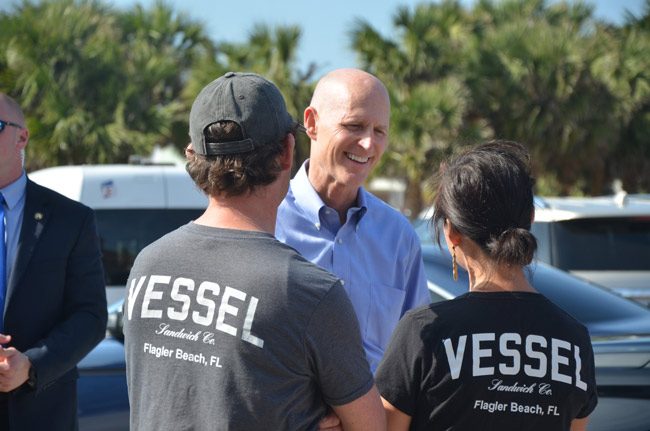 Gov. Rick Scott had it in for Rep. Paul Renner during a visit to a Flagler Beach sandwich shop this afternoon as Scott repeatedly berated Flagler County's representative in the Florida House for introducing a bill that would essentially end Visit Florida and Enterprise Florida. One is the state's $76 million tourism marketing arm, the other a $34 million public-private partnership designed to fuel economic development through incentives to private industry.
Scott's visit, his fifth to Flagler County since October but his first designed to save two of his signature initiatives rather than to highlight benefits broadly and directly beneficial to the county, was par of a tour around the state on behalf of Visit Florida and Enterprise Florida. Flagler Beach was his third stop today, after Fort Myers and Cape Coral. The stop had the feel of a campaign event, complete with sallies at his opponents, especially Renner, and the echoes of surrogates, who surrounded Scott inside the small vessel Sandwich shop on 2nd Street.
As at campaign rallies, the truth was often stretched.
"I was shocked last week. Your local state rep, Paul Renner, presented a bill at a House committee to completely eliminate Visit Florida, Enterprise Florida," Scott said. "Has anybody run for office said, you know what? I'm trying to get less jobs. No. They all go vote for me, I'm for lower taxes and more jobs. They all do. But your politicians in Tallahassee today are saying, in your area, they don't need more jobs. That's exactly what Representative Paul Renner said. He said, I will sponsor the bill to eliminate marketing for tourists. He sponsored the bill to do that and to get rid of Visit Florida."
Of course, that's not what Renner said. "I'm absolutely for job creation and for prosperity in Flagler County, but I support that for everyone, not a privilege few who already have a healthy balance sheet," Renner said by phone after Scott's rally, which had been choreographed to maximize his message before unquestioning television cameras. (Renner had been in meetings in Tallahassee until late afternoon.)
Of Visit Florida, the discussion is different, Renner said. "Their biggest challenge has been a challenge of accountability," he said, citing the $1 million, secret contract that went to Pitbull, the multimillionaire rapper, and other issues of secrecy (Visit Florida staffers' salaries are not public, for example, as all other public employees' salaries are). "You just really can't do that when you're talking about the public's money." He brushed aside being singled out by name by Scott or his constituents. "I'm doing my best to really stick to the issues," Renner said. "My leadership style comes from my time in the military, it's about service over self, which means personality and names never comes into it."
Kurt Allen, the general manager at Marineland Dolphin Adventure, said from within the Vessel shop that he didn't have money to market the attraction in Europe, but coalitions can achieve that marketing, among them the sort of leverage that Visit Florida provides. Then he too joined the chorus against Renner: "This is ridiculous that a guy in our own backyard is putting this bill together," Allen said.
Allen was one of several people Scott passed the mic to, though four of them turned out to be members of the local Tourist Development Council (the Flagler version of Visit Florida), there of whom, Allen among them, did not identify themselves as members of that board. The exception was Pam Walker, the travel writer. A fifth individual who spoke was from the Jacksonville Tourist Development Council. And two other people who spoke run a video company that shoots for Visit Florida, and without whose contracts, they were candid to say, their business would be at risk of dissolution.
Among the few business owners who spoke was Sara Hale of Coastal Cloud, one of the county's sharpest recent success stories, whose Hammock headquarters Scott himself dedicated in a visit in 2013. Hale spoke in defense of Enterprise Florida's incentives "that made us want to start our headquarters here." Coastal Cloud in the end did not actually take advantage of the incentives, Hale acknowledged in a brief interview later, but the same incentives had nevertheless been a beneficial magnet for the company, as was what Hale referred to as the ecosystem that provided other substantial benefits–the community's embrace of the new company, highlighted through the local economic development department and the governor's visit, which immediately drew upwards of 300 resumes, among others.
Scott's previous four visits to the county had been hurried stops with quick sound bytes for the cameras and a few conversations with local officials. This afternoon, he spoke, heard supporters' backing and lingered inside Vessel for almost an hour before driving on. Those who hadn't been able to fit inside, including numerous county and city officials and business owners, stood warming themselves in the sun, in a rough, wide semi-circle around the entrance to Vessel, listening to Scott and friends through a speaker a county staffer had set up outside. As his final words Scott urged his listeners to make their opposition to the Renner bill known in calls and emails.
Scott at one point had used the very words that Renner would in the interview an hour later: "This is not our money." Renner made the point to say that the money being spent on the two programs in question is not producing the sort of return on investment the programs' backers claim it is, nor are the programs fair as economic policy.
"These incentives run afoul of fundamental principles of fairness and that is a fight that I don't intend to back down from," Renner said, noting that the government shouldn't be in a position to pick winners and losers in the economy, but rather building an infrastructure–through roads, education, the environment–that make the state an irresistible destination for business and tourism regardless. "If we get the big things right, and many things Florida is doing and the governor has done are moving us in the right direction, but if we get things right then Florida will be a permanent incentive, not one that will expire when the incentives expire."