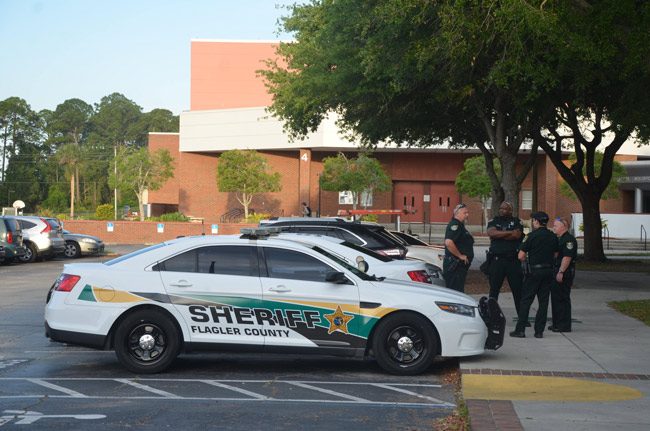 The Flagler County School Board agreed to an $811,000 contract with the Flagler County Sheriff's Office to continue providing at least one deputy in all 10 public schools next year. The figure is only part of the roughly $1.7 million cost of complying with state law's requirement that every school have either a law enforcement officer or an armed and trained civilian staff member the state calls a "guardian."
The school board's share includes almost $100,000 for nine school crossing guards. It does not include about $110,000 that Palm Coast contributes for the school resource deputy program. Nor does it include an additional $50,000, if not more, from the school board to cover its share of the cost for a deputy at Imagine School at Town Center, and overtime costs. (Those costs were $30,000 last year, less than $7,000 of which was billed to the district.)
The balance of the cost is expected to be picked up by the Flagler County Commission, following the same arrangement in effect currently. The two governments and the sheriff agreed to the sharing formula last year after a few disagreements.
"We want to make sure we're doing our fair share but not more than our fair share," County Commissioner Dave Sullivan said. Fellow-Commissioner Greg Hansen said he expected the formula this year to replicate last year's, though the county is facing some budget pressures.
The relationship between the agencies since has been particularly collegial, drawing the attention of the state public safety commission established after the massacre at Marjory Stoneman Douglas High School in February 2018.
Commission members contrasted Flagler's intergovernmental cooperation with other counties where relationships have not been as smooth, largely because of disagreements over which agency should pay what. Florida law places the entire responsibility for school security on school boards. "It's our responsibility to ensure that an SRD or a guardian if we were going in that route is assigned to the school, that is our obligation," School Board Attorney Kristy Gavin said. Districts commonly but not always easily work out arrangements with counties and cities to share costs. "They kind of look at our situation as a good one," Flagler Superintendent Jim Tager said.
Some districts combine armed civilians in some schools with law enforcement in others. Flagler has chosen to forego the armed civilian option. The state still has $67 million left over from last year for that armed civilian program. But the money may be used only for training. Districts are still responsible for assuming the cost of recurring pay.
This year, the district and the sheriff tentatively agreed to the new contract on April 3. The school board ratified the contract with minor adjustments to reflect its financial responsibility for the charter school on April 16. The 2019-20 contract reflects a 2.7 percent cost increase in line with pay increases.
At a workshop last week where the sheriff's Chief Mark Strobridge and the district's Earl Johnson presented the contract to the school board, discussion shifted to two issues related to law enforcement in school: Baker Acts and information sharing when students are arrested or other criminal issues in play on campus.
There are far more Baker Acts than arrests in schools–a reflection of stressed mental health conditions in the county at large, where Baker Acts of adults are now a routine part of sheriff's patrols, in numbers significantly larger than in schools.
Lynette Shott, director of student and community engagement, revealed that there were 72 Baker Acts of Flagler County students last year. There's been 56 so far this year. A Baker Act is when an individual is committed to a psychiatric facility for up to three days, usually involuntarily but not always so. The individual must exhibit signs of self harm or harming others to meet the criteria for such a commitment, which is ultimately carried out by deputies. But School Board member Colleen Conklin was looking for more clarity in the district's and sheriff's approach to how and when parents are notified of a Baker Act involving their child.
"Our protocol on our campuses is, we go to our personnel to Baker Act," Shott said, "and we try and avoid having to place a deputy in that position. So we have four or five that are certified that can Baker Act, our certified social workers or mental health counselors. So the protocol is we call first for them in order to do it. The protocol is also that immediately when those safety concerns come up, we immediately notify parents, so they typically are involved as we are in the process of evaluating this student. The transport part, we obviously cannot transport. By law, once a Baker Act has been enacted, then it has to be transported by the sheriff's office." (When the Baker Act is voluntary, however, a parent may transport, Strobridge said.)
Baker Act procedures are often misunderstood or unclear to the public at large. Conklin wanted to know if the school district makes the decision to Baker Act, as opposed to law enforcement.
"By law, there are only certain individuals who can Baker Act a child," Shott said. "That would be mental health licensed counselors, licensed social workers, and deputies can. Our practice in our schools–unless it's unavoidable and we cannot get anybody there–we call in our school personnel to go in and determine whether we need a Baker Act. There have been situations where we could not get somebody there. Then a deputy can utilize their ability to do that. But our goal is and our practice is, to get our personnel" to determine a Baker Act.
Conklin also sought have quicker communication from the sheriff's office when situations are developing on campus. There's been numerous such situations ending in arrests of students on weapons and threat charges since last December. Officials often find out the details in the press.
"A lot of times we are reading it before we've written it," Strobridge said, referring to his agency's press releases.
On a more hopeful note, Strobridge said the sheriff's office is working on a new program "about being a parent again. As a parent, a grandfather at this point in my life," Strobridge said, "to me we spend too much time trying to be a friend to a child that needs love and discipline. And I don't mean whack 'em. I mean the discipline to teach."