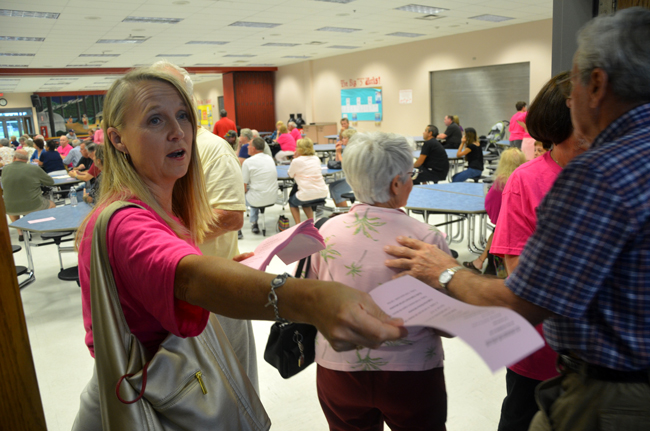 Some 200 people packed the Indian Trails Middle School cafeteria this evening, beckoned there by Palm Coast city officials who wanted to hear their ideas, though the city already knows what those ideas are: The Matanzas Woods crowd is upset that a site plan for a 50-unit apartment complex on 10.8 acres in their midst is awaiting the city's approval.
The crowd is made up of residents who live in single-family homes around that acreage, oddly zoned for multi-family homes in the middle of a sea of single-family residences. The residents fear that a two-story apartment complex, besides being unsightly, would degrade their property values and invite a lower class of renters seeking cheap housing in 900-square foot apartments.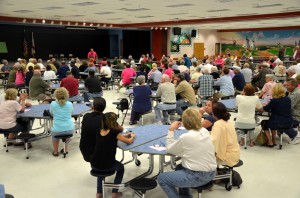 Almost all the Matanzas Woods homeowners bought their lots and homes under the impression that the whole neighborhood was zoned for single-family homes—until the city revealed that a map designation of "reserved" land had nothing to do with preservation, and everything to do with reserving that land for potential development for multi-family residences. The city is blaming old county maps for the misunderstanding. The city itself, Palm Coast City Manager Jim Landon told the crowd this evening, had nothing to do with the designation. It inherited it from ITT, the developer that conceptualized and built the original Palm Coast, before it was a city.
The veracity of those claims is murky, given numerous homeowners claim that despite their homework on the properties surrounding their own, they never knew, nor did Realtors know, that the maps showed a potential multi-family development. The residents now want the zoning changed in order to keep it consistent with Palm Coast's overall planning blueprint plan for the area. But Palm Coast can't just change the zoning.
Actually, it can. The city council changes zoning designations frequently. But when it's up against a property owner with specific intentions for that land, the city can't risk changing the zoning that would restrict those intentions and then face litigation, which would be costly, and likely place the city at the losing end. "Going to court, for us, when we deal with people's property rights, we usually lose," Landon said, not without lack of sympathy for the Matanzas Woods residents. He described the possibility of apartment complex in the middle of a single-family residential starkly: "It doesn't work, it's stupid. But it's what we inherited, and now we have to figure out how to fix it, and that's what we're trying to do here. If the city council tries to downgrade the zoning, I can tell you what the law is called, it's called the Bert Harris Act, the only way they can do that is the actually go in and buy the property."

The property in question was foreclosed by Putnam State Bank. The bank now wants to sell the property for $500,000, but not before it can certify to a buyer that the land could be turned to profit with, say, a 50-unit apartment complex. There actually is no builder now, nor is the bank planning to build anything there. But the bank wants the property entitled so it can sell it at a premium.
"There is no done deal," Landon told the crowd before also begging off talking about the site plan. "I have to stress, I know it's frustrating, we can't talk about the given application, the site-plan application that Putnam Bank has in right now," he said, describing the process as "very formal" and "quasi-judicial" and "almost like a court of law" where both sides get to state their case at public hearings before the city's planning board and, if either side appeals, before the city council, neither of which make decisions without hearing both sides. "That's why we can't talk about it tonight because city council shouldn't just be hearing one side. They have to hear both sides. If they hear one side and not the other, then what will happen is the other side will appeal it, we almost guarantee we lose."
Landon would have been right if in fact that had been a meeting of the council or of the planning board. It wasn't. It was a meeting the city administration called with residents, or anyone else concerned about the Sawgrass project, to talk about it. The administration could have very well talked about the site plan: it's a public record, its mechanics are no secret (or shouldn't be), and no one at the meeting could have taken a vote or made a decision about anything related to the plan. Landon didn't want to get into the details of the plan because it might have taken the discussion in directions more specific to the residents' objections than what he had in mind. And he spent a good deal of time on long tangents about the ABC Liquor store, eminent domain, other areas in Palm Coast where multi-family projects may be built. "Please, let's don't talk about the actual case in front of us," he literally said at one point, "let's talk about what you would like to see happen on this property."
In that regard, Landon had an idea of his own for the property, and residents liked what they heard.
Putnam Bank wants to open a branch in Palm Coast. The city is in discussions with the bank to have that branch at the intersection of Bulldog Drive and State Road 100, the parcel where Sonics, the restaurant, wanted to be located until it was reportedly driven off by too-stringent city regulations. Palm Coast bought the lot last October for $1.15 million. Landon said that Putnam might be convinced to buy that lot for enough money that would enable the city to then buy the Matanzas Woods parcel and turn it into a conservation area or a low-impact park with trails and a small playground. And eliminate the multi-family residential headache. But even that was complicated. "It's not really a land swap, because we've got to buy it and they've got to buy it from us and they don't really buy it, they have to have a developer. I won't try to get into—all I can say is that if the city can obtain the property, Putnam Bank can obtain some of our property, we have open space, they have a bank on 100."
Of course, the crowd was not opposed to that.
"Banks don't do this," Landon said. "This is really weird to us. The banks are trying very hard to keep their heads above water right now. That's why they want cash. What does that mean? Now is a good time to make a deal."
Landon led most of the roughly 75-minute meeting after an odd statement from Holsey Moorman, the city council member, and one of three council members present (Bill Lewis and Frank Meeker were the others). Matanzas Woods used to be in Moorman's district. It no longer is. It's now Meeker's. Yet it was Moorman who addressed the crowd, a subtle political gift from Landon: Moorman is in a tough re-election campaign against Bill McGuire, who may not be as supportive of Landon as Moorman has been. The meeting tonight was a chance for Moorman to look good in front of 200 people. He didn't miss the chance. "We are just as concerned as you are in maintaining the property values in Matanzas Woods," he said. "We are not going to ram something down your throat, and hopefully you are not going to attempt to ram something down the city's throat that won't work best for everyone." (McGuire said this evening that he had a scheduling conflict and couldn't make the meeting.)
Landon himself showed his skill at playing to the crowd, as when he was asked by a resident who, in the end, had clout in this issue, and who would make the final decision. The final decision, Landon said, passing over his own council, would be the courts. But public involvement, too, would have its say. "You pack that council chamber," Landon said, "hard to vote against you. Hard to vote against a full house. I won't say they won't, but I'm going to tell you, if you stay home, not a squeaky wheel? It's easy. That's how this game is played. Be active, be vocal, stay involved."
That has not been an issue: Landon had earlier described the Matanzas activism as the single-biggest, or second-biggest, he'd seen in his years in Palm Coast.