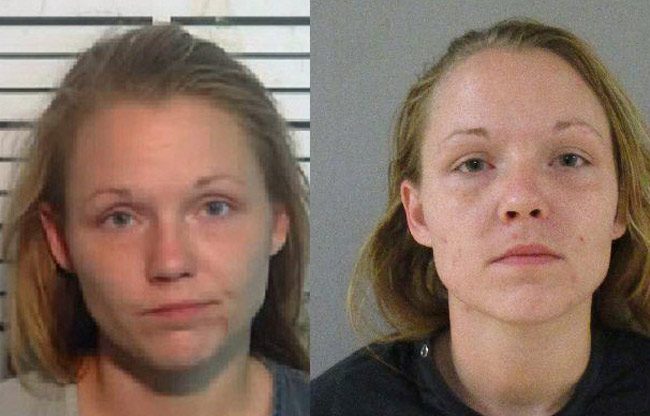 Sarah Jones, the 29-year-old Bunnell woman who less than two months ago was accused of kidnapping her own two children from their grandparents' home, pleaded guilty to two lesser felony counts of interfering with the custody of a minor and was sentenced to four months in jail, five years' probation and other restrictions.
Jones had faced two first-degree felony counts of kidnapping when the State Attorney's Office filed the charges on Aug. 27, with clear intent to prosecute to the full extent. That would have exposed Jones to a maximum of 60 years in prison on the combined counts. She did not take long to accept a plea. She was represented by Assistant Public Defender Bill Bookhammer.
Jones is also required to carry out in-patient drug treatment, pending the availability of a treatment bed. As of today, she remains at the Flagler County jail, serving her sentence, though if a bed opens she is to be transferred there, and the balance of her sentence while in treatment would convert to time served. She was also ordered to have a mental health evaluation and comply with the findings.
Jones is to have contact with the two children only in accordance with dependency court orders, and to refrain from drugs or alcohol. Her probation terms include random drug analysis.
Even pleading to third- rather than first-degree felonies, Jones had faced a maximum penalty of five years in prison for each count. But as a first-time felony offender, she was not likely to face the harsher penalty, though that penalty could now be imposed should she violate probation. She faced two felony counts in 2009 forgrand theft and fraud. Those charges were dropped.
Circuit Court Judge Terence Perkins accepted Jones's plea and imposed sentenced on Sept. 10, only a few weeks after the high-profile case drew attention for the brazenness of the nighttime grab of the children, ages 3 and 5, from the custody of their grandparents, James and Billie Dean Jones, as the children slept in their home off County Road 304. Jones and the children's father, Philip McGraw, then drove the children to Tennessee.
At the time of the kidnapping, The children's maternal grandmother, Joyce Jones, put the blame on the Department of Children and Families and the Flagler County Sheriff's Office for somehow not being current with the case and the children's status in Tennessee as opposed to Florida. She claimed that in Tennessee, the children's father had 50 percent custody. Whatever the case may have been in Tennessee's Monroe County, Florida law applied in Bunnell, and the Sheriff's Office had not been wrong to pursue Jones, as the plea and sentence later indicated.
McGraw did not face any charges. He'd had a checkered past with Jones. She pressed felony and misdemeanor battery charges against him following allegations of domestic violence–a fight that took place in front of their children in 2016, and that left her with visible injuries. Weeks later, he was charged with violating the no-contact order that had been in place because of the earlier fight, and of domestic violence for an alleged assault on Jones's aunt. Jones herself could have faced charges but deputies opted against it, according to a report at the time, due to her aunt "not wanting to pursue charges against her as well as a lack of physical evidence." McGraw was found guilty of domestic battery and sentenced to a month's jail time and a year's probation, which he violated.