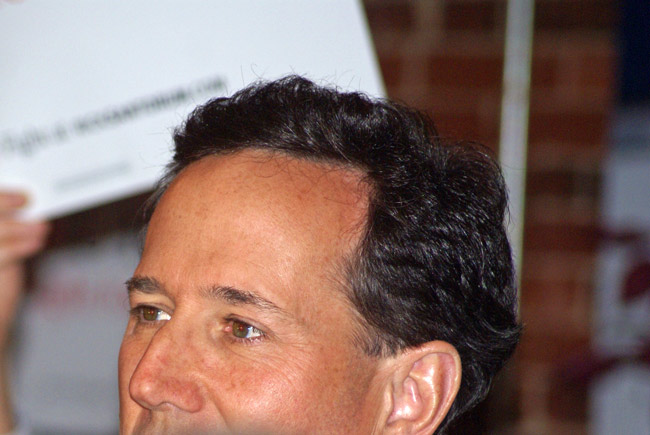 By Angel Castillo Jr.
Rick Santorum has made many idiotic, exclusionary statements during his campaign for the Republican presidential nomination. Among these, telling the people of Puerto Rico this week that they must all speak English before the island can become a state.
"English has to be the principal language" to qualify for statehood, Santorum told the San Juan Spanish-language newspaper El Vocero. His comment echoed those of U.S. English, Inc., which insists Puerto Rico adopt English as its sole official language before seeking to become a state.
Santorum is a 53-year-old unilingual lawyer and one-time U.S. senator from Pennsylvania whose late father was an immigrant from a small town in northern Italy. But Santorum is impervious to the fact that since Columbus arrived in 1493, the principal language in Puerto Rico has been Spanish. Today 95 percent of Puerto Ricans on the island speak Spanish at home.
Santorum's "English only" comment may have negative repercussions for his candidacy and his party, since more than 50 million Hispanics now live in this country. Ten percent of U.S. Hispanics are from Puerto Rico, including 850,000 living in Florida. In fact, more Puerto Ricans now live here — almost 4.7 million — than on the island, where 3.7 million reside. Eligible Hispanic voters nationwide number 21.5 million.

On Sunday, Puerto Rico, a twilight zone "territory" of the United States since 1898, gets to vote in the Republican primary and some 100,000 people are expected to vote to apportion its 23 delegates. But in spite of being U.S. citizens and serving in large numbers in our armed forces, Puerto Ricans do not have a voting representative in Congress and do not get to vote for president unless they become permanent residents of the States.
Whether Puerto Rico should have the opportunity to become the 51st state remains the central, existential issue of political life on the island. On Nov. 6, when we cast our votes for president, the island's voters will choose whether to change the status quo. They will vote on whether to seek statehood or remain a territory. They also will be asked if they prefer sovereignty in association with the United States or complete independence.
If the statehood option prevails, Congress will then decide whether the process may proceed and under what conditions. While the United States does not have an official language, Congress has the power to impose an English-language requirement on a territory as a condition of statehood.
It's not so long ago that white racists in this country would tell people speaking Spanish to one another to "speak white." That is the retrograde message Santorum just delivered to all U.S. Hispanic voters, wherever located.

Angel Castillo, Jr., a former reporter and editor for the New York Times and The Miami Herald, practices employment law in Miami. He can be reached here.