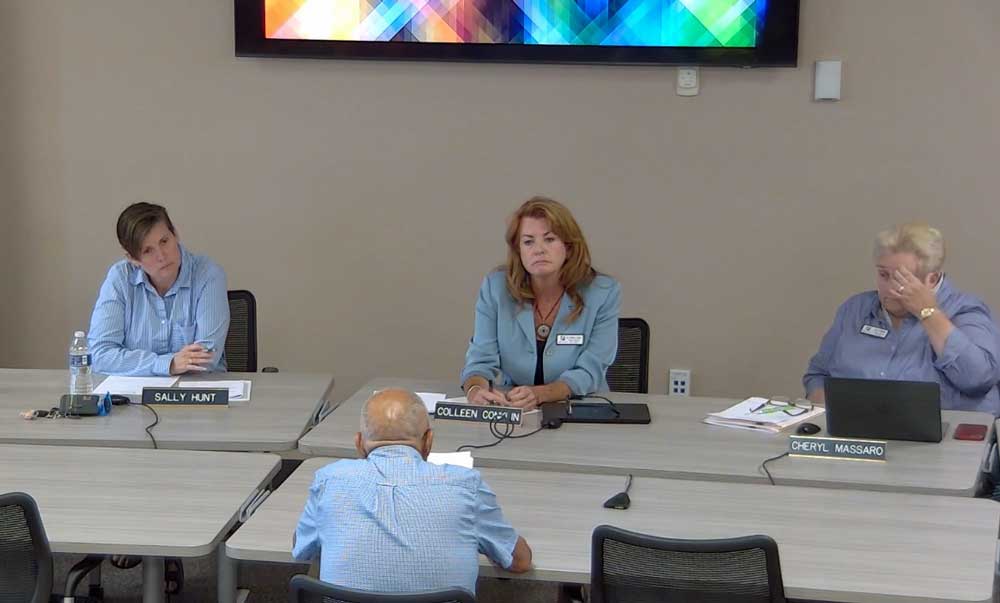 Toward the end of Tuesday's meeting, Flagler County School Board member Sally Hunt surprised her colleagues: "I was really concerned from a safety perspective at the workshop before last," she said.
She did not explain.
She asked why the workshops couldn't be held in board chambers, on the first floor, where evening meetings are held, and where the County Commission holds its meetings and workshops. The school board holds its workshops on the third floor, in Room 3, a large room that accommodates a rectangular searing arrangement for the board members, who can face staffers or members of the public as they sit on the other side to present.
"Historically, we always had them in a chamber room like that, so that it was more informal, staff could sit across from us at a large workshop type of table and have a discussion," Board member Colleen Conklin said, "instead of being in a more formal setting with one or two people fitted at the podium."
Hunt said she flet unsafe in the third-floor room at the May 2 workshop. "I like having exits. I feel safer in this space," she said, referring to the downstairs board chambers. "I like having a deputy in the room. And I just wanted to throw that out. I'm not the only person who shares that concern of the workshops." (A deputy is usually present at the board's monthly evening meetings, and sometimes more than one deputy when controversies are afoot.)
"Why, we have other other board members that feel unsafe in the workshop area?" Conklin asked. No one else answered.
The May 2 workshop was long–almost four hours–but it was not particularly eventful or raucous the way some board meetings can be at times. The room in the early goings was filled with members and supporters of the Belle Terre Swim and Racquet Club, who'd turned up knowing that the board would soon decide whether to keep the club open or close it to the public. The board voted earlier this week to keep it open on the current model, possibly through December 2024.
Most of those club advocates are older, some are loud, one in particular–Wilfredo Leiras–gets routinely very excited about the club (he elicits chuckles not fear, calling himself Big Mouth), but they always address the board respectfully and non-threateningly. About 10 people addressed the board in the May 2 workshop's first public comment segment, at the top of the meeting.
One speaker, an older man who spoke in a low and neutral monotone, with a heavy east European accent, implored the board's support and singled out Hunt, asking for her support especially, possibly because he saw her as the swing vote on the issue (she often has been, but would turn out not to be in this case). But again, he did so in a neutral, non-accusatory way. Hunt in that moment seemed a bit surprised but not disturbed, looking to her left as if inquisitively and rearranging the papers in front of her. She welcomed the next speaker with a quick, corporate smile.
That speaker compared the club to "Cheers," the television show about the bar "where everybody knows you name," she said. "I know you guys are young, you never watched 'Cheers,'" she gestured toward the board members generally. "But it's a community place, and the young and the old all get together." Yet others spoke, including a young man who laughed with the board about watching "Cheers" in reruns.
After the fourth person spoke, Hunt did raise a question with Cheryl Massaro, the board chair. She had obviously been thinking about the man who'd asked for her support: As Hunt understood it, she told Massaro, "public comment can address the chair and the board as a whole, but not individual members. Is that different for a workshop?"
"No, it's generally the same, they're just talking to people," Massaro said.
"Is that the precedent that we want to set?" Hunt asked.
"It depends," Massaro said, "what do you want?"
"I would, you know, the public now sees me as the swing vote," Hunt said, making air quotes around the terms. "I find that pretty annoying, if I'm being honest." She said she would prefer that she not be singled out. Massaro turned to the audience and said: "I am asking the public not to mention any other board members' names as they do their presentation."
"I just want to say I appreciate the public comment," Hunt said, raising her hands and addressing the audience. "This is your community, I appreciate the public comment, do not get me wrong." (Hunt has essentially shut down open communication with her, and told the school administration that she no longer uses electronic communications such as her cell phone to do any school business.
Her emails bounce back the same message to members of the public or from school staffers: "Hello! Thank you for your email. To ensure district staff have full visibility to questions, comments, and concerns; please submit feedback and/or request information via https://www.flaglerschools.com/connect-with-us/lets-talk." Ironically, the email also includes this line: "Public comments are also encouraged at Board workshops and meetings," along with a link to meeting dates and times.
Hunt did not respond to an email asking what had caused her to feel unsafe.
On divided boards, it is almost inevitable that a member would be seen as a swing voter. It happened for years on the U.S. Supreme Court (where Justices Sandra Day O'Connor and Anthony Kennedy alternated in that role), it happens on the County Commission, it happened constantly on the Flagler County School Board before this board was seated, when Trevor Tucker was the swing voter. Some elected officials relish the roles, some don't, but either way it's out of their hand, since the dynamic is dictated by the make-up of the board they chose to run for. Hunt last year during the campaign was not unaware of the school board's divisions, the deepest of any local board currently.
It is also not entirely surprising that an elected official would feel unsafe in the current environment, when elected officials in local governments, judges and election workers have increasingly faced threats–not necessarily in Flagler County, though the county has known its share of tense and angry meetings, but certainly across the country: the Jan. 6 insurrection was the most obvious example. Hunt has spoken previously of being threatened, merely because she hasn't voted the way some of her constituents believed she would.
As the May 2 public comment segment continued, more swim club advocates spoke, again in reasonable tones, until Wilfredo "Big Mouth" Leiras himself sat at the table, apologizing ("I'm sorry I speak so loud"). He read from his notes until his time ran out and Massaro attempted to cut him off: he went on reading, raising a "just-a-minute" finger as he spoke about the physical fitness of members and how he could make 50 push-ups then and there. Massaro tried again.
"I'm not done, OK?" Leiras yelled, "there's people that come from Europe here"–again Massaro tried, "Sir," which he ignored– "who were in concentration camps. Hello!" he yelled, pounding the table with his finger before getting up, again apologizing. Leiras was loud, abrasive, probably hyperbolic, but at no point  projected the sort of threatening language or behavior that would have caught the attention of a security officer.
On went the speakers, about 10 in all, including former Bunnell City Commissioner Daisy Henry asking for a new agreement between the school board and Bunnell's Carver Center. After that, it was all board business as district directors and staffers made one presentation after another, along with board discussions and debates. The board's own long discussion about the swim club itself got quite intense, with Board member grilling staffers for clarity on certain numbers.
Belle Terre swim club advocates have stamina: some outlasted te workshop's four hours to again address the board at the end, one of them lavishing thanks and praise on the board for its deliberations, another–the man who'd singled out Hunt–praising the "pretty serious discussion," and asking the board to increase his fees or taxes, but not close the club.
In a brief interview Thursday, Massaro said she could not figure out what had made Hunt feel insecure in the upstairs room, nor had she known of incidents there, as she very much had in the downstairs board. "The only time I felt unsafe was downstairs, not upstairs," Massaro said, a reference to meetings that had to be recessed, with deputies intervening, when the crowd got unpredictably aggressive. 
Massaro said she wanted "to see if there's a way we can help Ms. Hunt feel better and more comfortable." At the workshop, she asked Hunt if a deputy in the workshops would help. "At a minimum if we stayed in the room, I would appreciate having a deputy," Hunt said. 
"It will come at a cost," Massaro said.
A Sheriff's Office spokesperson said the hiring of a deputy for a special detail requires payment for three hours at a minimum. A deputy at a starting-pay rate would cost $108 for three hours, "but ultimately the cost would vary depending on the deputy's rank, etc. as that increases their base pay rate."
The board holds two dozen workshops a year, not counting special workshops, some of them, like on May 2, stretching past the three-hour mark. The cost of using a deputy at a starting-pay range would then amount to at least $2,600 a year, not counting meetings that exceed the three-hour mark, or additional meetings.