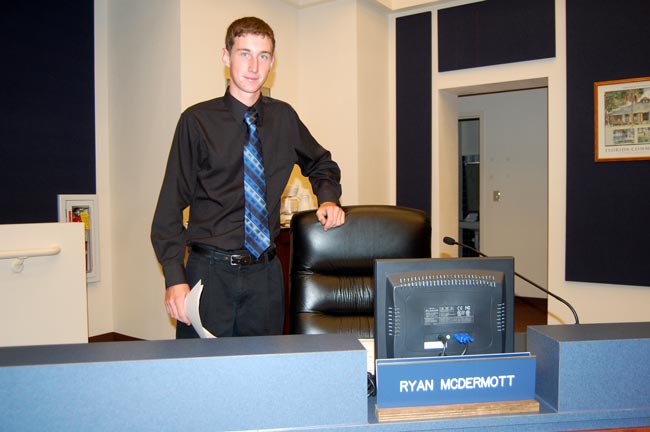 By Ryan McDermott
Flagler Palm Coast High School
As I was driving to the Government Service Building, or as some of my neighbors call it, the Taj Mahal, I had no idea what to expect. While walking up to the building a woman asked me, "Ohh, what are you dressed up for tonight?" I responded with three simple words: "School Board Meeting."
My first step into the chambers felt very different than any other time I have entered this room. I immediately walked up to Evelyn Shellenberger, school board chairwoman, and explained to her that I was the new student representative on the school board, from Flagler Palm Coast High School. I asked her what I would be doing that evening. She showed me my seat and gave me a short briefing.
Directly after speaking with Shellenberger, Flaglerlive asked me for a short 10 minute interview. The interview caused me to be slightly nervous, but the same would happen to any person in that situation. The meeting started as all others will for me this year with a call to order, the Pledge of Allegiance, and roll call. A video by the "Back to School Jam" supporters was shown to the school board in appreciation for the school board support of the program. Next, a Jim Devine gave a report on this year's school grades which have improved in some areas but not as much in other areas. No schools reached AYP this year–Adequate Yearly Progress–but reaching AYP is difficult since the school must meet all 39 indicators set up by this program. The grade for my school is not in yet, FPC has improved significantly.
During the meeting I did feel very nervous, but the comfy chairs that the board sits in would make the most nervous person in the world feel more relaxed. The rest of the meeting went very well with discussion on buses and teacher salaries. I felt accomplished for making my contribution on the discussion of middle school students riding the bus with high school students since in 6th grade, I rode on a high school bus. Being on the school board gave me more respect for our school board members because of the reams documents they must read in detail to make informed votes. One document was 400 pages.
I would also like to make all students across the county aware that I am representing you, and your opinion, on the school board. If there are any issues you would like to be brought up or make sure that I am aware of, you can contact me on Facebook or e-mail me at [email protected]. I will also be working with Alexander Ludwig as much as possible to get a better idea of the student opinion. You may contact him as well with issues since he is the Flagler Palm Coast senior student body president. I will also make sure other student presidents are aware that they have a representative on the school board.
When I was in 9th and 10th grade, I was not aware we had a student on the school board to represent us. I do not want this to continue. All students should be aware of their power. I cannot vote on items, but the power of words from the students is more powerful than many think. Thank you all.