The Flagler County Rotary had an unusual guest Tuesday: Ildus Yanyshev, a 56-year-old Russian Rotarian from the city of Kazan in the true heart of Russia.
Plus his bicycle.
Yanyshev may have had a bit of a hard time expressing himself in English. His bicycle didn't. He'd parked it just inside the restaurant portion of the Pine Lakes Golf Club, its weathered look, its colors, insignias and flags told the story of the miles and continents Yanyshev had ridden it—Russia, Germany, Spain, the Netherlands, France, and now of course, the United States.
Yanyshev this morning started the cross-American leg of his worldwide "Rotary Peace and Good Will Bike Tour," started last April in Kazan, going west, and not scheduled to end and not scheduled to end for a while yet. He arrived in the United States last fall and biked down the east coast. Today he began the cross-country trip from St. Augustine, intending to reach Los Angeles from a southern path through the Deep South, Texas and the Southwest. "There can be no big discoveries in the comfort zone. Especially in my soul," he wrote the day after Christmas on his Facebook page, as sharp a summation of his objective as any.
During the recitation of the Pledge, Yanyshev had stood, placed his right hand on his heart, seemed to mouth the words of the Pledge as best he could, and used his left hand to film his surroundings with his GoPro camera, just as he's documented various legs of his journey so far.
His presentation consisted of a run through video clips of the many places he's traveled to underscore his aims—increasing interest in bicycles as a preferred mode of transportation and developing a cycling culture in support of a project he calls "Peace Road."
Either because of the ambitious nature of the project or because some things are lost in translation, it can be difficult to grasp the totality of his aims, which he summed up on his website in this English translation: "In the XXI century, humanity has faced a number of challenges caused by tension in international relations, lack of mutual understanding between people of different nationalities and religions. Such global issues as environmental preservation, social stratification, and deterioration of physical and mental health of the population have significantly worsened in most of the countries of the world.The project "Global Bike Tour of Peace and Goodwill" aims to show some new opportunities to address the urgent issues of humanity and environment.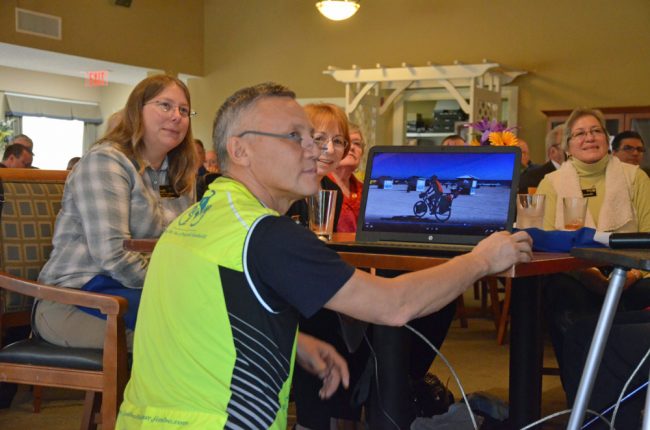 A lawyer by training, the head of security services company in Kazan by profession, the president of a cycling association in his hometown and a father of three, Yanyshev refers to himself as a Tartar, that storied culture and ethnicity of southerly Russia that once dominated the continent. His point of origin by itself spoke of the ideals he was trying to reflect through his world tour.
Tatarstan is among the innumerable if lesser-known regions of Russia, a republic the size of West Virginia that stretches on either side of the mighty Volga River (Russia's Missouri) and that should be better known as Russia's equivalent of Spain's Cordoba: a place where Muslims and Christians (Orthodox, in Russia's case), have coexisted far longer and better than they have clashed, as reflected by the handsome onion domes and minarets that share the skyline of 1,000-year-old Kazan, or the midriffs and headscarves that bare and don't bare women's bodies in cities closer to the ground. Culturally Kazan isn't an insignificant city, but the only city in Russia to have a branch of St. Petersburg's Hermitage Museum, among the greatest museums in the world. In 2012 Muslim militants shattered the quiet of Kazan with a string of attacks as Muslim leaders and clerics were the target of assassination plots. But the attacks turned out to be exceptions, not the start of a trend.
"Regardless of what's going on with our countries," Cindy Kiel Evans, president-elect of the Rotary, told him as Yanyshev was making his presentation Tuesday, "Rotary brings us together. So thank you."