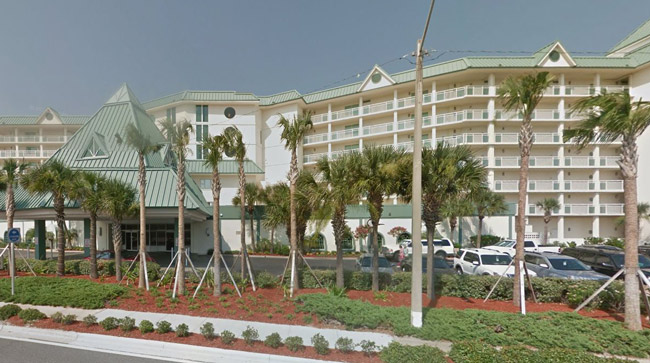 Ormond Beach police are investigating what they call a "suspicious incident/suicide" that took place early this morning at the Royal Floridian Resort on State Road A1A, claiming the life of Dean O'Hara, 50, of Cape Canaveral.
At about 4:33 this morning police responded to the resort because a suspicious person was pulling on door handles. A hotel security officer briefed the cops, telling them she'd seen a white man who turned out to be O'Hara allegedly loitering in the game room. He left there just as the security officer entered. A closet had been broken into in the room, at which point she and another security officer called 911.
By then the security officers could see O'Hara on the sixth floor, where O'Hara had been when the cops arrived, though O'Hara was halfway up the stairwell to the seventh floor when several cops confronted him. "Hey, what's going on, man?" One of the officers asked O'Hara.
O'Hara was holding a knife, according to the incident report. "Drop the knife," the officer said, drawing his gun and ordering O'Hara several times to drop the knife. Another officer drew his Taser. O'Hara, the report states, "ignored the commands given by Officer Davis and Officer Smith, wt which time [O'Hara] ran down the hallway and jumped off a balcony on the north side of the south building from the seventh floor. [O'Hara] landed directly below that location in shrubbery." A security officer screamed that O'Hara had jumped.
Paramedics responded, but O'Hara was pronounced dead from head wounds at 4:54 a.m.
A crime scene was established where O'Hara fell and on the seventh floor, where two wine bottles marked the last spot where O'Hara had been sitting.
"Found inside the deceased male's wallet was a vague suicide note," a news release issued by the Ormond Beach Police department said.