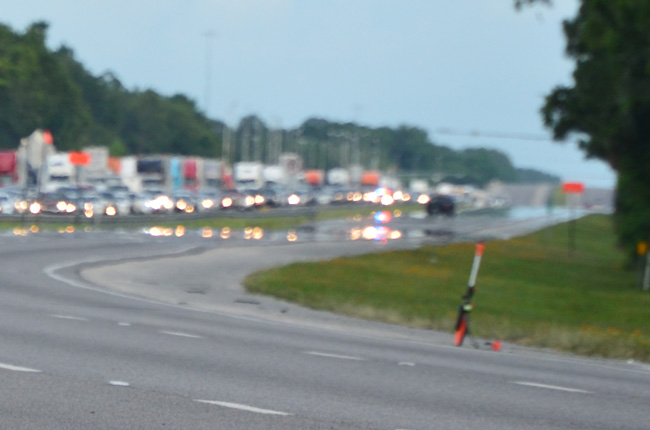 Kaitlyn Foster, a 24-year-old Jacksonville woman, was shot in the arm in what the Flagler County Sheriff's Office is describing as a road rage incident on I-95.
The incident took place at 3:17 p.m. near mile marker 290, about a mile north of the intersection with Palm Coast Parkway, in the southbound lanes. The woman's injury are not life-threatening.
"It came in as a possible gunshot, somebody cut in the arm type of deal," Bob Weber, the Sheriff's Office's chief spokesman, said. Rescuers and detectives responded and found indications that it was "a road rage type incident."
The assailants were reported to be driving a black Mercedes SUV, heading south. A man and a woman were believed to be on board, but their race is unknown.
According to the incident report narrative, Foster was driving a silver Hyundai when, she told deputies, the Mercedes "cut her off." Shortly after that, the Mercedes pulled up beside her "and she showed the Hispanic male driver her middle finger."
"She then stated that the front passenger side window shattered and something hit her arm. She stated that she then pulled over to the side of the road and the black Mercedes SUV continued south on I-95. She also stated that there was also a Hispanic female passenger who was possibly wearing a white shirt in the black Mercedes SUV."
Deputies checked the I-95 weigh station and their security videos, all I-95 exits south bound from the incident, and all surrounding businesses immediately after the incident occurred for a black Mercedes SUV. A Be On the Look-Out was also issued for Volusia County and the Florida Highway Patrol. All met with negative results, according to the narrative. The Volusia County Sheriff's Office pulled over a few vehicles, but produced no suspects.
Roger's Towing impounded the vehicle, which was processed by the sheriff's CSI unit.
Traffic was never impeded along the Interstate, Weber said. The victim was taken to Florida Hospital Flagler.
Anyone with information or witnesses are asked to call 386-313-4911 in reference to case number 2014-98115 or call Crime Stoppers at 1-888-277-8477.