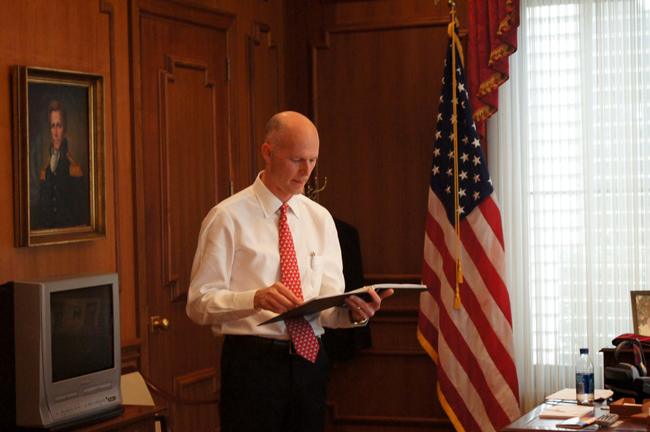 In May Gov. Rick Scott was the most unpopular governor in America, with an approval rating ticking between 27 and 29 percent and disapproval up to a staggering 57 percent. Many voters who'd cast their ballot for him instead of Alex Sink had misgivings. Many who hadn't felt vindicated.
Scott was particularly damaged by a bruising legislative session–bruising to more constituents than it was even to Scott, as teachers saw their roles redefined as for-hire employees whose professional status was significantly downgraded. Public employees took a 3 percent take-home-pay cut as that share of their pay would thenceforth head for their state retirement pot, enabling state and local government to balance the books at employees' expense. Medicaid, the health insurance program for the poor and some of the elderly, was slashed, affecting 2.9 million Floridians. Job creation remains anemic. Public university tuition costs increased again by more than twice the national university inflation rate, while the state's scholarship fund was slashed. Public schools lost $1 billion in funding. And the list goes on.
To improve his image, Scott launched a charm offensive, drafting the press he'd snubbed along the way. The PR campaign is working slightly. His poll numbers are improving, if from a very low base.
The latest Quinnipiac University poll has his approval rating improving to 35 percent–still very bad for any politician, and insurmountable at election time, but nevertheless a six-point rise from May. His disapproval rating remains extremely high, at 52 percent, though it, too, is a slight decline from 57 percent. Scott's poor numbers are driven in part by his inability to explain his own budget. Only a quarter of those polled say they know that budget Scott signed into law doesn't necessarily raise taxes, though the severity of budget and service cuts is registering with voters.
Scott approval-disapproval from Republicans is 61-23 percent, rising from 51-37 in May. Disapproval is 78-14 among Democrats, not much changed from May. Among independents, he gets a 33-50 approval-disapproval, compared to 28-57 in May. Just 7 percent of blacks approve of his policies, and 37 percent of Hispanics. Among whites, the approval is at 40 percent. The Legislature gets a 32 percent approval.
"The improvement in Scott's numbers comes primarily from those who would be expected to support him, Republicans and men. But he still has a long way to go to reach the numbers that historically back Republicans," Peter Brown, assistant director of the Quinnipiac University Polling Institute, said in a release.
Floridians don't like their governor, even as a person: that's unusual across the country, where voters, even when they disapprove of their governor's policies, tend to like their governor as a person. In Florida, 45 percent don;t like Scott as a person, and just 34 percent like him. In comparison, even though a slight majority of Floridians don't like Barack Obama's policies, 69 percent like him as a person, and just 18 percent dislike him.
Other bad marks for Scott:
Voters dislike his policies 54 – 34 percent;
Voters disapprove 57 – 32 percent of his handling of the state budget;
42 percent say budget cuts went too far, as 20 percent say not far enough and
25 percent say the cuts are about right;
Voters say 39 – 26 percent that spending cuts in the budget will hurt, rather than help, the Florida economy;
Voters say 51 – 33 percent that the new state budget is unfair to them.
"The governor needs to convince voters that his budget was fair to average folks and make sure they know it didn't raise taxes," said Brown.
Only 4 percent of voters are very satisfied with the way things are going in Florida; when the somewhat satisfied are included, the proportion rises to 37 percent, as opposed to 61 percent who are somewhat or very dissatisfied.
The poll was conducted between July 27 and Aug. 2 with 1,417 registered voters through live interviews on land lines and cell phones. The poll has a margin of error of plus or minus 2.6 percentage points.
On Thursday, Quinnipiac released its latest poll on Obama's performance in Floridian's eyes. The bounce Obama had received from the killing of Osama bin Laden has vanished, returning Obama to the same place he was in April: 44 percent approval, though his disapproval, at 51 percent, is a fraction below where it was in April (52). Some 50 percent say Obama does not deserve to be reelected.
If Romney were running head to head with Obama, the two would be in a toss-up: 44-44. Romney leads among Republicans in Florida, with 23 percent against 13 percent for Rick Perry, Texas's evangelist governor. Sarah Palin and Ron Paul are at 9 percent. Perry and Palin have not announced for the presidency.