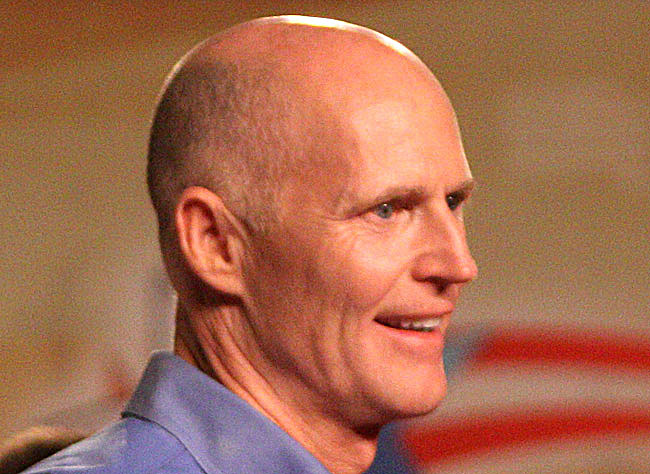 In the effort to think of someone who might try to replace the unpopular Gov. Rick Scott, one name has largely been overlooked:
Rick Scott.
The little-known, populist, former tea party politician emerged this week as a sweet-talking alternative to the Rick Scott who got elected in 2010 promising to be stingy and mean, to "Get to Work" at slashing the size of government.
Where Rick Scott-2010 rolled out his first budget by noting "there's no sweeteners for special interests, or special people, or special companies," Rick Scott-2012 this week put out a budget that tries to make several people feel special, from classroom teachers to state workers to environmentalists.
The new Scott, with no hint of shame at all, touted a gift bag of a proposed budget this week that tries to spread some happiness around, a sort-of 'I told you so,' about how a recovering economy can lift a lot of boats. The economy, the governor essentially said, has the state heading back toward the land of milk and honey, just in time for Scott to ask people to evaluate his first term and give him another.
There's $2,500 raises for all classroom teachers; $1,200 bonuses for ordinary state workers, with bigger bonuses for the really good employees; there's a big increase in per-student spending in K-12; new money for universities, along with a call for no tuition increases. And there continue to be the calls for tax breaks that are left over from old Rick Scott's time.
Opponents of the governor kind of had their heads spun around a few times – he was actually calling for some things they've been pleading for, and forcing them to find some new talking points. After a couple years of being saddled with low approval ratings, the governor looked like he wanted people to like him.
And Democrats and others who have spent the last few years criticizing Scott found themselves admitting he was saying some things that voters just might like.
"It's a taxpayer-financed down payment on courting votes for 2014," said Sen. Chris Smith, of Fort Lauderdale, the leader of the Democrats in his chamber, to which Republicans essentially replied: 'well, yeah.'
The state's teachers union probably had to pull out a dictionary. Cutting and pasting the criticism they've leveled for years wasn't an option – and they likely couldn't find the last sentence they wrote in praise of a budget because it was presumably stored on an IBM 486 thrown out at the end of the Chiles administration.
"We are happy the governor is recognizing and investing in Florida's high performing public schools," Florida Education Association President Andy Ford said, seeming even in a written press release to struggle to get the words out. "…We look forward to the governor's strong advocacy of this proposal."
Before this week the only thing the teacher's union was looking forward to was getting a new governor.
The union that represents many state workers will continue to advocate for an across-the-board pay raise, something government rank and file workers haven't had in six years.
The spokesman for AFSCME also was using unfamiliar words, calling the governor's bonus plan "generous" and a "significant financial commitment" and even saying the union appreciates it.
"I want to reward the most effective employees, no different than what I did when I was in business," Scott said.
A few years ago, the state used to buy land to keep it out of development. There is a program called Florida Forever – but it didn't look like it would go on for that long. When the recession hit, the state basically stopped buying conservation lands. But this week, Scott said let's go back out there and pick up some more wilderness.
Scott proposed $75 million for the land buying program, after requesting just $15 million last year and using his veto pen to strike Florida Forever money two years ago. He also proposed new money for Everglades restoration and other environmental cleanup programs.
Scott also wants new dollars to reduce the waiting list for developmentally disabled people needing services, and overall, the proposed budget is bigger, in unadjusted dollar terms, than it has been in several years, coming in at over $74 billion – though Scott's staff points out that when adjusted for population and inflation, it's the third smallest in over a decade. Still, the other two smaller ones? Those were Scott's first two budgets.
Bottom line, Scott says: the economy is coming back to life. And as he and other Republicans before him have said, when taxes are low and spending is careful, taxes come in more robustly and spending can be a little more carefree. The new money comes mostly from increased tax collections, Scott said.
"Florida's economy is back on track and the nation is taking notice of our economic turnaround," Scott said Thursday.
If one were watching the budget release with a political eye, one might say Scott is looking like another recent governor: Charlie Crist. That is, he's found a popular issue – improving education and helping out teachers – and he's going to go to bat for it. If that conveniently brings in some votes, well that's OK. And if lawmakers can't find a way to make it work – well, he's not the one being the bad guy.
Crist, who is thinking about his own gubernatorial comeback effort, may have to pull out his planbook and cross "offer teachers a pay raise and throw money at schools" off his to-do campaign list as something that's been taken away by the other guy.
BURNS AND ALLEN, ABBOT AND COSTELLO, WEATHERFORD AND GAETZ
While Scott this week unveiled his budget, the speaker of the House and the Senate president were sounding a note of harmony, appearing together – literally speaking at the same time – at a meeting of newspaper editors in an effort to show that their goals are the same.
One of the knocks on the Legislature going back many years is that it gets bogged down in the personal agendas of its leaders – and sometimes gets hung up when those agendas are at odds. Or the legislative calendar becomes fodder for horse-trading between the president and speaker so they can each get some of what they want for their legacy.
But Speaker Will Weatherford and Senate President Don Gaetz, both Republicans, said in their joint appearance this week that they have one agenda as a team.
"We have a solid framework of agreement on issues of key importance," Gaetz said – a sentence that sounds more like something spoken in the last few hours of session. The two are on the same page on a number of issues, they said, from wanting to be cautious over the budget even with the new surplus, to interest in ethics reforms.
Adding to the bizarre tag-team approach of the two leaders, Gaetz, who is never at a loss for words – and lots of them – responded to one question, about use of tax dollars to help out professional sports enterprises, by following Weatherford's answer simply with "what he said."
Weatherford and Gaetz' assurances of a harmonious couple of years between the two chambers came at an annual meeting of newspaper editors put on by The Associated Press. Also at that meeting was a panel discussion of what happened on Election Day to cause long lines and what the solution should be.
While consensus seems to have developed in the Legislature that more early voting days may be needed, and while some are pushing for shorter ballots, the panel discussion made it clear that there remain differences in opinion about what happened and why.
Particularly why. The most interesting discussion was over what the intent of lawmakers was when they reduced early voting and made it hard to change mailing addresses on Election Day. Democrats repeated their belief that it was part of a broad, national GOP effort to reduce minority voting. Republicans said that's absurd.
They basically agreed to continue to disagree.
"I don't personally believe Republicans sat in a room and tried to figure out a way to suppress the vote," said Florida GOP Chairman Lenny Curry.
But that's exactly what many Democrats do believe.
"I don't think Republicans probably used those words, but pretty close," said Democratic Party executive director Scott Arceneaux, sitting next to Curry on the panel.
"I believe there absolutely was an intent to suppress votes," added Rep. Janet Cruz, D-Tampa, who was on Curry's other side.
Sen. Jack Latvala, R-St. Petersburg, voted for the law most often blamed by critics for doing that, an elections bill passed in 2011 that, among other things, reduced early voting days. He said he, for one, had no intent of keeping anyone from casting a ballot.
Rather than thinking about keeping minorities and others who tend to vote Democratic from voting – if that was ever contemplated – the GOP needs to start courting them, Latvala said.
"We can't win just based on better techniques … we've got to win based on ideas and better ideas," Latvala said. "We can't write off African-Americans and Hispanics and teachers and cops and firefighters and environmentalists and gays. There's not 50 percent plus 1 left."
STORY OF THE WEEK: Gov. Rick Scott rolls out a proposed budget that includes an increase of more than $1 billion in education spending, including a nearly half billion dollar pay raise for teachers. It also includes new money for environmental projects and bonuses for state workers – a couple things not seen in a while.
QUOTE OF THE WEEK: "Just because we've come out of the years the locusts have eaten, doesn't mean we're in the years of milk and honey." Senate President Don Gaetz, injecting some Biblical caution into the talk about the return of budget largesse now that the economy has improved.
–David Royse, News Service of Florida