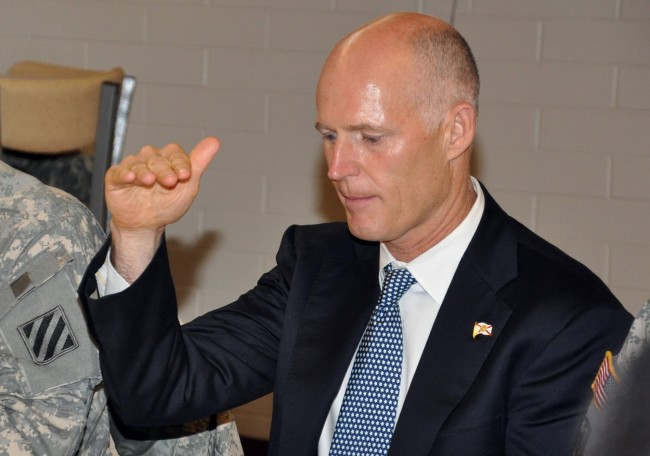 Gov. Rick Scott is making up some ground in favorability and in a theoretical 2014 match-up against Charlie Crist, according to the latest Quinnipiac University poll.
Some 40 percent of respondents now view Scott favorably, up from 33 percent last March, with 42 percent seeing him negatively. It's his best showing since becoming governor. His job approval rating is at 43 percent against 44 percent who disapprove.
But when asked whether Scott deserves to be reelected, just 35 percent of respondents say yes, a small improvement over the 32 percent who did in March. Fifty percent say he does nto deserve reelection.
In a match-up against Crist–who has not announced his candidacy in the race–Scott trails, 47 to 37 percent, but that's a significant improvement from March, when he faced a 16-point deficit in the Quinnipiac poll, and a 12-point deficit in a Public Policy Poll. Scott would also lose against Sen. Bill Nelson, if Nelson were to decide to run for governor. He would beat Scott 48 to 38 percent. Some Democrats are pushing Nelson, who's had his run-ins with Scott, to run. He was elected to his third U.S. Senate term in November. Florida Democrats gathered for an annual gala last weekend boasted that whoever they would field against Scott would win.
Scott's numbers have been climbing slowly but rather steadily since his lowest approval rating in May 2011, when it bottomed out at 29 percent, among the worst for any governor in the nation.
"It is an indication of how far down Florida Gov. Rick Scott's numbers have been that he can take some solace from a poll that finds him losing by 10 points to his predecessor in the governor's office," said Peter Brown, assistant director of the Quinnipiac University Polling Institute. "In addition to cutting the deficit between himself and former Gov. Charlie Crist, Gov. Scott sees his tepid job approval and favorability numbers and his still-negative reelection numbers as notably improved."
Scott's climb in the last year was characterized by a distinct shift left on some issues as he embraced a raise for school teachers, opposed tuition increases for college and university students, increased state spending to a record high, and backed what would be an ill-fated attempt to go along with an expansion of Medicaid within the framework of Obamacare.
"Now," Brown said, "that doesn't mean that happy days are here again for the governor, but if he is going to make a comeback these are the kind of steps that would be required. Whether it is the start of something larger, we'll see in the coming months."
Republicans give Scott 74 percent favorability, compared to Democrats' 12 percent. Independents, the swing voters in most Florida elections nowadays, give him 38 percent. His favorability among Hispanics is 34 percent, 19 percent among blacks and 44 percent among whites. Central Florida gives Scott his lowest job=-approval rating in the state, with 43 percent. Scott does better in the north and the Panhandle (51 percent) and the southwest of the state (61 percent).
"For Scott to win, he will have to do better among Republicans than Crist does among Democrats, carry independent voters and drastically reduce his deficit among women. That's a tall order, but there are 17 months until the election," Brown said.
Crist's favorability is at 48 percent, with 27 percent from Republicans, 67 percent from Democrats and 49 percent among Independents. Crist's favorability went from a high of 68 percent in February 2009 to a low of 47 percent last December before edging back up in June.
The poll also asked the following question: " In the last three years, Charlie Crist has changed his party affiliation from Republican to Independent to Democrat. Some people say this is a positive thing because it shows he is a pragmatist who can change with the times and issues. Other people say it is a negative thing because it shows he has no core beliefs. Which comes closest to your view of Charlie Crist?" 47 percent found it to be a positive thing, 44 percent found it to be a negative thing. The numbers were quite partisan, with 71 percent of Democrats finding it positive and just 18 percent of Republicans doing so, though the key indicator is Independents, among whom 53 percent found it to be a positive thing.
Addressing Florida's economy, just 33 percent of respondents said they saw it getting better, with marginal differences by party affiliation. Central Floridians are least optimistic, while those in the southwest are the most optimistic.
Still, slightly more Floridians overall think the economy is getting better, which has helped Scott. Among those who see an improving economy 65 percent give at least a little credit to President Barack Obama, while 82 percent credit Scott.
"The governor needs to make voters believe he is responsible for a better economy. That's the key to his electoral future. He isn't going to get re-elected because he is Mr. Personality. He needs to essentially convince voters, 'You may not like me, but I'm the guy who is making things better,'" Brown said.
Quinnipiac University surveyed 1,176 registered voters from June 11 to 16, with a margin of error of plus or minus 2.9 percentage points.