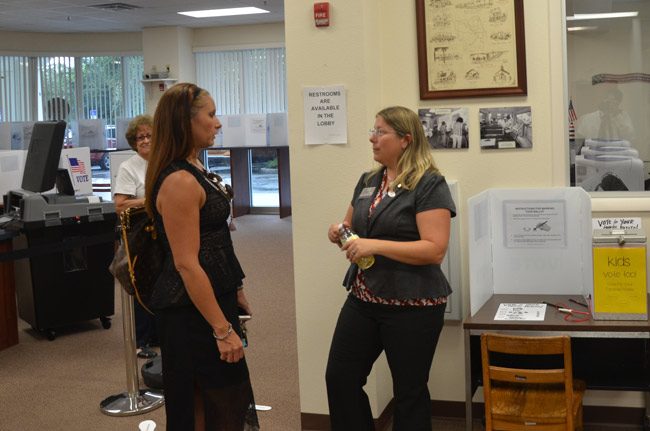 The rhetoric in Florida continued to elevate Friday as vote margins dwindled in three statewide races, including the contests for U.S. Senate and governor, and recounts seemed all but certain. By Saturday afternoon, it was: the recounts were ordered in those two races as well as the race for commissioner of agriculture, the closest of the three.
The recount in Flagler begins at 9 a.m. Sunday in the presence of the three-member canvassing board. The process is open to the public. It is expected to take all day, possibly longer, as the office runs some 53,000 ballots through a machine.
In a conference call with reporters hosted by Republican Gov. Rick Scott's Senate campaign, U.S. Sen. Marco Rubio Friday night joined a growing chorus of Republicans bemoaning the influx of outside legal staff coming into the state to help "steal" the election.
Scott has watched his 56,000-vote advantage over incumbent U.S. Sen. Bill Nelson shrink since election night. By Friday evening, the Republican's edge had dwindled to less than a 15,000-vote lead.
Rubio labeled Broward County Supervisor of Elections Brenda Snipes' office the worst in the nation.
"If it's not the worst elections department in America or the worst-run elections department in America, I would hate to see the one worse run than this department," Rubio said, noting that Broward elections office has been plagued by problems for years.
Ballot reviews continued Friday in Broward and Palm Beach counties' elections offices, and judges in the two counties have backed Scott's campaign in lawsuits demanding that the supervisors provide more voter information.
Snipes' attorney, Eugene Pettis, told The Palm Beach Post that the elections chief never refused to deliver the records to Scott, she simply needed a "reasonable" amount of time to do so.
"Dr. Snipes has never told them she would not provide the information. They just delivered it 26 hours ago," Pettis told the Post. "The backdrop of this is that Gov. Scott does not believe that it's moving fast enough. That's what he said on TV. That it's not moving fast enough therefore they've intervened to speed this up. That's inappropriate."
A Democrat, Snipes was first appointed to the position in 2003 by former Gov. Jeb Bush, after he removed her predecessor, Miriam Oliphant. Snipes has been re-elected four times.
Republicans have blasted the two Democratic havens as vote margins in Broward and Palm Beach counties have narrowed in the gubernatorial, U.S. Senate and agriculture commissioner races in the days following the election.
Speaking to reporters Friday, Palm Beach County Supervisor of Elections Susan Bucher called it "unfortunate that some of the highest elected officials in our country are trying to disrupt our democracy because they don't like the demographic of our voters."
She declined to clarify what demographics the elected officials disliked.
Rubio's call came shortly after incumbent Nelson chimed in publicly for the first time since Tuesday. In a video, Nelson accused Scott of "abusing the full force of his public office as governor to stop a complete and accurate counting of all the votes in Florida — which would determine whether he wins or loses."
Scott "has decided to abandon the most fundamental of all rights, because he fears that he will lose the election if all the votes are counted," Nelson said.
"He isn't telling the truth, which is: votes are not being found; they're being counted. We will continue to ensure that this election is conducted fairly, the rule of law is followed, and the democratic process is fulfilled," he went on.
Nelson was reacting to Scott's lawsuits and to the governor's request that the Florida Department of Law Enforcement look into fraud at both county elections offices. An FDLE spokeswoman on Friday said the agency is working with the Department of State but does not have any active election-related investigations "at this point."
Earlier Friday, Nelson's recount attorney Marc Elias compared Scott's use of the state law enforcement agency to a "third world dictatorship."
Congressman Matt Gaetz, a Republican from Fort Walton Beach, was in Broward County Friday as part of Scott's team.
He called for Scott to immediately suspend Snipes for the current problems as well as for past infractions, which include the posting of primary election results before the polls closed in 2016; destroying ballots prematurely in a contested 2016 race; and, earlier this year, opening mail-in ballots before the canvassing board was able to determine their validity.
"She has failed to follow state transparency laws during this election, and has a long history of misconduct, including preemptively destroying ballots," Gaetz tweeted.
Tim Cerio, a former general counsel for the governor who has been brought on by the campaign as part of a recount legal team, said removing Snipes from office is not under consideration at this time.
But Rubio said Snipes should be a "candidate for removal" due to the damage she's done to the credibility of the election process. However, Rubio said such action should occur after the current voting process is done.
"This is not one bad cycle, this is a pattern of courts finding them to be in violation of the law," Rubio said.
County canvassing boards have until noon Saturday to submit unofficial totals from Tuesday's election. Shortly afterward, Secretary of State Ken Detzner, who was appointed by Scott, is expected to announce which races are within the 0.5 percent margin requiring a machine recount. Contests found after the machine recount to be within a 0.25 percent margin will undergo a manual recount.
As of Friday, the closest of the statewide contests was the race for agriculture commissioner, with Democrat Nikki Fried of Fort Lauderdale holding about a 3,000-vote lead after trailing Republican state Rep. Matt Caldwell by nearly 41,000 votes Tuesday night.
Caldwell filed a lawsuit Friday against Snipes that calls for the rejection of all vote-by-mail ballots received at the elections office after 7 p.m. Tuesday.
In the governor's race, former Congressman Ron DeSantis was ahead of Tallahassee Mayor Andrew Gillum by more than 36,000 votes Friday night. Gillum conceded to DeSantis on election night, when he trailed his Republican opponent by 78,000 votes.