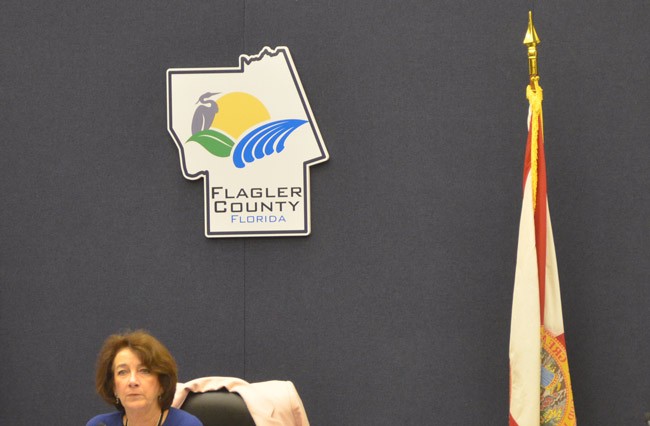 The Florida Commission on Ethics voted unanimously Friday to approve a $2,500 fine against Flagler County Commissioner Barbara Revels, the result of two ethics violations related to Revels's vote in 2013 to buy the old Memorial Hospital in Bunnel for a sheriff's operations center. It is the steepest fine leveled at any Flagler County official over ethics matters in at least five years.
Ray Stevens, a two-time candidate for sheriff in Flagler and a member of the Ronald Reagan Republican Assemblies, an extremist branch of the local GOP, brought the complaint against Revels, with the commission, in an unusual move, adding an additional charge as it investigated the case. Revels had not disclosed a business relationship with one of the principal owners of the old hospital, and the commission found that in a key vote on the hospital purchase where she proved to be the swing vote, she had improperly moved to go ahead with due diligence on the property, causing a gain or loss to her business associates. Each violation resulted in a $1,250 fine. (The commission does not impose the fine: the governor does, but that's considered a formality.)
The ethics commission did not discuss a subsequent email from Stevens, sent on Jan. 12, claiming the commission had not properly investigated "the allegation concerning a boat trip to the Bahamas by Ms. Revels and Mr. Page prior to her vote" (Bruce Page is the president of Palm Coast's Intracoastal Bank, the Revels business associate and one of the former owners of the hospital building). Stevens also claimed the loan Revels had from Intracoastal, an amount raised before the vote, was "not properly investigated."
"You have thoroughly looked at this additional information?" a commissioner asked the commission advocate during Friday's hearing.
The advocate said she'd directed Stevens to contact the investigator. "I did not receive any further information, so I went with what I had in the report of the investigation," the advocate told the commissioner before the vote. The settlement ends the darkest episode—and only serious blot–in Revels's six-year tenure on the commission. She was re-elected without opposition in 2012.
She is one of two local officials with serious ethics matters before the Florida Ethics Commission. Sheriff Jim Manfre is the other. Kimberle Weeks, the former supervisor of elections, filed ethics and elections commission charges against Revels and all of Revels's fellow county commissioners, but those charges appear to be scattershot and frivolous.
On Tuesday, Revels was at a two-hour training sessions on ethics presented by Palm Coast's city government. She declined to speak about her ethics matter, preferring to put it behind her. The ethics training is now required by law of all city and county elected officials (as well as state officials, including the governor and members of the Florida Cabinet).