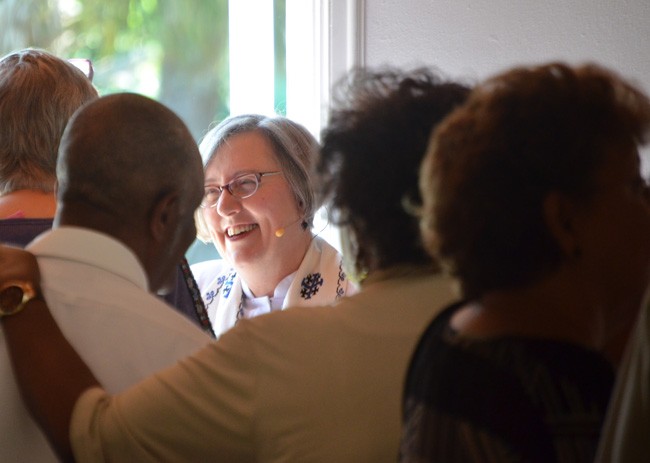 Lynne Evette made the announcement near the end of the service minutes before noon this morning at First United Methodist Church in Bunnell: "Is is with love and understanding as staff parish chair to announce that on June 30th, Rev. Beth will be moving to Lakeland, Florida, where she has been appointed as lead pastor at College Heights United Methodist Church."
There were gasps. There were sighs. Then there were tears, not least from Rev. Beth Gardner, who'd been the pastor at United Methodist Church for the past 15 years. In those years, Gardner transformed the church into the county's most progressive advocate for the homeless, not least in deeds: the Sheltering Tree, the county's only homeless shelter on cold nights, operates out of the church's fellowship hall. The church serves a free meal to anyone every Wednesday evening. And church grounds are, despite occasional flares of resistance and resentment from neighbors over the years, the only place in the county–other than the woods–where the homeless can spend time during the day un-harassed, have a restroom to use, and have a place that provides them with basic necessities and clothing.
Gardner's advocacy, backed by the volunteers of the Sheltering Tree, kept the homeless issue on the forefront of Bunnell's agenda over the years, heightening public awareness and compelling Bunnell and county governments, through numerous appearances before county and city commissioners, to improve outreach for the homeless while buffering the occasional backlash from the community. In 2011, a year that saw the cold-weather shelter open for 32 nights, First United Methodist Church and Carla Traister, a lead volunteer for the shelter, were both named recipients of the Daily Point of Light Award from the national volunteer organization. In 2013, Gardner was honored for her work by the Flagler County Commission.
A pastor's departure is not all that unusual: even among the innumerable churches of the Florida Conference of the United Methodist Church–of which First United in Bunnell is one of 78 parishes in the east central district alone; the conference counts nine districts across the state–pastors are appointed for one year at a time only. "So every year in January, I have to ask myself the question, should I stay, or should I go," Gardner said this morning at the end of her service, her voice breaking numerous times along the way. "This year, after 15 years of asking myself that question every January, it was harder for me to get clear on what the answer to that question was. So after an intense season of prayer, it was clear to me that this was the year for me to leave."
Gardner is married to Charles Gardner, the long-time appraiser in Bunnell, a member of Bunnell's Planning Board who also served on Bunnell's charter review commission in 2013. They have two children, twins who are on the threshold of high school: Gardner focused on the theme of thresholds in her announcement today–the threshold she was standing on, the one the church is approaching, and that of her children. "I didn't want them to have to move in the middle of high school," Gardner said, struggling most at that point to speak the words. (Her children were having no easier a time of it in the congregation.)
"This is the time. This is the time. It won;t be easy, but it's the right time," Gardner said. "God has blessed our time here, and I am so proud of this church, and I am so proud for every one of those 15 years that I have been here, and that we have been working together. I am proud of the work of loving and welcoming all of God's children that we do in this place. I am proud of where we have been, where we are now, and in so many ways, I am proud in how we have made that journey. It has not been easy, but has been an amazing and wonderful journey, and God has blessed the journey."
When she said "Amen," she did so, intentionally or not, with a question-mark lilt in her voice, though the response from the assembly was unquestioning.
In mid-November, displaying her wit and understated candor, she'd written a column for the News-Journal about her love for "our messy church." She meant it literally. "Our front walkway is grimy. The bread table is sticky. The bathrooms need some extra attention," she'd written. "And not only does the church property get messy, our people are messy, too. We are a wonderful, messy collection of sinners … journeying together towards sainthood." Perhaps she'd had inklings of her own journey ahead when she wrote the column, which may have been the first draft of today's decision. "And that is the point — we are on a journey," she'd written. "None of us has arrived. Some of us were messed up early in life, some remain messy due to addictions and brokenness, some are messed up by others, and others of us create our own messes. But I wouldn't want to be traveling with any other group of folks!" Today, Gardner sought to assure her congregants that the separation was merely physical or geographical.
On July 5, the first Sunday of the month, Gardner will lead her first service at Lakeland's College Heights United Methodist Church, a significantly larger congregation. And in Bunnell, Rev. Terry Wines, since 2010 the pastor at First United Methodist Church in Chiefland–a town a few dozen families smaller than Bunnell at Bunnell's exact longitude, closer to the Gulf of Mexico–will lead his first service. A graduate of Florida State University and Asbury Theological Seminary, First United in Bunnell will be his fifth church.
"The Gardners will definitely leave special footprints in our hearts," Evette had said, "and as they begin their new path on God's journey, their path's bright lights will continue to shine as they bless a whole lot of people along the way."
Gardner's was not the only goodbye for today's congregation: Ann Yaeger, the church musician, also said her farewell. "I have said goodbye a number of times over my career, my vocation, my work as a church musician," Yaeger said, "but I think this is the hardest."
Marking Earth Day during a prayer today, Gardner had spoken of how one life can make a difference. That was about 20 minutes before the audience had heard the news of her departure, when Gardner asked them to "take a deep breath with me." They wanted to clap and give her an ovation. She did not let them, not yet.