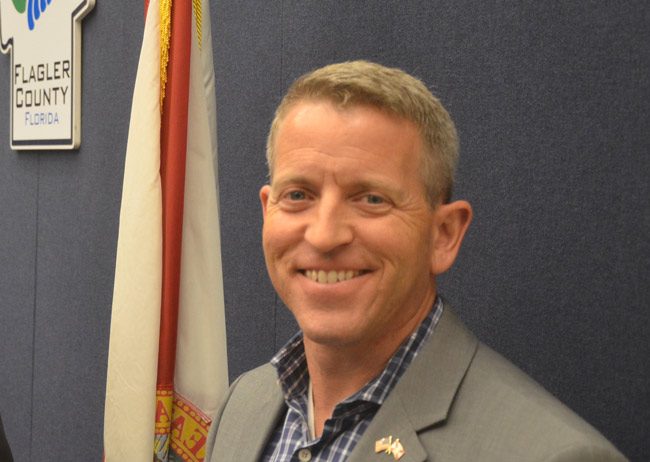 Rep. Paul Renner, the Republican elected to the Florida House in a special election just two and a half years ago from Palm Coast, was elected House Speaker through a secret ballot this afternoon in Orlando. Renner will serve in the powerful post for two years, starting in 2022.
The vote's assumption, of course, is that Renner will win his next two elections to keep his seat in the House.
"I'm proud to have an area like this to have a speaker of the house," Flagler Beach City Manager Larry Newsom said, "and for those of us in Paul Renner's district, if we don't take advantage of that, then shame on us." Newsom echoed other local officials when he described Renner as immediately and genuinely accessible and responsive. "It's going to be very beneficial for this area, to be speaker of the house is probably the second most powerful position in Florida."
Outgoing speaker Richard Corcoran is expected to run for governor. The next speaker is Jose Oliva, a Miami Republican.
Jacksonville may still want to claim Renner: he moved to Palm Coast less than three years ago specifically to run for the House seat, having lost one bid in Jacksonville by a matter of a few votes. He still practices law in Jacksonville. But his home is ostensibly in Palm Coast, and his election represents an historic opportunity for the county, which has never had as powerfully placed a legislator in its hundred-year history. It'll be lost on no one in Bunnell that Renner's nomination, though still four years off, is taking place on Flagler's centennial.
"I'm just pleased, I'm really pleased for him, for Flagler County and for the state of Florida. He is a good man," said Gail Wadsworth, the former clerk of court whose father and grandfather both served as House delegates in the Legislature, her father being the last person to directly represent Flagler until Renner. Billy Wadsworth served until 1965. "I feel like Flagler County now through Paul has a door to open into state government because he's reached that first pinnacle."
There was little doubt about Renner's ambition from the day he was elected, with word of his plans to take the speakership beginning to stir the grapevine at the beginning of his first full term. His plan became more transparent as he turned into Corcoran's chief lieutenant in the last session, sponsoring a slew of bills that put him at odds with the governor–and with his own constituents in Flagler, namely, the plans to end funding for Enterprise Florida, the state's economic development agency, and even end or drastically reduce funding for Visit Florida, the agency responsible for marketing the state to tourists.
Both plans looked as if they'd succeed until a special session returned $75 million to Visit Florida and created an $85 million economic development fund that allowed Corcoran and Renner to take credit for sidelining Enterprise Florida while allowing the governor to take credit for saving his economic development initiative. Renner's support for Corcoran's education reforms, many of them favoring charter schools at the expense of traditional public schools, also did not endear him to local constituents. But he kept his eye on the larger prize which, over the next two years, may pay its own large dividends for Flagler, as Renner will be in a position to push legislation favoring the county.
"It puts Flagler County in a very advantageous position," Palm Coast Mayor Milissa Holland said. "The speaker definitely yields a very large stick as far as priorities, not just legislatively but certainly positions as well, if we're looking for specific appropriations." The power base is in making committee appointments, said Holland, who was a lobbyist in Tallahassee for a few years. "Those are held in very high regard, they do drive a lot of policy discussions and a lot of deals are made in that process." And the speaker wields power steering such appointments. Both Renner and Sen. Travis Huston, who represents Flagler in the senate, have been "aggressive" in securing dollars for Flagler, Holland said. That can only increase in coming years as both politicians rise in leadership.
"I've always appreciated Rep. Runner and his openness and his willingness to discuss an issue even if we disagreed," County Administrator Craig Coffey said. "I thin it's going to be tremendous for our county." Coffey said Flagler had had a champion in former Sen. John Thrasher, before Thrasher moved on to become president of Florida State University. The county now has "a smart and articulate person that I think is going to really work with us to move a lot of things forward that the county and the cities want to do." the Hammock and partnership with the
Among those priorities, many of them costly: improving drainage in the hammock, keeping existing short-term rental regulation in place, securing money for Palm Coast's and Flagler Beach's water utilities, and of course continuing to secure more aid in rebuilding the county's and Flagler Beach's dunes, State Road A1A, and, other roads.
The county, and presumably other local governments, will be dusting up previously unsuccessful requests, or requests they have not yet been able to make, as they take advantage of the new leadership.
"I would not think it's a run on the bank by any means," Coffey cautioned, though the speaker does have more influence. "I know Rep. Renner is a fiscal conservative, but if we're not coming forward with good projects that warrant consideration, he won't be supporting."
Newsom, the Flagler Beach manager, more directly sees benefits ahead. "It's going to benefit Flagler Beach when I put in my appropriations next year. Paul supported my appropriations this year, it got vetoed by the governor," Nedwsom said, and that can start well before Renner takes over the speakership. "Even though he's not speaker of the house, if he's Speaker Pro Tem, it's still a lot of credibility, on what bills Paul brings forward."