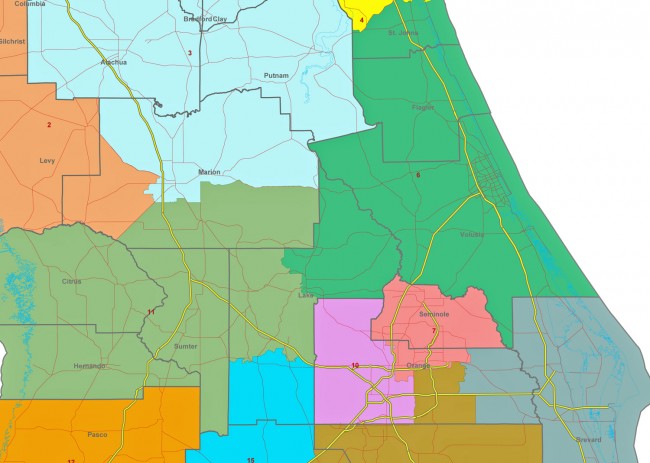 The battle over boundaries for Florida's 27 congressional districts began in earnest Thursday, with a state House committee approving a plan while senators considered overhauling the same proposal — and as a congresswoman continued pressing her case that the map would harm black voters.
The House Select Committee on Redistricting voted 9-4 to back a "base map" crafted by legislative staff to comply with an opinion from the Florida Supreme Court, which ruled last month that the existing congressional map violates the anti-gerrymandering "Fair Districts" requirements approved by voters in 2010.
For Flagler's 6th congressional districts, the boundaries move significantly south and southwest, away from northern Florida and toward central Florida–the very shift Sen. Travis Hutson and Rep. Paul Renner, each a junior in his new seat, are opposing, because the plan splits St. Johns County.
"To date," Renner wrote the legislative redistricting leadership on Wednesday, "the constituent calls we have received have been universally opposed to splitting the county in this fashion." But the shift may also be reflective of the weakness of the region's legislative delegation: neither man has pull in his respective house, neither has bargaining chips to deal with.
The new district would leave behind much of St. Johns and all of arch-conservative Putnam county, and pick up more moderate Volusia and a segment of northeast Lake County.
In pushing the committee to back the proposal (HB 1B), House Redistricting Chairman Jose Oliva, R-Miami Lakes, said that as much as he personally believes the lines should be drawn by elected representatives, the "charge" of the ongoing special legislative session is to comply with the court orders.
"There may be a time in this Legislature that we can address the root and structural circumstances that brought us here," Oliva said. "Indeed I look very much forward to that time. Unfortunately, that time is not today."
Rep. Jared Moskowitz, D-Coral Springs, joined Republicans on the committee in voting for the map. Rep. Jennifer Sullivan, R-Mount Dora, and the other Democrats voted against the plan.
"I can certainly respect and understand colleagues from my own county who have been able to come to terms with voting for it, but at this time, from my own conscience, I haven't been able to," Sullivan said. "I do think it disfavors those that will run in congressional seats, in these seats, versus their current seats that they have."
Moskowitz said he could support the proposal because the Legislature made mistakes in establishing the initial districts and the proposed map complies with the Supreme Court ruling.
"There is only one duty here. The duty is the Supreme Court has a ruling, follow the ruling," Moskowitz said. "Follow it with staff's advice. Follow it with counsel's advice. Counsel believes we're going to be able to justify the map, and I agree with counsel."
---
The 6th Congressional District's legislative delegation is made up of rookies with little pull in theirv respective chambers.
---
Early in the meeting, the committee rejected, on a voice vote, an amendment by Rep. Dave Kerner, D-Lake Worth, that would have kept much of coastal Palm Beach County in a district currently represented by Democratic Congressman Ted Deutch.
The House committee didn't take up an amendment proposed by Rep. Mike Hill to reintroduce the map that was developed in 2012.
The Pensacola Beach Republican told the House committee that he takes oaths to the U.S. Constitution seriously and he doesn't believe the state Supreme Court has the authority to order changes to maps made by lawmakers.
"We should strike all that has been done to redraw these districts and go back to the map of 2012 of which we have constitutional authority," Hill said.
Oliva said Hill's proposal didn't meet guidelines of the special session as called by legislative leadership. The session started Monday and is scheduled to last until Aug. 21.
The base map has drawn perhaps the most criticism from Democratic Congresswoman Corrine Brown, whose district would be radically changed. Brown has filed a federal lawsuit to block any effort to dismantle her current district, which ambles its way from Jacksonville to Orlando to create a seat likely to elect a candidate preferred by African-American voters. The Supreme Court ordered lawmakers to reorient the district, running it from east to west.
"It has really destroyed two districts: District 5 and District 2," Brown told reporters, referring respectively to her district and one held by Democratic Congresswoman Gwen Graham. "District 5, they knew when they drew it (in the base map), would not elect an African-American, nor will it elect a Democrat. I have no idea why they drew that district."
A reporter challenged her to back up the arguments with numbers, noting that African-American voters are likely to dominate the redrawn district's Democratic primary and that a Democrat would likely win the seat, which President Barack Obama carried by more than 28 points in his 2012 re-election bid. Brown declined.
"I will be in court with the case in court, and that's where we'll deal with this," she said. "Because the fact of the matter is based on how the Florida Supreme Court drew the district, it disenfranchised the people that live in the 5th Congressional District — period."
Brown also brushed off a suggestion that she was wary of facing new voters.
"Let me explain something to you that … may be breaking news, but I want you to know: I had a job before I got elected," she said, dropping her voice to a dramatic whisper. "Being elected is service. It's the opportunity to serve."
District 5 is one of several that senators will consider changing at a Monday meeting of the Senate Reapportionment Committee. The panel met twice Thursday but decided to give the public and members more time to weigh a series of amendments.
One would tweak Brown's district by extending an arm that would pick up part of Gainesville. Another proposed amendment would unite Sarasota County in a single district, represented by Republican Congressman Vern Buchanan; and a third proposal would make several changes across the Interstate 4 corridor aimed at consolidating eastern Hillsborough County into a single district.
Sen. Tom Lee, a Brandon Republican pushing the Hillsborough County changes, told the committee it should consider combining as many Senate ideas into a single amendment that could then be approved. But he conceded to reporters that he thought amending the current proposal would be difficult because some politicians and citizens have already begun bracing for the effects of the base map.
"My concern here, as I watch the reaction to all of these amendments, is that because we're operating against the backdrop of a base map, and because it's much harder to amend something than it is to retain the base map, that we may end up with as a practical matter, the inability to amend any of these," he said.
But Senate Reapportionment Chairman Bill Galvano, R-Bradenton, said he didn't believe the crafting of a suggested plan made it more difficult to approve amendments. Galvano said lawmakers would otherwise be working with the existing districts.
"You always have a base map," he said. "It just so happens that, in this instance, because the Supreme Court has issued an order with instruction and identified certain districts, we are able, instead of just to show up with the enacted plan, to have made progress on a base map in terms of what the court wanted."
–News Service of Florida and FlaglerLive