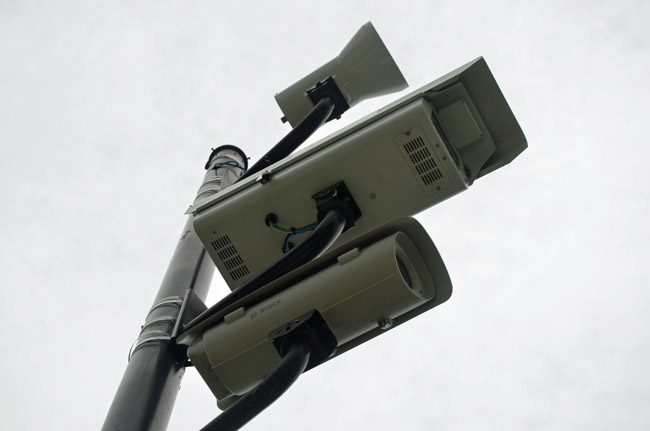 A South Florida lawmaker filed legislation Friday to repeal the law allowing the use of red light cameras, following a report earlier this week that says intersections where they're used have seen drops in crashes in most places.
Rep. Daphne Campbell, D-Miami, filed legislation Friday seeking to end the use of the cameras, saying they unfairly dole out tickets to people who can't defend themselves, noting that malfunctioning cameras can't be cross-examined.
The fate of the legislation will be relevant to Palm Coast, where red-light cameras, first installed in 2007, have been alternately embraced and vilified. The Palm Coast City Council last year approved expanding the number of cameras to 52, in some cases against the Flagler County Commission's objections. Several Florida courts have ruled–with conflicting decisions–on the legality of cameras installed before 2010, when the Florida Legislature legalized and regulated them. The Florida Supreme Court is expected to resolve the conflicts this year.
In other states, the backlash against red-light cameras is gaining ground. In New Jersey last week, the settlement of a class-action lawsuit involving cameras in 18 towns will lead to the partial refund of many tickets for up to 1 million drivers cited by way of cameras. The suit was filed charging that yellow-light timing was not properly certified. The suit ended in a $4.2 million settlement in favor of drivers, who would get at most $6 to $10 in refunds per ticket.
In California, San Bernadino is ending its contract with its red-light camera contractor, six months after Los Angeles ended its red-light camera program. Red Bank, Tenn., is also ending its contract this year. But other cities (among them Houston and Lakeland, Fla.) are either renewing their contracts or expanding it.
Meanwhile, the Department of Highway Safety and Motor Vehicles released a report Thursday showing that crashes were less frequent at red light camera intersections, based on data from 73 agencies. The report said accidents were less frequent in intersections with cameras in 41 jurisdictions but up in such intersections in 11 jurisdictions.
The rest of the 73 jurisdictions where they are in use didn't have the data, and the state didn't say what the overall numbers were in the report, which was sent to lawmakers. "The most common improvements cited were, "according to the report, "reductions in drivers running red lights at intersections using cameras; reductions in red-light violations observed by law enforcement at all intersections; and an increase in cautious driving, jurisdiction-wide."
Since state law was changed in 2010 to allow local governments to use the cameras to catch red light runners they've been under attack. A repeal effort was mounted starting the very next year in the Legislature.
Campbell's legislation (HB 91) would repeal the state law that authorizes their use. The law also sets out how the money from such tickets is allocated. Before there was a state law, some local jurisdictions used them, but there was considerable confusion about whether they were legal. Even since the law has been passed, their use has continued to be challenged in court.
"The red light camera companies exploit victims to push Florida laws to gain millions," Campbell said in a statement. "People are presumed guilty by the picture of the camera. The corporations are the ones making the money."
The Florida League of Cities, however, said Friday that keeping the cameras is a top priority of local governments.
"Providing cities with the tools they need to keep residents safe is the Florida League of Cities' No. 1 priority, and this technology has been proven to help authorities punish lawbreakers, reduce dangerous T-bone crashes and change the behavior of those drivers who selfishly choose to run red lights," the league said in a statement.
Local governments don't want to lose their share of the revenue from the $158 fines paid by people caught on red light cameras, but also say their law enforcement budgets are strained and the cameras help them enforce laws they otherwise wouldn't be able to.
"While the data in this report suggests a significant positive effect on traffic safety, the Florida League of Cities believes the government closest to the people governs best, and nobody knows a city better than its residents," the league's statement said. "Some municipalities have determined that red light running is not a problem in their community and have chosen not to install traffic infraction detectors. Other cities, after holding public hearings and listening to concerned citizens, have determined that red light safety cameras will make their streets safer."
Campbell's bill is yet to be assigned to a committee.
–News Service of Florida and FlaglerLive