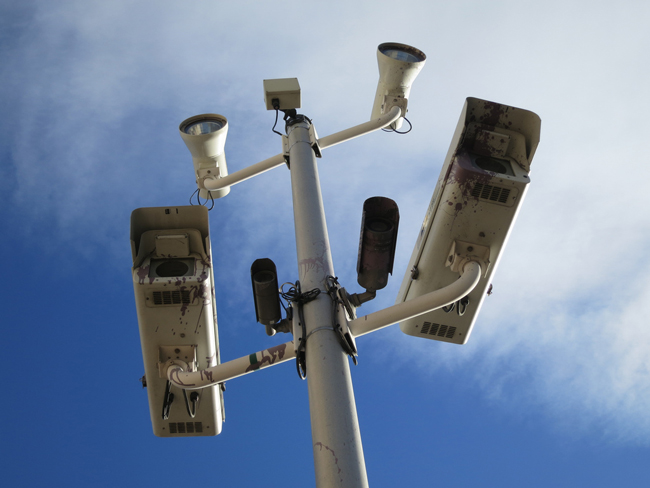 Lawmakers seemed to be drawing closer this week to giving a green light to a limited form of medical marijuana, while some of them complained that red-light cameras were spreading across the state like weeds.
With the Legislature going through its next-to-last week of committee meetings before the annual session opens March 4, time is running short for lawmakers to float trial balloons or major legislation, whether on red lights or a marijuana extract that doesn't get users high. At the same time, a bill emerged in the Senate that could drive the likely fiery debate over public employee pensions.
Divisions exist on all those issues, of course. Lawmakers are trying to separate the medical cannabis bill they're pushing from a broader measure being sought by Orlando attorney John Morgan and his "army of angels." Efforts to slam the brakes on the proliferation of red-light cameras have long been contentious. And public employees' unions can still be expected to fight the pension changes, even if a strategic difference from last year's bill will make the measure more palatable in the Senate.
The legislative session has essentially begun, but the end on some of the high-profile issues of the session is still unclear.
A 'BALANCE' APPROACH TO PENSIONS
Overhauling the pension plan for future public employees might have been one of House Speaker Will Weatherford's top priorities last year, but it was the Senate that moved first on the issue this year, now that the revamp is part of the joint House-Senate agenda.
Senate Community Affairs Chairman Wilton Simpson, R-Trilby, this week introduced a bill (SPB 7046) that would close the Florida Retirement System to most new public employees, instead shifting them either to the state's existing 401(k)-style investment plan or a new "cash balance plan." Law-enforcement officers and firefighters would still be allowed to join the traditional pension plan.
The exclusion of those "special risk" employees appeared to be an effort to defuse the most controversial part of changes to the pension plan after an effort to force all new employees into the investment plans was torpedoed last year by renegade Senate Republicans.
"The proposed committee bills relating to Florida's retirement system are a common-sense approach to ensure that we are able to fully deliver on the benefits that we've promised our hard-working state employees for years to come," Simpson said.
Under Simpson's bill, employees would have de facto accounts set up and would be guaranteed a return of at least 2 percent a year on the money in their accounts. If the plan's investments made more than 2 percent, then three-quarters of the extra money would go to employees.
House leaders said they were still trying to decide between the cash balance idea and a hybrid plan that would essentially split an employee's account into two, with part of it being invested in the traditional pension system and the other portion going into the investment plan.
Some critics zeroed in on the difference between special-risk employees and the rest of the state, questioning why only police officers and firefighters should get to stay in the traditional pension plan.
"If it's good for one set of employees, it should be good for all sets of employees," said Florida Education Association Vice President Joanne McCall.
In an interview with The News Service of Florida, Weatherford had a ready answer.
"I would say there's a reason we call them 'special risk,' " he said. "They have a special job. They put their lives in danger."
RED LIGHT FOR RED-LIGHT CAMERAS?
Almost since they were approved by the Legislature with the Mark Wandall Traffic Safety Act of 2010, red-light cameras have faced a vocal group of critics looking to roll back or get rid of the robotic intersection overlords. And a report out this week from the Legislature's Office of Program Policy Analysis & Government Accountability is fueling the drive to scrap the cameras.
According to the OPPAGA report, there were fewer fatalities but more crashes at electronically monitored intersections, and fines issued due to the technology cost motorists nearly $119 million last year.
The study recommends that local governments demonstrate a safety need at each intersection where cameras may be installed, that local communities should be required to follow standards on the length of yellow lights, and that revenue local governments generate from the cameras be restricted to public and traffic safety uses. But foes of the cameras want to go even further.
"I think we should go all in for full repeal," Senate Transportation Chairman Jeff Brandes, R-St. Petersburg, said during a press conference at the Capitol to highlight the study. "I think this data clearly shows that this program is not working as the Legislature intended, that we're not seeing a reduction in accidents, (and) that we're seeing a clear, dramatic increase in revenues that are being generated from this."
But camera opponents have some other ideas — just in case a repeal doesn't happen. Rep. Frank Artiles, R-Miami, who has filed a measure (HB 4009) to repeal the 2010 law, said if legislators are unwilling to support repeal, they should enact the series of recommendations included in the legislative study.
"I still firmly believe that this program should be repealed, but if we cannot repeal it I'm willing to modify it significantly," Artiles said.
Artiles also proposes that the amount local governments can fine be reduced from $158 to $83.
Unsurprisingly, perhaps, local governments were not at all convinced by the report. The Florida League of Cities quickly questioned whether the study was fair. Lobbyist Casey Cook maintained that the cameras do improve safety and called the study "biased and inconsistent."
"The report's conclusion is not surprising given that it was requested by a legislator who sponsored a bill to repeal Florida's red-light safety camera law," the release said.
Those opposed to the red-light cameras have one powerful ally: Weatherford, who made clear Wednesday he wants to overhaul the state's red-light camera law. Weatherford described the report as "scathing."
Weatherford said he would support passing a bill to repeal the cameras, though he acknowledged that likely will not happen.
'SOME POT'
When E.B. White wrote the book "Charlotte's Web," which was published in 1952, he probably didn't think a work about a spider putting messages like "Some Pig" in her web to save a porky friend would later be applied to a form of medicinal marijuana.
But "Charlotte's Web" is more than a book and animated movie; it's now a marijuana extract that supporters say can help children with a form of epilepsy. And three Republican senators filed a bill Wednesday that would allow the product to be used.
Filed by Sens. Rob Bradley of Fleming Island, Aaron Bean of Fernandina Beach and Brandes, the measure (SB 1030) centers on the extract, which has a relatively small amount of tetrahydrocannabinol — the psychoactive component in marijuana. Supporters say the low level of THC in Charlotte's Web means users do not get high.
"Charlotte's Web helps patients improve their quality of life and offers hope to parents desperate to provide relief to their children," Bradley said in a prepared statement. "While many Floridians have significant concerns about medical marijuana being misused, SB 1030 offers a new opportunity for Floridians who have not found relief with current medications."
Also apparently on board with the new push: Senate President Don Gaetz, R-Niceville, whose son is behind a similar House bill (HB 843). Gaetz's son, Rep. Matt Gaetz, R-Fort Walton Beach, is one of the leading supporters of legalizing Charlotte's Web.
"As a father myself, I am unwilling to require these parents to be criminals in order to get treatment for their children," the elder Gaetz wrote in a release posted on the Senate website and addressed "Dear Neighbor" to people in his Panhandle district. "As the father of Representative Matt Gaetz, I am proud of my son for his political courage in fighting for these families as they fight for their children's lives."
Legislative leaders, though, have taken pains to separate the issue of Charlotte's Web from a wider constitutional amendment that would legalize prescription pot. That measure, backed by People United for Medical Marijuana, is set to go before voters in November.
Reports filed Monday showed that the group had burned through about $4.6 million by the end of January, with Morgan footing most of the bill.
STORY OF THE WEEK: Legislative wrangling began over the pension overhaul that could be one of the more hotly-contested bills of the session. Senate leaders put forward a "cash balance plan," while House leaders said they were still deciding which way to go with their bill.
QUOTE OF THE WEEK: "Ninety percent of the time it feels like our agenda is your agenda, maybe more than that."–House Speaker Will Weatherford, R-Wesley Chapel, to members of the Florida Chamber of Commerce.
–News Service of Florida