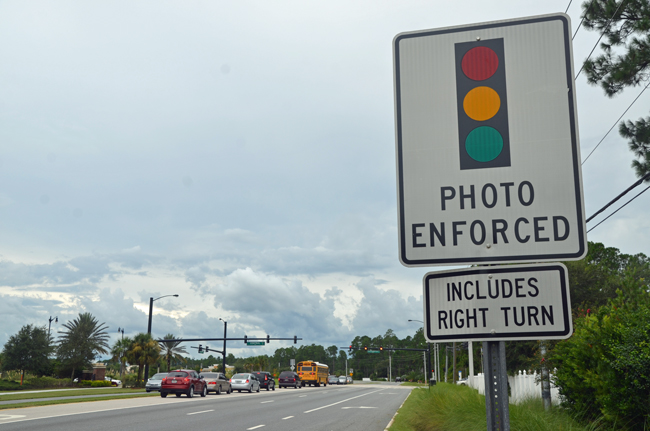 Red-light cameras are still flashing in Palm Coast. But they're hanging on by a blink as even their most ardent supporters are beginning to favor ending the cameras' reign in the city.
That includes City Manager Jim Landon, who said Friday that "we need to look very hard at how we're going to eliminate this program in Palm Coast." And it includes Palm Coast Mayor Jon Netts, who said Friday he was still philosophically in support of the cameras, but no longer pragmatically so. "If this is creating more unrest and more aggravation and more annoyance, if you're getting that kind of a push-back, then it's counter-productive," Netts said.
City Council member Bill McGuire, who ran on a pro-red-light-camera platform three years ago, wants to rethink the system. He's personally torn about which way to go, but if a majority of residents want the system gone, he'd take them out. To that end, McGuire intends to propose that the city itself push a referendum on the issue on this year's municipal ballot. A citizen's group is trying to gather enough signatures to qualify for a ballot initiative, but it's not clear how far it's gotten in gathering petitions. "I'll be happy to propose that the city sponsors a referendum and see what kind of results we'll have," McGuire said. "I'm not exaggerating when I say that this is a moral dilemma for me, if I should support the removal of them."
Council member Dave Ferguson wouldn't remove the cameras outright, he said, but he's long opposed their saturating city intersections. He would prefer that the number of cameras be scaled back to a few, critical intersections.
Council members Bill Lewis and Jason DeLorenzo couldn't be reached Friday. But DeLorenzo is the one council member who's consistently made his opposition to cameras clear, and who's voted against adopting the city's contract or amendments with American Traffic Solutions, the Arizona-based private company that runs the system for the city, at no cost to taxpayers, but at great profits to its bottom line: ATS makes more than twice as much money as the city does on ticket revenue, and the state takes an even larger share than ATS's. Palm Coast is guaranteed, at most, close to $400,000 a year, assuming all 47 cameras are flashing. Fewer than that are functioning now because of construction projects.
The council, in sum, is no longer unquestioningly behind red-light cameras, but it's time for it to have a more earnest discussion, Netts said: he wants to know more clearly where the council stands on the issue, and what it would cost the city to end its contract with ATS, though he says that cost would not figure in his decision to end or not end the city's relationship with the company.
"This is not a dollar and cents issue, this has never been, contrary to what many people seem to feel and express," Netts said. "We didn't put them in to make money, and I'm not going to not take them out simply because it costs money to take them out."
---
"The best thing that could happen in my opinion is for the referendum to go forth and for the citizens to stand up and say, we want them gone."–Council Member Bill McGuire
---
The council's doubt over the system is the result of a sustained backlash against the cameras that every few months, or every few weeks, takes on a different angle. In the last six weeks, two county judges—Flagler County Circuit Judge Dennis Craig and County Judge Melissa Moore-Stens—both embarrassed the city (Craig as a ticketed vehicle owner, Moore-Stens as a sitting judge), questioning the city's good faith and respect for the court system in stern and unequivocal language. Moore-Stens was especially critical of the city not showing up at a red-light camera hearing this week.
In an appearance on Free For All Friday on WNZF, City Manager Jim Landon himself offered hsis strongest language yet against continuing the red-light camera program and said he's initiated discussions with ATS on ending the relationship (though Landon hasn't yet discussed that approach in open meeting with council members).
Closely echoing Netts' evolving opinion on red-light cameras, Landon said escalating fines past the $158 benchmark, as happens once the citation becomes a traffic ticket, was never the city's intent. But state law twice changed the system, standardizing the fines, the way the fines are split between local governments and the state, and the way original citations become traffic tickets through the state court system if they're not paid within a 60-day window, all of which complicates matters for drivers and the city.
Landon defended the city's no-show in court this week, saying it's never been summoned to court before for such hearings, and that the city and the clerk of court had met last year to come up with a system that would dismiss certain citations that had escalated into traffic tickets as long as violators paid the original $158 fine. "That was our agreed upon system at the request of the court," Landon said. "This week we hear, well, you can't do that."
Landon's larger point was that the red-light camera system overall has gotten out of hand.
"I can tell you that I was, and I still am, a fan from a philosophical standpoint of people that run red lights are putting people in danger," Landon said. He described the case this week of a 72-year-old cyclist who was struck and killed on a crosswalk along White View Parkway by a driver who'd apparently violated her right-of-way, at an intersection where Landon's granddaughter had been just five minutes earlier, on her way to school. It's not a red-light camera intersection: there are no lights there. But Landon said the incident reflected the sort of driver behavior the city is looking to address with red-light cameras.
But it's gotten beyond that.
"We definitely will have this conversation," Landon said of the fate of red-light cameras. "I know other people will probably bring it up. I will bring it up at the council meeting next week. We need to look very hard at how we're going to eliminate this program in Palm Coast. The ironic thing about that, that I found very ironic, is that council members have asked me to go to our vendor and ask how do we get out of our contract, because we have unintended consequences. We do not like the results we're seeing, we think this is, in essence, it feels like we're harassing our citizens, and it doesn't feel good any longer. So the day before this court hearing, I met with a representative of ATS and got the ball started as to how can we sit down and renegotiate the contract to get out of this as quickly and as efficiently as possible."
Like Netts, Landon said he'd have favored the sort of system where the first violation would be a warning, not a $158 ticket. But state law forbids that approach—and Palm Coast itself forbade it when it had the chance to impose just such a system when it installed the cameras in 2007, with Netts and Landon in their respective positions even then.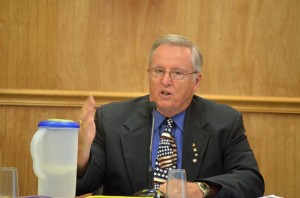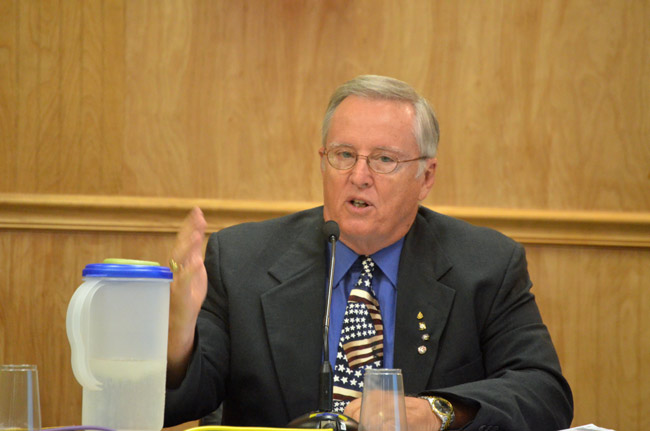 Jim Manfre, the Flagler Sheriff, was alongside Landon during this morning's show and was asked what he thought of red-light cameras. Law enforcement officials usually oppose such systems, because they undermine the normal parameters within which actual cops issue tickets and drivers contest them. But Manfre punted. He said he would not get between the city and the court system on the issue. His one endorsement was for the cameras as a law enforcement tool. The camera footage is often used to follow up on crimes that may have been caught in the recordings. Such footage has been useful in tracking down and arresting suspects. Would he favor buying the camera system and retaining it just to that end? "I'm not a big fan of cameras everywhere," Manfre said, though cameras at certain intersections would be useful, he said.
But that would cost money, Landon said, and entail a policy shift by the council to actually take ownership of the red-light cameras. Given how radioactive the system has become, the council is unlikely to take that step. Netts doesn't favor a referendum on how to proceed next, however, as McGuire now does.
"I think there's a strong groundswell to do so, and I wish I could get on the bandwagon," McGuire said. "The best thing that could happen in my opinion is for the referendum to go forth and for the citizens to stand up and say, we want them gone."