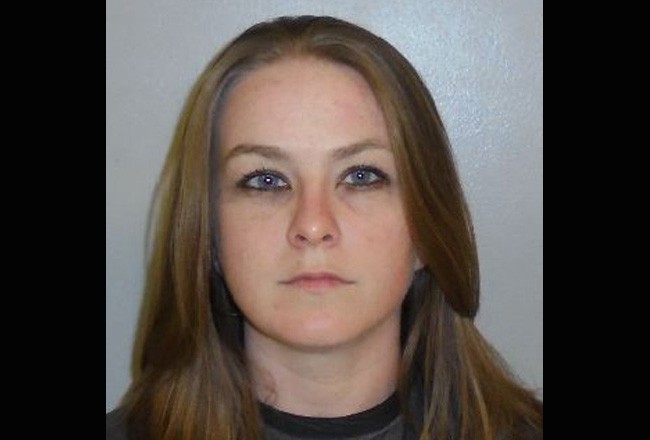 Thursday evening, Rebecca Lawless, 26, of Palm Cost turned herself in to at the Flagler County jail after a warrant was served for her arrest on a charge of DUI manslaughter over the death of Diane Upton in a wreck on State Road 100 in palm Coast a year ago.
What has never been reported previously, and is not part of the Florida Highway Patrol's arrest report, is that Lawless, shortly before the Oct. 18, 2014 fatal crash, had been part of a traffic stop at a different location by a Flagler County Sheriff's deputy. A field sobriety test was started or was about to be started, but was aborted. Lawless was allowed to go on, as long as someone else was at the wheel, even though she had been observed to be drunk by several deputies and had been at the wheel of the vehicle when stopped.
One of the deputies at the scene in that traffic stop knew lawless personally.
A sheriff's report FlaglerLive obtained states that shortly before the wreck, Lawless was in a traffic stop at Seminole Woods Boulevard and Ulaturn Trail.
The fatal wreck took place around 9:30 p.m. At 8:30 p.m., a deputy was responding to a 911 call that had reported a reckless driver in the area of Seminole Woods. The deputy was observing suspicious activity involving Lawless's Camry and an SUV that was behind her. Lawless was at the wheel. When the deputy asked her to lower her car window, he "detected signs of impairment." He ordered Lawless to turn off the ignition and he returned to his patrol car to turn on the emergency lights.
"When speaking with Lawless, I immediately noticed slurred speech and odd eye movements, in addition to what I would call a '1000 yard stare,'" the deputy reported. "Once Lawless was out of the vehicle, I smelled a strong odor of alcohol on her breath. She openly admitted to having [redacted] before driving this evening."
Lawless then "became combative with Deputy Chambers when he requested that she put her phone away and stop trying to call additional unknown persons to the scene," the report goes on. "She began to pull away when Deputy Chambers reached for her phone and become angry when he finally removed it from her possession. I detained her for officer safety until she calmed down, about five minutes later."
Her passenger, Kimberly Burgos, 25, was almost asleep and openly admitted to have been drinking.
By 8:37 p.m., additional deputies had arrived at the Seminole Woods Boulevard and Ulaturn Trail. She "appeared to be intoxicated" to the deputy who'd arrived after Lawless had spoken to the first deputy, according to an incident report.
"I smelled a moderate odor of an alcoholic beverage emitting from Rebecca's breath while I was speaking with her, observed that her eyes were bloodshot and glassy and that her speech was slightly slurred," the additional deputy reported.
The incident report goes on: "Deputy Chambers advised me that he knew Rebecca personally, so I called for Deputy Barile to respond to the scene to conduct a possible DUI investigation. While Deputy Barile was responding to the scene, Rebecca kept playing with her phone and she was instructed multiple times to put her phone down for our safety. Rebecca refused to put her phone down and she was temporarily secured in handcuffs, before she calmed down after several minutes. Upon Deputy Barile's arrival on scene, he asked Rebecca if she would consent to Field Sobriety Exercises to determine if she was impaired."
But no field sobriety test was completed.
"Due to the lack of probable cause for the initial stop, Lawless was released from the stop," the incident report states. "Furthermore, I was unable to follow the vehicle and directly observe any driving pattern," the deputy reported.
"I directed Lawless to call a legally licensed, sober driver to drive her and her vehicle home. Lawless called Kimberly's brother, and her own ex-boyfriend, Jahmar Dunn to drive her vehicle home. While waiting on Dunn to arrive at the scene, Lawless was stumbling around and had difficulty standing on her own. Dunn was driven to the scene by Savannah Russel in a separate vehicle. I held a brief conversation with Dunn and I was unable to detect any signs of impairment. During my conversation I asked if his licence was valid, to which he said yes, and explained that Lawless was too impaired to drive. Lawless also explained to Dunn during the several phone conversations with him that we would not allow her to drive because of her impairment. I observed Dunn get into the driver seat of the Camry and Lawless get into the right rear passenger seat. The Camry the made a right hand turn heading North on Seminole Woods Boulevard with Dunn driving the vehicle."
Not long after that, Lawless took the wheel again at a Kangaroo station. And minutes after that, she slammed into Diane Upton's car, killing Upton and injuring Upton's daughter and granddaughter.