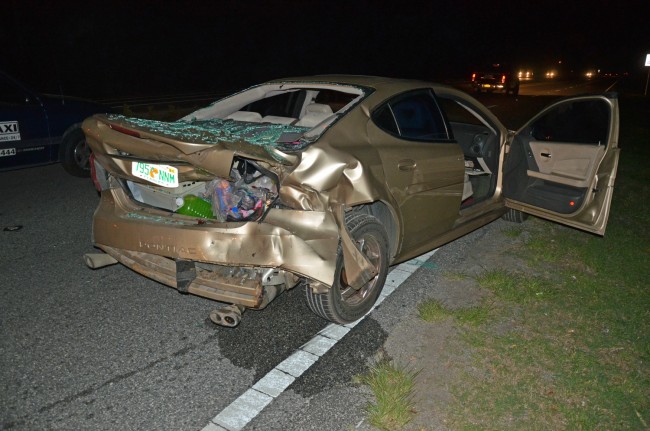 A child was among the three people injured in a two-car collision late Wednesday night at the intersection of Belle Terre Parkway and Whiteview Parkway in Palm Coast.
The crash took place at 9:18 p.m.
Ruqayya R. Coleman (age unknown), a resident of Palm Coast's P Section, was at the wheel of a gold-colored 20044 Pontiac, heading south on the outside lane on Belle Terre Parkway, and either stopped or coming to a stop at the light at Whiteview. Muriel-Ann Westervelt, a 72-year-old resident of Palm Coast's R-Section, was at the wheel of a Ford Focus, immediately behind Coleman.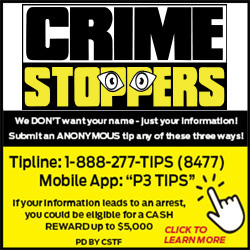 According to a Florida Highway Patrol investigator at the scene, it was a "simple rear-end," with Westervelt crashing into Coleman. "One car stopped and one car didn't," the investigator said.
The intersection is equipped with a red-light camera in that same direction, though it is not clear if the presence of the camera played a role. Cameras have been criticized for increasing rear-end collisions, as drivers afraid of running red lights tend to more often stop suddenly. The increase of rear-end collisions at intersections equipped with red-light cameras has been widely documented (as has the decrease in t-bone collisions).
The Pontiac was totaled as it was catapulted across the intersection, ending up in the right lane of Belle Terre, slightly onto the shoulder, its rear smashed in, and its back windshield shattered. A child, whose age was not known at the time of the investigation, was a passenger in the Pontiac. The Ford's damage was limited to its front end.
All three individuals involved in the crash were taken by ground to Florida Hospital Flagler. The FHP investigator said alcohol appeared not to be a factor.
The crash briefly closed the southbound lanes of Belle Terre, then had them reduced to one lane as the Palm Coast Fire Police regulated traffic until about 10:30 p.m., when the scene was cleared by John's Towing. The sheriff's office initially responded, as did Flagler County Fire Rescue and the Palm Coast Fire Department.