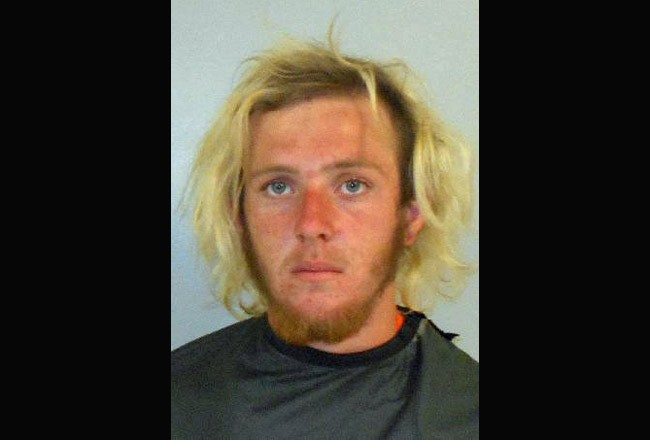 Rayonier, the land-holding company, manages 31,500 acres of timberland in Flagler County, almost all of it west of U.S. 1. Rayonier officials had been concerned about an area it manages in Palm Coast, just west of U.S. 1 and two miles north of County Road 13 that had been repeatedly used for illegal dumping, trespassing, illegal burns and illegal discharges of firearms.
On Monday, James H. Cortright, an 18-year-old resident of Maple Street in Bunnell's Mondex, also known as Daytona North, was arrested and charged with illegally dumping more than 500 pounds in a conservation environment, a third-degree felony.
Cortright's poor driving habits played a role in his arrest: in three months this year alone, he's faced nine citations for various driving infractions, including speeding and reckless driving. It was a reckless driver speeding through Rayonier property that caught the attention of Rayonier employees Billy Lipthrott and Howard Emery, and that led to their spotting the illegal dumping and, eventually, Cortright's arrest.
Early the afternoon of April 4, Emery saw a white Dodge pick-up "driving recklessly," as he told a Flagler County Sheriff's deputy, driving north on Old Brick Road. Emery followed the truck as it drove onto Rayonier property. He then photographed the truck with a truck-bed full of chopped wood, and took photographs of the wood after it was allegedly dumped illegally on Rayonier ground. He described the suspect to police.
Sunday night, the same truck drove past Emery's residence and onto the Rayonier property, with occupants of the vehicles proceeding to have a bonfire and a party. A deputy documented the scene. The photographs were sharp enough to indicate the tag number on the Dodge. The deputy tracked down its owner: Cortright. Rayonier officials wanted to pursue charges.
Cortright was working on his Dodge pickup in his driveway when deputies pulled up. His statements to police are redacted from his arrest report, though it appears that Cortright sought to deny his involvement or the extent of his alleged involvement in the matter. He was issued a trespass warning, arrested, and transported to the Flagler County jail. His felony arraignment is set for May 12 before Circuit Judge J. David Walsh.
Driving and trespassing matters aside, Cortright has also faced charges of burglary, petit theft, assault and criminal mischief. In every case, the charges were dropped.