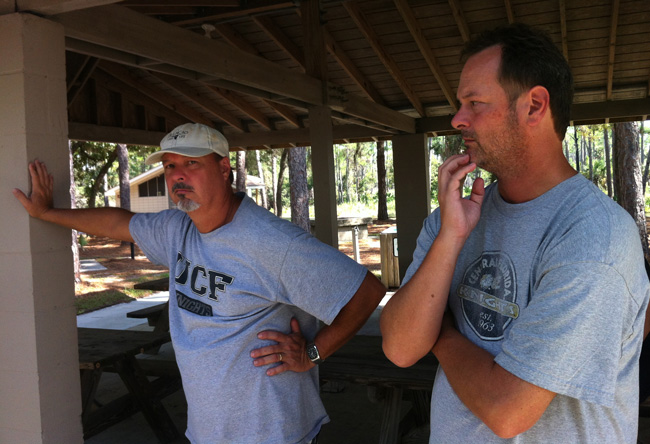 Whether he was bungee jumping from a bridge in Australia, skiing in Austria, motorcycling across the country or, one can freely speculate, embracing his globe-trotting job with the CIA, from which he retired, Raymond Miller was a man of adventure. It was that same sense of adventure that lofted him above Flagler County for the last time a week ago, when he took his first solo flight aboard a light-weight experimental plane he'd built in what was to be a "joy ride," in a family member's words.
It was to be his last. Miller, 77,  crashed sometime Friday in the marsh of Pellicer Creek, a violent, nose-diving crash that sent the plane so deep into the muck that authorities have been trying for the better part of the past week to extricate the plane, so far unsuccessfully. The broadest attempt, this time with a construction barge, was taking place this afternoon, and authorities were expecting to have excavated the plane by day's end.
Meanwhile, several of Miller's family members gathered Thursday at the rescue and recovery staging area set up at Faver Dykes State Park, including his two sons, Drew Miller, 49, and Darren Miller, 46, both brothers' wives—Marie and Jennifer—and one of Raymond Miller's three sister, Heather. He also had two grandchildren. And a beloved German shepherd. It was a way for the family to put a life behind the name.
And what a life it was.
"First thing I'd like to say is that we cannot express our gratitude enough to all the agencies and everyone involved in the recovery of my father," Drew Miller said. "We understand it's a very difficult recovery. We're going on a week now since the accident, but it may very well be a sign. My father was a very stubborn man, and this may be a fitting conclusion. We do know he ended his life doing something he loved. He was a man of adventure and we can't understate that enough. He truly loved the outdoors. He loved flying, he loved boating, he loved wildlife. If the recovery effort for whatever reason does not end today, I hope that this could be his final resting place. I know he would like nothing less."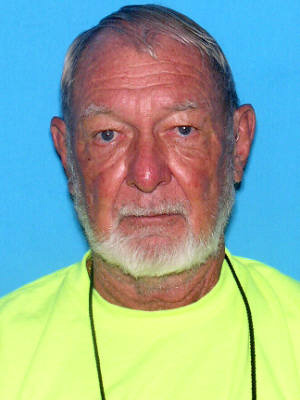 Darren Miller went on to describe a life dedicated to public service, starting with service in the U.S. Army, from where he was recruited into the CIA. "He touched a lot of people along the way," Miller said. "He had a good life, very full life, and we're all going to miss him very much. But we take solace in the fact that he did live a real full life. I'm sure he would have no regrets, and I'm sure he wouldn't want any other way if he had a choice. We know he didn't in this situation, it wasn't his choice, but we just know, this is not an unfitting end to my father's life and his legacy."
The family said Raymond Miller had built the plane from a kit in his garage, the second experimental plane he'd built, but had himself never flown it solo. It had, however, been flown two to four times, including when it was flown up from Fort Pierce by an acquaintance of Miller's after Miller moved to Palm Coast. He moved locally about a year ago from Fort Pierce. The plane had its FAA inspection certificate and was in good working order, as attested by its N-Number documentation. Miller himself had gotten his pilot's license as far back as the mid-1970s, when he was posted in Nicosia, Cyprus.
Age never seemed more than a number to him. The bungee jump from a bridge in Sydney was to celebrate his 50th anniversary. In his 70s he rode his motorcycle from Florida to Maine and to Mexico. Just before his final flight, he'd been on the phone with Drew Miller. "He was feeling so good he wanted to ski," Drew said, reminiscing about habitual family weekend ski trips in the Austrian mountains.
Even as the family spoke, the Cline Construction barge, a 15 foot by 30 foot vessel, had taken position by the site of the crashed plane and was preparing the excavation.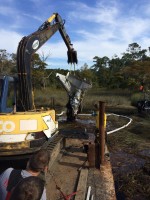 "We just completed a recon assessment with the Flagler County Sheriff's Office dive team and the Flagler County Fire Department's swift water rescue team," Kevin Guthrie, Flagler's Emergency Management Director, said at the staging scene this afternoon, after the family spoke. "They have determined what things are going to need to get the job done. We've identified an area to work in and identified an alternate location to work in  if the first area doesn't work out so well for us. That's where we're at."
But no one was taking anything for granted, least of all with safety measures. Rick Staly, Flagler County's undersheriff, was also at the scene. "In my 40 years," Staly said, "I've worked a lot of plane crashes in Orange County and now Flagler. This is the most technical and most difficult rescue turned into a recovery that I've been involved in. As we get more technical and closer into the aircraft it makes it more dangerous not only for the contractors but also our public safety personnel over there from the Sheriff's Office and from the fire department that will be on site, as you start to move an aircraft around. Not sure if it's going to stay together or come in pieces. So it starts to become a lot more dangerous for the rescue people now than it has been the last few days."
At 4:30 p.m., Miller's body was out of the plane and recovered.