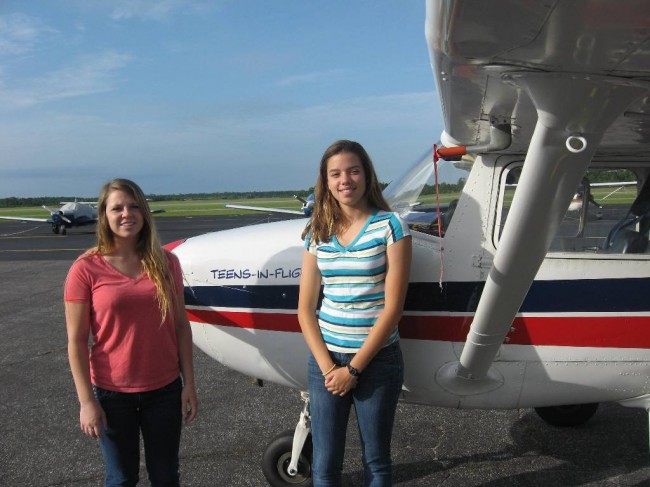 Teens-In-Flight students Cora Jo Rand and Gigi Gonzales became the first female students to fly solo for the Teens-In-Flight program.
"Of course, we are extremely proud of all of our kids," said program director Col. Jack Howell, "but with Cora and GiGi taking their solo for the first time, it's a historic moment for Teens-n-Flight."
Cora, who has been with Teens-In-Flight for over three years, took her first solo flight on May 27, and was followed by Gigi two days later. Cora is going into her senior year at Seabreeze High School and is currently also enrolled at Daytona State College. Gigi just graduated from Flagler Palm Coast High School and is going to be attending Embry Riddle Aeronautical University.
Cora made news when she assisted Howell on a fundraising trip for the victims of the movie theater shooting last year in Aurora, Colo. She helped fly money raised via their 'fly-a-thon' from the Palm Coast Airport all the way to Aurora.
Teens-In-Flight provides flight training and aviation maintenance scholarships to teens who have lost a parent in recent wars, or are the children of a parent who was wounded in action and is disabled. Another phase of the program focuses on selected teens considered "at risk" within our community by providing a positive aviation intervention experience.
The program also plans to use donations to expand throughout the nation, targeting locations around military installations to better serve the children of service members who have lost their lives in Iraq and Afghanistan. As of today, 6,724 American servicemen have been killed in the two wars.
Teens-In-Flight anticipates launching programs at Fort Bragg and Camp Lejune, N.C., as well as Fort Hood and Fort Bliss, Texas, by year's end.
The program could not exist without the generous donations of their partner FourStarAero, a private aviation company that donates office space, flight instructors, and the aircraft for Teens-In-Flight students. FourStarAero is owned by father and son partners Wayne and Josh Jackson. Josh is the chief flight instructor for Teens-In-Flight.
For more information, contact 386/569-5685. The Teens-in-Flight office is located at Hangar B, Flagler County Airport in Palm Coast.