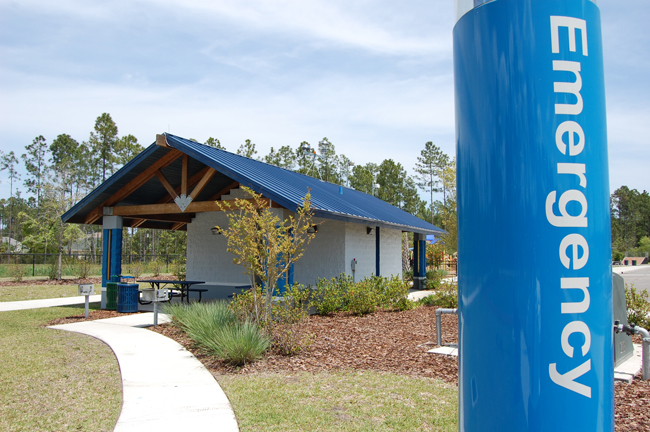 From the looks of it, you wouldn't take Ralph Carter Park on Rymfire Drive, which opened last fall, to be a problem zone. At midday on Tuesday the most you heard was the distant sounds of children playing at Rymfyre Elementary, the sound of a lone golfer smacking a few balls on a soccer field as well manicured as a professional team's, and a mother and her toddler ambling around the park's playground. Serenity worth the price (the park cost $2.2 million).
But it isn't Ralph Carter Park under the midday sun that Marion Petruzzi was complaining about not two hours earlier as she pleaded with the Palm Coast City Commission to do something about what she calls "undesirables" — a code word that often enough refers to young black boys hanging out in older, whiter neighborhoods. It's Ralph Carter Park after dark. After school. On weekends. It's Ralph Carter Park when an older set of kids come out to play–the set the city built the park for, in part, so they wouldn't loiter on streets or cruise neighborhoods.
Beer Cans, Cigarette Butts and Condoms
Petruzzi lives on Richardson Drive, an L-shaped residential street that partly parallels the park, across a fern-covered ditch. She is the leader of a 21-person neighborhood watch group, and she's not happy with the noise, the car traffic, the guys lounging on their car hoods, the loitering and, according to her, a couple of fires in the woods separating the park from Richardson Drive.
"I represent everybody in our group and we are actually afraid to come out of our vehicles in the evening. I'm very upset about this, because there are just undesirables all through Richardson Drive," Petruzzi told the city council.
"They go through this wooded area in front of our homes, they congregate in there, we have seen beer bottles, beer cans, cigarette butts, used condoms, and it's becoming a hazard. There's two fires that have been set, the fire department has had to come out and put out–I mean, it's been a large fire, twice, we have to call the sheriff's office two or three times a week, the last being Sunday, and there's individuals parking in the swales in front of our homes. They get out, they're dropping off or picking up passengers, cutting through this private property to get into the park, they wait for people to come out. If they don't come out they sound their horns and disrupt the whole neighborhood."
Not Trespassing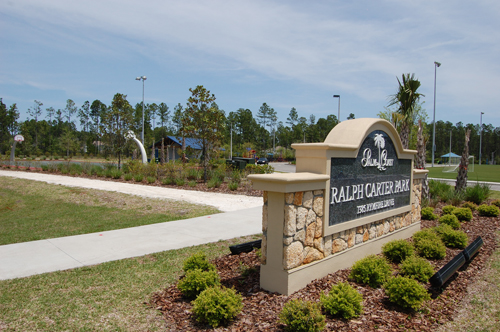 The young people Petruzzi was referring to aren't trespasser, exactly: the activity around Richardson Drive is taking place in the street and on empty lots, and people using different paths to cross into the park are not using residents' properties but treading across on vacant lots. They can't be arrested, says Mark Carman, the Flagler County Sheriff's Office liaison for Palm Coast, unless the owners of those lots expressly give the sheriff permission to arrest people for trespassing–assuming that the owners can be found. One consequence of the real estate bust is that lot owners aren't easy to find, especially when they're banks. Petruzzi herself owns a vacant lot adjacent to her home on Richardson Drive. Her home on Richardson is not homesteaded.
Meanwhile, the residents aren't in the mood for compromise, and the city isn't pressing them to accept one. "We have offered to try to provide actually a path on a city-owned swale or ditch to try to see if we couldn't encourage them to use that," City Manager Jim Landon said, referring to the park users. "The neighbors were very adamant, they did not want that, so we backed off of that proposal."
Fences Against Common Sense
Petruzzi wants lights turned off at the park at 9 p.m., and she wants "a wall or a fence" to keep the "undesirables" from using Richardson Drive to get to the park. Landon and Carman dismissed the thought. A fence, they said, would be scaled, plundered, avoided, without solving anything.
"We know that there are problems," Landon, who visited the area last Saturday, said. "It's not just problems in the park, but actually it's congregation of young people in the neighborhood. It would be better off, everything for the whole neighborhood would be better off if they congregated more in the park than they would in vacant lots and in the streets in those neighborhoods. We were focusing our efforts in the park and I think we've changed that. We're now focusing more in the residential, adjacent area."
Calling In Harassment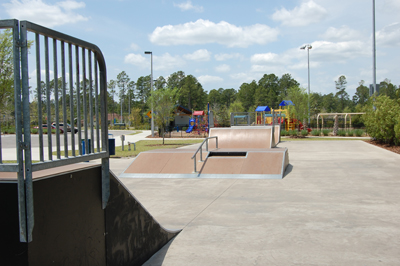 The city is in an odd position. It built the park for those "young people" who like to congregate. Young people responded. They happen to be spilling beyond the park's strict boundaries, which happen to abutt Richardson Drive. Petruzzi didn't hesitate to describe what amounted to police harassment of the the younger people, provoked by the neighborhood watch's persistent calls to the sheriff's office. "Sunday," she said — a day after Landon's visit — "they were laying out in front of our home, on the top of their vehicle, and we called the sheriff's office, two deputies came out, they patted them down and looked inside their vehicles." Laying on top of a car's hood is not illegal. Even within view of neighbors who don't approve.
Carman said that after increasing patrols for a time, he thought the issue had been resolved. "I can tell you how many times we've been in the park, and I think we've quelled some of the problems in the park," he said. "I don't have statistics on how many times we've been on Richardson Drive. I guess it's something we need to keep track of." The statistics he did speak of rank Ralph Carter Park's as "the most complained-on Park" in Palm Coast. "James Holland Park would be second, and statistically-wise nowhere near as many complaints."
Carman said the neighborhood can expect "more law enforcement action down there" in the days ahead, and Petruzzi was applauded for bringing the issue to the council's attention. No one–on the council, on the city staff or in the audience–appeared interested in hearing from the young people for whom, ostensibly, the city spent $2.2 million for a place to congregate.