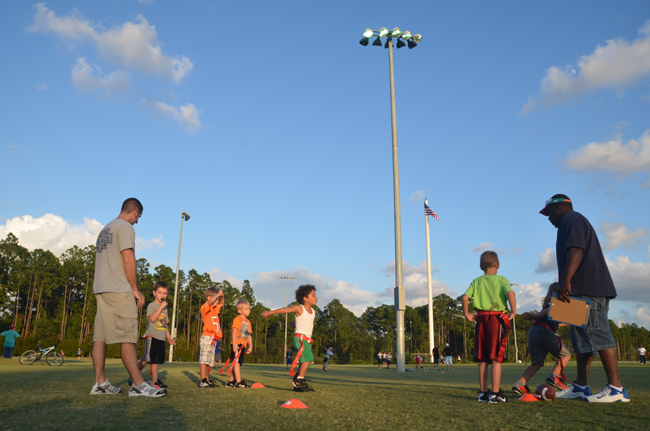 Ralph Carter Park is alive and well, and teeming with activity, from toddlers to grandparents. On any given night of the week, the Phantom Flag Football and Cheer league has a dozen or so teams of all youth ages practicing there. Twice a week a large group of older players hold their soccer pick-up games. People run and walk around the park. The activity stretches into the night, as the park's floodlights turn on and keep the place as bright and safe as it was under sunshine.
Now Palm Coast wants to charge sports leagues for the cost of using the fields and the lights—there and at the Indian Trails Sports Complex.
Phantom Flag officials having a hard time understanding the city's rationale. They might better understand if the city was offering them money, for what their presence at Ralph Carter Park has done to the place: since last fall, flag football's nightly practices at Ralph Carter Park have essentially turned the park from a no-go zone for most people in the R Section to a true neighborhood park, with appeal for many people beyond the neighborhood.
"At one point in my life I wouldn't even come out to this park. It was ridiculous," T.J. Rosenthal, a young parent with three children, said late one afternoon last week, as he stood on the side of one of the playing fields. "We live nearby, so we would come over here because it's a nice park, and they have a skate park with nice, new equipment. But you'd come here, you'd stay maybe 15 minutes, then the kids would run you off."
The kids: older intimidating adolescents who tended to lord over the basketball courts and dominate the park. It's different now. "The kids come up here and see everybody here, and they know that if they do something wrong they're probably going to have the cops called, so they go some place else. The more people we have on any given night, the less problems that we have."
Rosenthal is one of the local NFL flag football league's founders and directors. The league started last year after the YMCA's flag football league disbanded, when the YMCA had to vacate its old home at Florida Hospital Flagler. The league's first season, in spring 2011, drew 200 participants, who were charged $55 each. The cost was kept down thanks to a number of sponsors that signed on. This fall's cost is up to $75. There are fewer sponsors, but insurance costs have gone up, and the league has added a cheer team, also raising the cost. It's now $75 per student.
Palm Coast wants to impose new costs on youth leagues that could raise participants' bills another $10, possibly pricing out many over the long term. The city council, in a workshop two weeks ago, was all for it–until the council members faced angry league officials at a subsequent meeting, and changed their tune. They've asked the city administration to meet with those officials and work out a compromise.
For the Flag football league, additional costs, imposed on a per-team basis and per-hour basis for light usage, would have add up to roughly an extra $2,300 in a season.
To Rosenthal and others involved in the league, including parents, the city isn't recognizing the much greater value, including the monetary value, that leagues like flag football have brought to Ralph Carter Park by being there every evening, and making it safer—and far less expensive as a matter of law enforcement or other associated costs. The cumulative costs of a single arrest run through the judicial system would far exceed a season's additional costs on a league, for example. Of course, Palm Coast wouldn't pay those costs. But other taxpayers would. That's not taking in consideration the money—and potential pain, and cost to society—saved by engaging youth in constructive activities (as local politicians, including city council members, often say they want in their city) as opposed to miscreance or crime.
That's what flag football is doing in part, as its organizers see it. "You came out here and you didn't feel safe," Rosenthal said of Ralph Carter Park less than a year ago. "I've got kids out here, and we've got 4, 5 6-year-old kids that are practicing out here. At the beginning of last season I would have told them I want you to move over to the other park because I wouldn't have felt that they were safe at this location. By the end of the spring last year, we had a big enough presence at this location that we were staring to see less and less of the older kids showing up here."
A little recent history is in order.
For almost two years, Ralph Carter Park was the newest and least happy of Palm Coast parks. (Waterfront Park subsequently opened, making it the newest.) The $2.2 million, 13-acre spread on quiet, tree-rimmed land next to Rymfire Elementary school had perfectly manicured playing fields, a full-size basketball court, a skateboard park, and a mini park for the youngest children.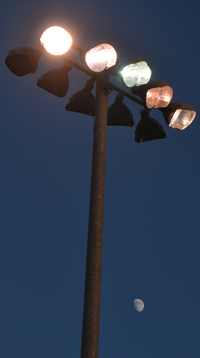 But it was also a crime hot spot for Flagler County Sheriff's deputies, and a nuisance for some residents of nearby Richardson Drive, which arcs around the back park of the park. Some of those residents complained to the Palm Coast City Council, again and again, that "undesirables" in the park—that is, young, black men who played basketball there—acted like hooligans, used backyards to access the park, left trash behind, set small fires in the woods, and did other things to make life unpleasant for the neighborhoods. There was always an undertone of racism in the criticism. The critics were older and white. The targets were young and black. The sheriff's office did extra patrols. It installed a secret surveillance camera in the woods behind the park to see who was cutting in and out through yards. It chased and arrested miscreants. The city itself, at considerable cost ($25,000), installed surveillance cameras, though the sheriff doesn't control those, and the cameras' effectiveness is unproven. And finally the city last spring installed a fence along Richardson Park to discourage park users from using resident's backyards to get in. That may have alleviated the problem for residents on the outside. It was not going to change the character of the park on the inside.
There was little question that few people found the place welcoming.
"I thought it was sad that my kids couldn't go to the park that was right next to their school. And my kids couldn't understand why they couldn't go to the park," Gretchen Smith, who now brings her young children to the park regularly and uses it herself for exercise, said. "But 18 months ago I was here one Saturday afternoon, and there was a group of people up at the bathrooms, and there was a mother and her two children, and the mom said the kids wanted to use the bathroom. This group of people wouldn't let them in the bathroom. They were like, no, you can't use the bathroom. It escalated from there and they started harassing her." There was intimidation and cussing directed at the woman, in front of her two young children. "I called the cops, and the cops pulled up, and of course as soon as I said I'm calling the cops they turned around and started walking that way out of the park. The cop pulls up, sees them, stops them, and they start walking the other way."
Smith didn't go back to the park for months after that—until flag football migrated there. Now it's an entirely different atmosphere, she says, as her 11-year-old son plays on a distant field. I'm so happy that this park is now being used by the entire community, not a small group of people who were, you know, threatening other people, or threatening to other people, not necessarily directly threatening them," Smith says. "I think it's an awesome thing for the community that the sports have basically reclaimed the park that people weren't going to, or people were intimidated to go to." Smith, too, considers the city's proposed light-billing policy short-sighted. (Palm Coast Recreation Director Luanne Santangelo did not return a call Monday afternoon.)
Charging for lights puts Cheryl Ferguson, a parent who goes to Ralph Carter Park with her young daughter four nights a week, beside herself.
"It's a safety, it's definitely a safety thing with the lights. I think parents are more comfortable with letting their kids come here by their selves, if they're of age, because they know if they pull through here, they want to pick up their kids, they can spot them, they can figure out where they are," Ferguson said. "I tell you what, I just watched a whole bunch of trees go up on Belle Terre. They're telling us they want to pass on the buck for lighting, to keep kids protected, when they just put a bunch of trees on the side of Belle Terre? Really? Really?"
Ferguson adds, "I understand the need, everybody's going to get increases, everybody's going to have it passed on because of the economic firestorm, whatever you want to call it, but I find it highly ridiculous that you want to pass it on to a league that's keeping this community safer not only by getting our kids involved in other stuff, because what would these kids be doing if they didn't have this league?"