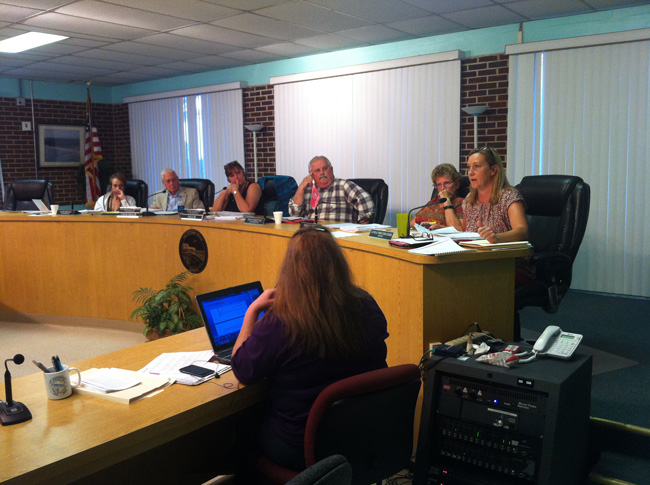 There was debating, pleading, occasional shouting and plenty of sniping, but in the end a conclusion foretold months ago was ratified with a 4-1 vote as the Flagler Beach City Commission Thursday night opted to buy a nearly $600,000 fire truck called a "quint."
Commissioners Joy McGrew, Steve Settle, Marshall Shupe and Jane Mealy voted for it. Commissioner Kim Carney, the current chairperson, voted against. The truck will not be in service for at least a year. IT will be paid for partly with a special fund the city has been amassing for just such purchases, but two thirds of the cost will be covered by money from the city's infrastructure fund, which collects Flagler Beach's share of county gas tax revenue.
Mayor Linda Provencher called Thursday's special meeting–not with a vote in mind, but to raise questions about the proposed truck buy and suggest a delay. She did not expect to have the agenda turned, in essence, against her aims, but City Manager Bruce Campbell, who knew where the city commission's votes were (the commissioners have been making their positions clear for months) opted to add an action item that called for a vote to buy the truck.
"I have heard nothing that changes my mind today," Mealy said.
"Tonight this proves to me that this equipment is what this town needs," Commissioner Joy McGrew, the only commissioner up for re-election in March, said.
Provencher and Carney tried various ways to convince fellow-commissioners to delay the vote, but got nowhere. "One of the firefighters got up and kind of made it sound like I don't care about safety and I just Google things," Provencher said. "What I asked Bruce from the very beginning, I said Bruce, you haven't brought me one person outside of this fire department. I've talked to people outside of this fire department that have nothing to gain or lose whether Flagler Beach gets a quint or not." Addressing the city's fire captain, she said, "not pone person Bobby could you bring to me from outside this fire department that said this would be a good purchase. I like the fire department, I want to keep the fire department. But at the same time, you're telling me if I don;t get you an aerial truck, I'm putting you in danger, yet if we get this aerial truck it's going to take a year to build and we're going to sit here a year without an aerial truck."
"That's standard," Pace said, adding, about the firefighter's comment, "If you were offended, I don't think that was the lieutenant's intent."
I don't think asking for references, I don't think asking for people that do this for a living, that's what I tried to bring here tonight, unfortunately I failed," Provencher said. "No offense, but you've never bought a truck before." Provencher noted that she'd been among the commissioners who years ago had agreed to buy the existing, and now non-functional, ladder truck that turned out to have been a bust for the city–and that's playing into the fire department's and the administration's rationale for buying a new truck. She described herself as "taken aback" by the way the issue has been handled.
"Now is the time to move on," Pace said. "We've done what we can with that rig."
The chambers were filled Thursday evening, this time mostly with opponents of the purchase (including three former commissioners, among them Ron Vath, who'd once been a firefighter). Notions of a straw vote went nowhere anymore than references to a petition that had gathered upwards of 600 votes in opposition to the purchase. But a majority of commissioners did not take the petition seriously.