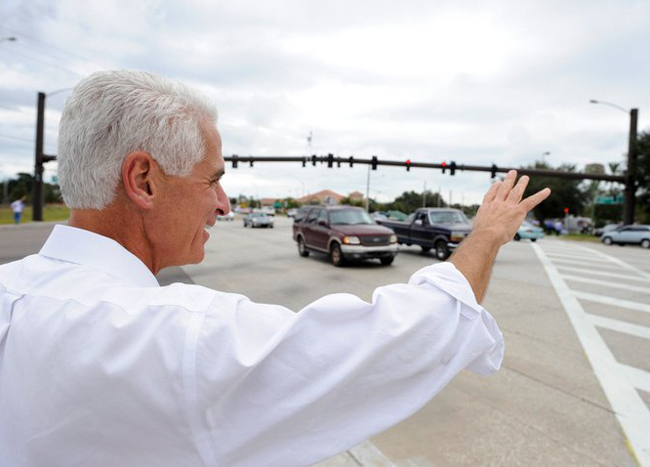 With Florida's political world gearing up for a costly, divisive campaign, Democrat Charlie Crist continues to hold a comfortable lead over Republican incumbent Rick Scott in the battle for the governor's office, a poll released Thursday shows.
Crist, who is trying to make a comeback after an earlier stint as the Republican governor, leads Scott by a margin of 46 percent to 38 percent, according to the Quinnipiac University poll.
Those numbers are similar to a November poll by the university that showed Crist ahead 47 percent to 40 percent. While Crist formally entered the race in November, polls earlier last year gave him double-digit leads. Earlier this month, a Public Policy Polling survey showed a much narrower race, with Crist leading Scott by 2 percentage points. But PPC polling is automated, as opposed to Quinnipiac's live interviews, and the sample was less than half that of Quinnipiac's.
Peter Brown, assistant director of the Quinnipiac University Polling Institute, said the new numbers show Scott's comeback has "stalled" after the incumbent made up ground in 2013.
"The best number in this poll for Crist — and the biggest problem for Scott — is that a majority of Florida voters say the current governor does not deserve a second term in Tallahassee," Brown said in a prepared statement. "Voters also give Crist a higher job approval for when he ran the state than any approval rating Scott has received in his three years on the job."
The poll indicates Crist has comfortable leads with closely watched groups such as independents and Hispanic voters. Also, it continues to show that voters have a generally negative view of Scott. As Brown noted, 54 percent of voters said Scott does not deserve to be re-elected, while 38 percent said he does. Those numbers have changed little since the November poll.
Even on economic leadership — Scott's signature issue — Crist fared better in the poll. Quinnipiac found that 47 percent of voters thought Crist would do a better job handling the economy and jobs, while 42 percent thought Scott would do a better job.
While Crist is ahead, the campaign still promises nine months of negative advertisements and personal attacks. Scott and his political allies are collecting tens of millions of dollars that can be used for television ads going after Crist, who was elected governor in 2006 and unsuccessfully ran for U.S. Senate in 2010. Crist became a Democrat in late 2012.
Scott, Crist and another Democratic candidate, Nan Rich, gave a preview of the attacks during separate appearances Wednesday before a group of reporters and editors gathered at the Capitol. Scott, among other things, touted tax cuts during his tenure and pointed to tax increases during Crist's time as governor. Crist, meanwhile, questioned Scott's ethics.
The Quinnipiac poll showed Rich, a former Senate minority leader, trailing Scott by a margin of 41 percent to 37 percent in a head-to-head matchup. Rich, who has struggled to raise money for the race, is little-known by voters statewide. In the poll, 86 percent of voters said they hadn't heard enough about Rich to have a favorable or unfavorable opinion.
The Connecticut-based Quinnipiac regularly conducts polls in Florida and other states. The new poll was conducted from Jan. 22 to Jan. 27 and included 1,565 registered voters. The margin of error is 2.5 percentage points.
–News Service of Florida and FlaglerLive