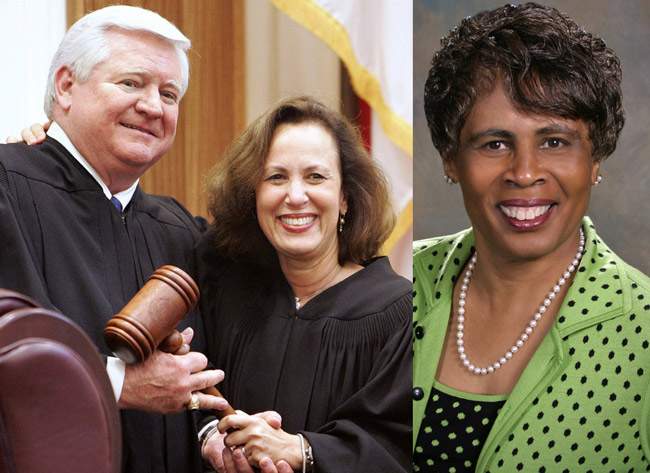 An investigation into the filing of qualifying papers for three Supreme Court justices has been closed, but the controversy about the trio's place on this fall's ballot is likely to continue.
A law firm issued a statement on behalf of the three Supreme Court justices, who all face retention elections this year, saying that prosecutors and the Florida Department of Law Enforcement had ended their probe and found no wrongdoing on the part of Justices Fred Lewis, Barbara Pariente and Peggy Quince.
"Justice Lewis, Justice Pariente, and Justice Quince each thank both the FDLE and the State Attorney's Office of the Second Judicial Circuit for concluding their work promptly, fairly, and impartially and for the professionalism with which they addressed these matters," said a statement issued by attorneys Henry Coxe and Robert Josefsberg.
But the Associated Press reported late Thursday that the investigation was closed after State Attorney Willie Meggs, a Democrat, wrote a letter to FDLE saying the justices might technically have violated a law, but "the law does not concern itself with trifles."
Conservatives have launched a campaign aimed at pushing the three justices, who form the backbone of a relatively liberal majority, off the Supreme Court.
Gov. Lawton Chiles, Florida's last Democratic governor, appointed Pariente to the court in 1997, and appointed Lewis and Pariente in 1998. The legal establishment has largely rallied to the justice's side, arguing that retention elections should not be influenced by politics.
The FDLE investigation was prompted by reports that Lewis, Pariente and Quince had court employees notarize two documents in a last-minute scramble to file papers necessary to make sure the trio appeared on the ballot. Rep. Scott Plakon, R-Longwood, then wrote a letter to Gov. Rick Scott asking for an FDLE investigation, saying it might violate a state ban on candidates using state employees "in furtherance of his or her candidacy."
Scott later forwarded the information, but didn't order an investigation.
In a statement issued Thursday, Scott suggested that the outcome of the investigation was far from a clean bill of health for the three.
"According to FDLE findings, it appears using state employees to complete and file campaign forms and other documents is 'common practice,'" Scott said. "Now this case is before the courts where a determination will be made as to whether this 'common practice' is legal."
The Southeastern Legal Foundation, a conservative legal group, has filed a lawsuit in Leon County circuit court on behalf of two state residents, arguing that the three justices would not have made the ballot if they hadn't used state employees. The suit asks for the justices to be booted from the ballot.
According to Source Watch, the foundation "is a non-profit law firm which is closely affiliated with right-wing advocacy groups and global warming skeptics groups. It has pressured the Arkansas bar to suspend President Clinton's license to practice law, challenged the constitutionality of the McCain-Feingold campaign finance reform act, and is currently challenging the EPA's authority to regulate carbon dioxide."
–Brandon Larrabee, News Service of Florida