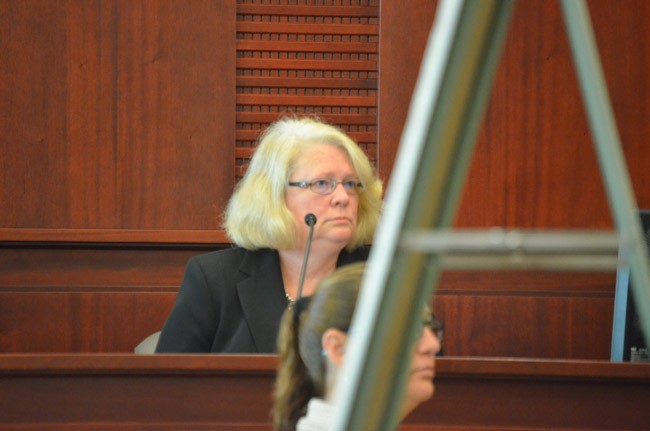 Robert Barry's case against Publix in his wrongful termination claim didn't lose as much ground today as it did in the first three days of trial in a Flagler County circuit court. But what points Barry's attorney Frederick Morello did score were on peripheral issues that may not amount to enough of a counterpunch–if one at all–in the trial's larger context.
Publix's method of investigating employee complaints may not be as rigorous as FBI investigations, or as consistent as a court case's discovery process: some employees are asked to write statements, some are not. Interviews with employees aren't taped. Some are conducted by phone. An hour-long interview may yield no more than two pages of handwritten notes. But at no point could Morello get any of Friday's four witnesses for the defense—Publix management or human resource investigators all—to hint at any nefarious machinations or calculated omissions in the way they went about investigating Barry's employment and claims, and ultimately deciding to fire him in 2010.
As was the case the three previous days, when it came down to the most essential question—why Barry, 30, was fired—the universal answer was this: his dishonesty. To Publix, he'd fabricated a claim of sexual harassment by a team leader against another employee, to get that team leader fired. None of the evidence presented in four days of testimony shows that any actual sexual harassment took place, which is why Judge Michael Orfinger on Thursday threw out the whistleblower charge in the case.
Publix is claiming the way it reached its decision to fire Barry was fair and did not—as Barry claims in his lawsuit—violate his civil rights. There was no retaliation, the company says, no collusion between a manager and a long-time employee who together were trying to cover up a grave accusation. What evidence has surfaced is that Barry and a colleague, Henry Toro, had become disenchanted with their direct supervisor, Craig Dario. They knew that at Publix, accusing someone of sexual harassment is one of the gravest and surest ways to get that person in trouble, if not fired.
Barry and Toro tried to get fellow-employee Michelle Ashton Brown to go along with their claim that Dario had harassed her. She refused to go along. Nevertheless, Barry reported the alleged harassment in two anonymous calls to Publix human resources, triggering an extensive internal investigation. The investigation blew up in his face as the investigator determined he'd lied. Toro was disciplined and demoted. Barry was fired.
That, anyway, is Publix's story so far, and despite getting a crack at Caryn Pryor, the store manager where all this took place—the Town Center Publix, which Pryor opened in 2006 with, among others involved in the case, Barry—both internal investigators and the district manager who all oversaw some or all of the proceedings that led to Barry's firing, Morello could not find more chinks in Publix's armor than an occasional procedural inconsistency: the initial investigator did not get written statements from all concerned.  The district manager sat in on Dario's interview but not other interviews. Pryor spoke was not entirely in the loop through the investigative process. One of the investigators—Carol Sellers—got a severance package when she stopped working for Publix, by mutual agreement, which Morello portrayed as a payout (to the defense attorneys' objections), though it happened a year after the incidents in question.
Yet at each step, with each witness, more damaging information about Barry (or Toro) would emerge, and not only by the doing of Publix's attorneys. Morello's questions sought to show that some employees were fired, others were counseled. He wanted to underscore Publix's inconsistency, buttressing his claim that Barry was unfairly singled out and fired. That gave William Reese, one of the two Publix employees on the case, an opening to ask Pryor directly to explain the difference. Her answer proved to be the part of her testimony most damaging to Barry: "This wasn't a case of him just saying something to get himself out of trouble or if I ask them they did something and they said yes and they really didn't. It wasn't. It was malicious, it was purposely made up because they thought they were going to get somebody in trouble who was in management, who was a supervisor. It wasn't just the—did you know you were going 5 miles over the speed limit thing. It was purposely done to get somebody in trouble. That's a whole other level."
The jury didn't get a chance to hear one of the most damaging and proven charges against Barry, because it was ruled inadmissible evidence in pre-trial motions: that when he was arrested for a pot possession charge in 2004, he was also charged with obstructing justice. How did he do so? By lying to a cop by providing a false name and a false birthdate.
But the jury did hear about what he told Publix investigators Carol Sellers during one of two interviews: "In the second interview, he flip-flopped again and basically admitted that he would often tell a lie in order to get himself out of potential problems or trouble," Sellers said.
---
"He would often tell a lie in order to get himself out of potential problems or trouble."
---
She had just summed up the case against Barry in what by then had become the latest turning of the tables on his claims. His case is built on trying to impeach the integrity of Publix's disciplining and firing process. But it has merely cleared the way for the company to connect many of the dots Barry had no idea about when he made his initial accusation of perceived sexual harassment, and Publix put in motion its investigative process.
Morello pointedly got one of the investigators to concede that there was an inherent conflict of interest in a company investigator looking into management misconduct. "If you found there was retaliation, the employee could use that against Publix, correct?" Morello asked the person in charge of reviewing Barry's discharge. She agreed. But the line of questioning didn't go further in that direction.
As in previous instances, it was inexplicable Friday why Morello would ask Tony Zeaiter, the Publix district manager who oversaw a dozen stores at the time of the allegations—including Town Center—to read at length from an incriminating document about Henry Toro, the only ex-employee who'd corroborated some of Barry's claims. The document did little more than make Toro look like a bigot who despised at least two supervisors, and that he was out to get one of them fired, supporting Publix's claim that Barry and Toro had conspired to concoct a damaging lie about the man—Craig Dario—who was making them work too hard.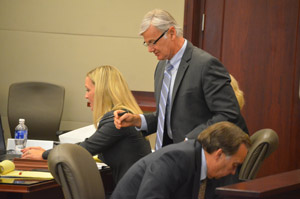 "Witnesses," Zeaiter read from the document, "reported being told by Henry that he was fed up with Craig and that he intended to do whatever he could to get Craig demoted or fired." The document went on to describe Toro making vulgar, homophobic remarks about another manager. Those remarks had already been read into the record on a previous day, yet Morello chose to have them read again. He was trying to show the disparity in treatment of Toro as opposed to Barry: Toro was demoted after he was found out, rather than fired. But Zeaiter himself repeatedly said on the stand today that each situation is treated in its own context.
It was late afternoon before the defense finally rested, as all witnesses had been called. After the jury was excused for the weekend, the defense once again, as it had Thursday, tried to get Orfinger, the judge, to issue a directed verdict on all three questions still remaining for the jury to decide, starting with the matter of Barry's civil rights having been violated.
Orfinger came close to doing so after a lengthy argument by Shannon Kelly, the unflagging Publix co-counsel, at which point the rest of the case would have all but collapsed. But he denied the motion. "That's not to say it's not a pretty good argument," Orfinger said remarkably. "I don't think I can grant a motion for directed verdict. So it is denied."
The case is due back in court Monday morning, when the two sides will make their closing arguments and the jury will deliberate.