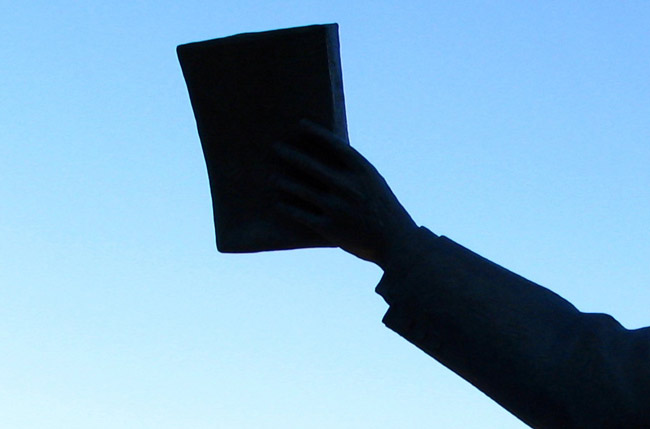 By Susan Clary
High school spells pressure for most teenagers, no matter the era. Decisions like where to sit in class and what to wear to the prom are balanced against more significant choices — whether to drink beer at a party, smoke pot or take drugs. Every decision can feel like the weight of the world.
This week parents in at least two Florida counties – Orange and Collier — have to worry about a new kind of pusher pressuring kids, the religious kind. The World Changers of Florida, Inc. is giving Bibles to students at several dozen high schools.
Two years ago, Collier County fought the distribution of Bibles and found itself embroiled in a lawsuit with the Liberty Counsel. A judge overturned the ban, citing equal access because the school district had previously allowed Bible distribution at an after-hours event for Religious Freedom Day.
Rather than fight the request, Orange County officials allowed the group "passive" distribution of the Bibles Wednesday to avoid legal action. This means the books were placed on tables in areas where students congregate. Members were not permitted to talk to students or hand them books.
There is nothing new about religious organizations invading public schools. The Gideons have been doing it for years. In 2008, a federal judge in Louisiana ruled a middle school was guilty of religious coercion for allowing the Gideons to distribute Bibles. In that case, the ACLU filed suit after students were pulled out of class and placed in line in front of the principal's office to receive Bibles.

In response to this week's controversy, the Freedom From Religion Foundation, a nonprofit organization that works to protect the separation of church and state, fired off a letter to Orange County asking officials to stop the distribution.
When that didn't work, the Central Florida Freethought Community, a local chapter of the Freedom From Religion Foundation, announced it had received approval Wednesday from Orange County Schools to distribute materials about atheism, agnosticism, and secular humanism to students. Members said it was important to counter the Christian group.
The Central Florida Freethought Community will provide books, pamphlets and brochures from the Freedom From Religion Foundation, American Atheists, and the Secular Student Alliance. These include "An X-Rated Book: Sex & Obscenity in the Bible," "Ten Common Myths About Atheists," and books by atheists Dan Barker and Madalyn Murray O'Hair.
Students of all faiths and traditions attend public schools and they deserve to be respected. We interfere with an already stressful time by making some of them feel like outsiders.
Our public schools are not the place for religious battles. They are places that should be free from recruitment by any particular religion or those espousing no religion. It's embarrassing that we are entangling our tax dollars and our young people in this mess. Parents should decide what exposure their kids should have to religion and religious texts – in the privacy of their homes.

Formerly a reporter for the St. Petersburg Times and Orlando Sentinel, Susan Clary is a freelance writer who runs a nonprofit animal rescue in Orlando. She can be reached by email here.