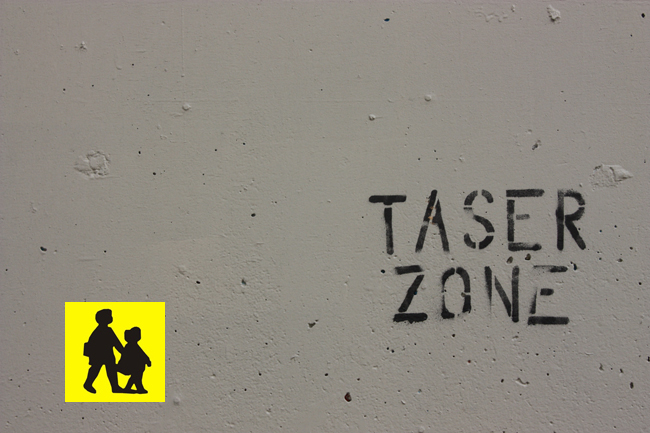 They made their decision last Tuesday, our distinctly—in this case—less than honorable school board members. On the evidence of a single fight, a single video that the school superintendent herself wouldn't release because she considers it too inflammatory (the sheriff released it), the Flagler County School Board voted 4-1 to allow school deputies to carry Tasers (with Colleen Conklin dissenting), reversing an agreement in place since 2007 that kept the weapons off campus except in dire emergencies. Now Tasers will be carried as a matter of routine. Let's hope they won't be used that way.
The vote doesn't put the matter to rest. Not when hundreds, perhaps thousands, of parents' fears have now been primed anew, and will remain that way permanently (as if parents these days of battering stress needed something else to worry about). There may have been some room to influence how Tasers would be used. Andy Dance, one of the board members, tried hard to compel the sheriff's office to meet with Superintendent Janet Valentine and a task force that would have included concerned citizens to devise a different protocol for Taser use on campus than the one that applies elsewhere. Incredibly, Dance's motion was watered down to irrelevance, with Sue Dickinson (who chairs the board) and David O'Brien, the undersheriff, saying the sheriff's policies override those of the school board, though O'Brien was willing to talk with Valentine.
It was as if none of these officials had heard of—for instance—citizens' review boards when it comes to dicey policing matters, this being one of them. That's the least the superintendent and the sheriff's office should do: develop a separate protocol for Taser use on campus, and establish a review board, including parents and students, that would review any and every use of Tasers on school properties. Instead, we have a superintendent and a board surrendering to whatever the sheriff asked for. No conditions, no questions, no courage. And they wonder why charter schools are booming at the rest of the school district's expense. Spinelessness has its price.
The re-introduction of Tasers on campus is disturbing on many levels, not least of which the way the school board reached its decision—with no evidence other than a single videotaped fight at Matanzas High School—that uncontrollable violence is allegedly an issue, though even in that fight, the student was, in fact, controlled. Two adults were injured. But one was a cop, the other a security guard. Risk is part of their job description. The injuries were minor. The student was expelled. The system worked. Without Tasers, without gunshots, without barbaric means, but with the forceful and commendable policing the situation called for.
There is no evidence that Flagler schools are becoming more violent, or that students are becoming angrier, or stronger or more dangerous. If there is, it wasn't given to the school board. What national numbers indicate is a significant decrease in school violence since the 1990s, not an increase. All those programs about diversity and difference and acceptance and nurturing that conservatives loved to bash in the 1990s and the early part of the last decade as testosterone-busting sap have had their desired effect: they've made students less aggressive by disarming innate prejudices and diminishing the mob force of peer pressure, though there's still a long way to go (ask gay students).
Locally students are becoming perhaps dumber, what with shorter school days and standardized tests undercutting learning with more sustained effectiveness than the best bullies, but nothing has changed since 2007, except that classrooms are smaller, which should make them more manageable. Superintendent Janet Valentine told me that she didn't know of another incident that might have called for the use of a Taser. Don Apperson, the corporal injured in the incident at Matanzas, told me he wasn't sure whether he would have used a Taser or not in that fight, and (to his credit) hasn't pulled a weapon in 11 years on the school beat. That's the sign of an effective school cop. But not every cop is an Apperson. And knee-jerks aside, nothing compelled the board to change course, unless they're hiding something. That would be a whole new level of disturbing.
The weapon's proponents describe it as non-lethal. It's a euphemism for saying that it doesn't kill, and the claim is demonstrably false.The most authoritative study on Tasers to date, by the Department of Justice, concluded in May that "a number of individuals have died after exposure to a [Taser] during law enforcement encounters. Some were normal, healthy adults, many were chemically intoxicated or had heart disease or mental illness." That many killed were on drugs is irrelevant. Being on drugs doesn't warrant a death sentence. (In a civilized society it wouldn't even warrant an arrest or a cop's intervention, but a physician's). Normal, healthy adults have also been killed. And underlying health issues and mental illness are precisely the sort of underlying issues not apparent in a crisis moment at school.
Let's also be clear about Tasers's supposedly "non-lethal" application. Tasers are an instrument of torture. They jab a pair of electrodes into victim's skin and send a pulse of 50,000 volts (at very low amperage) through the victim's body. The standard shot is five seconds, causing immense pain and temporary paralysis as the body's muscles are forced to contract. That's how Tasers are used to control a victim: they immediately subdue, providing the ultimate shortcut to control. The infliction of pain is just as immediate. There's nothing humane about Tasers. They're brutality by extension cord, unless you buy into ridiculous claim cops and Taser lovers throw up when defending Tasers: it's better than a gunshot. Of course it's "better," if your only choice is between temporary paralysis and getting shot. But what sort of barbaric campus world are we living in when the only choices between controlling an out-of-control child are firearms and torture?
Equally unsettling is the notion that Tasers are necessary to protect cops from harm. But since when have cops' responsibility to protect others from harm—including, most of all, children—been turned into license to protect themselves at others' expense? At Matanzas, Apperson's intervention immediately stopped the offending student from harming another, or anyone else. Apperson took the harm on himself. There was no shortcut. But contemporary policing is elevating protection of cops and soldiers to sacred status. There's nothing wrong with that—unless it happens at the expense of civilians. To serve and protect are mere words, if the protection isn't universal. There'll always be exceptions when all rules are out the window and immediate action using whatever means is necessary. Those means are always moment away. We don't live in an urban wasteland where getting a cop into a school is an odyssey. Nor do we live in a place where those means are ever likely to be necessary. Nevertheless, one of those means is now a school norm. That's some example we're teaching our children.
Trevor Tucker, the school board member, said that if a student was out of control beyond school property, it wouldn't matter if the student was autistic or not: that student could be tased, no questions asked. He saw no difference between that situation and a similar situation at school. But a school is not the outside world. It is an extension, and often an improvement, on a home's sanctuary from that world, for which our students are being prepared. But this is a county—a state—that routinely allows cops to come onto campus and arrest students, which is no different than breaching the sanctuary of a church to do the same. It's accepted because we live in a society where cops and uniforms are glamorized, law and order is its own virtue, and control an end in itself. Tasers were a missing piece in the arsenal. Our school board locked and loaded to the rescue.
About 260,000 Taser-like similar weapons have been issued to police in 12,000 police agencies nationwide. They've been issued to the military, to prison guards, to animal control officers. But schools aren't crime-infested neighborhoods or war zones. Students aren't inmates. They're not animals. Last week, the school board declared, against evidence, that they might as well be.