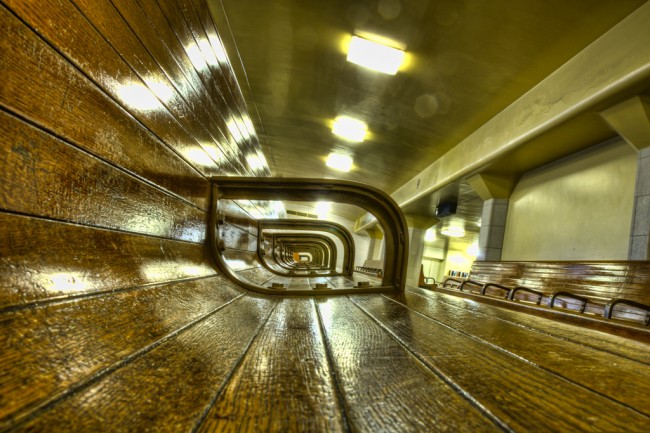 It's wonderful when city and county commissions pat themselves on the back and say what wonderful things they're doing to help the homeless. But look at their not so wonderful ordinances first, which vilify the homeless as if they were undocumented aliens in Arizona.
We're not there yet in Flagler County or Palm Coast, where homelessness is not as visible as it is in cities or the counties next door, and where–so far–there's been a concerted effort to to help. But they're there. They're here. Ask the school district. And with trends the way they are (the poverty rate almost doubling in four years, foreclosures still devouring the place like locusts, no appetite for more than nominal safety nets and still plenty of lathering over keeping taxes low) it's usually a matter of time before affordable compassion gives way to more arid rules in the name public order and keeping merchants happy.
Take Sarasota. The city wrote an ordinance to make it illegal to camp in public places using sleeping bags or blankets as bedding. There never was a problem with happy campers deciding to put up their tents in downtown Sarasota. But this wasn't about campers. It was about the homeless. The city could not pass constitutional muster by saying that homeless people couldn't sleep on park benches. So it came up with that evasive scheme: no camping. And it defined camping as anyone with "lodging"-like gear. Sleeping bags. Duffel bags. Tents. Things homeless people tend to carry.
Douglas Passineau is homeless. He was sleeping on a downtown bench, harming no one, harming nothing but a city's image of itself as a place where, apparently, making poverty invisible is the same as eliminating it. He had a duffel bag under his legs. That immediately, in the arresting officer's eyes anyway, made Passineau a law-breaker, since he had "lodging" items and was "lodging" on a bench. She moved in.
---
The Live Column
---
---
"One thing led to another," the Herald Tribune's Tom Lyons writes. "When the officer ordered Passineau to put his arms behind his back, she said, he refused and said he was tired of being repeatedly harassed. When she grabbed his arm, she reported, he 'jerked back and swung back at me.' No contact was reported, but Featherstone then grabbed the man by the neck and head, and pulled him to the pavement. She said she needed to punch him in the head several times, and a bartender who had been closing up at nearby Mattison's City Grille ran over to assist her, before Featherstone could get the formerly sleeping man into handcuffs. So Passineau is in jail at taxpayer's expense, and he apparently can't afford to bail out now that he is charged with a felony — resisting arrest with violence, as well as with unlawful 'lodging.'"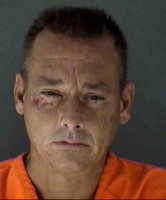 That bartender: icing on the cuffs. And that cop: was harassing a man sleeping on a bench really the most effective way to justify her shield? Cops make those calls all the time. There's lawbreaking of one type or another everywhere. Most of it is is as innocent as jaywalking. A homeless man sleeping on a bench is less than that. There's a degree of irresponsibility in jaywalking. There may well be (and there usually is: let's not romanticize them) irresponsibility in what leads to homelessness. But a cop isn't there to enforce moral judgments on a man's past, only to enforce laws. Justly, not cruelly. Which also entails not enforcing them cruelly when plea-bargaining with reason and circumstances, as cops do with every decision.
In Passineau's case, had the cop not deemed the duffel bag a "lodging" item, she could not have legally made that arrest. It would have been a homeless man on a bench, and a sleeping man on a bench is not illegal. Add that duffel bag, and Featherstone had her probable cause. That's not even the worst of it. The offense to the police officer–the man's indignation, so easily lighting the fuse of a felony–his resistance, his swinging back, that was the offense: he had to be punched. Several times. And jailed. None of that would have happened had the cop not instigated that series of judgments that turned a harmless act into a dubious case of lawbreaking, and that supposed lawbreaking into an even more dubious case of busting a man's chops, and worse.
So it is. From sleeping on a bench to sitting in jail. The man faces a felony and can't bond out, but sooner or later he'll be out again. Nothing's been fixed. A man's life has been made worse. Not much will be said. In cops versus homeless, cops win.
We're no longer at the point of worrying about presumption of innocence. This is something more pernicious that implies immunity of power. It's a presumption of virtue. Cops enjoy it. The homeless don't. Suspects don't, especially when ordinances are written with them in mind. But this is what we can be as a society. Brutish, nasty and short-sighted. We don't have to be. It's a judgment call. But city and county ordinances choose to be one way or another. They spell it out, then set their Finest on the prowl. Compassion? That's for the back-patting segment of government meetings.