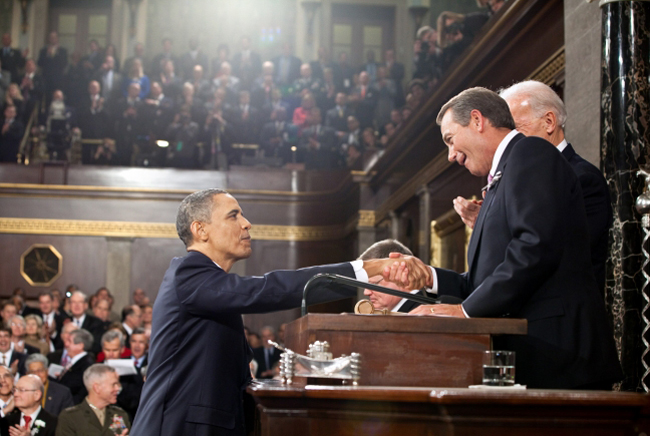 FlaglerLive Editor Pierre Tristam's weekly commentaries are broadcast on WNZF on Fridays just after 9 a.m. Here's this week's.
For weeks we've been hearing talk of a federal government shutdown if Democrats and Republicans don't agree on a budget for the next 6 months. Two shutdowns took place 15 years ago, when Newt Gingrich was the speaker of the House and Bill Clinton was president. Toxic waste cleanup stopped at hundreds of sites, 368 national parks closed, all those offices that produce government data, like unemployment and inflation figures, the Census Bureau or the Commerce Department, stopped functioning. Even the IRS closed, at least the division that chugged out refund checks, and most of 3.5 million veterans couldn't get checked up at VA hospitals.
A shut-down might be terrible for the economy and the convenience of millions of people, not to mention 800,000 federal workers who'd be temporarily laid off. A shut-down might also be a very good thing, if it were a real shutdown. After all the government-bashing of the last many years, inconvenience on a mass scale might just be the sort of corrective to millions of people who live in a parallel universe. I'm talking about people who vilify government but couldn't live without it for a day, particularly the tea party types who spend half their time secreting bile at government while spending the other half taking advantage of Medicare, spending their Social Security check and enjoying a ripe old age made possible by safe water, safe food, clean air, and relatively safe streets. Senility isn't just physiological. It's political, too. We're living its consequences: The budget follies these days are being driven by a minority of 87 new Republican House members, most of them elected on tea party platforms, who are holding Congress and the rest of the nation hostage to their double-faced fanaticism.
But all this talk of shutdown is also a misnomer. A government shut down should mean that government, all government, shuts down. That's not actually what happened in 1995, or what would happen today at midnight if Republicans and Democrats don't reach a deal. Every federal agency gets to decide who's essential and who's not essential, at least in the short term. For example, air traffic controllers, who are federal employees, would not stop working, which is too bad. In a real shut down, air traffic controllers would go home, airlines would be grounded, and many more millions of people would discover that something as basic as flying from Jacksonville to Atlanta would be impossible without government.
Federal prisons would not shut down. Prisoners would still be fed, guarded, locked up and executed. The FBI would continue to snoop on your Internet activity, the CIA would continue to bungle every spying operation it lays its hands on, and for some strange reason, Social Security checks would keep going to millions of beneficiaries, because Washington discovered in 1995 that too many people were upset when they stopped receiving them during the first shutdown. The post office would continue to deliver mail, and food stamps would still be issued.
And, of course, military operations on four fronts—Afghanistan, Iraq, Libya and that continuing burlesque called the war on terror—would continue, because there's nothing more essential to American identity and deficit-feeding than fighting unwinnable wars on as many fronts as possible to bankrupt us as quickly as possible so we can find ourselves fighting back home over government shut-downs compelled by those very deficits. Political senility is indeed the new quintessential American disease.
If 1995 is any guide, even some of the nation's great attractions, like the Grand Canyon, will remain open because states jump in with their own money to keep them going, thus hiding the true effects of the federal government's absence. So there is no such thing as a shutdown. And from the looks of it, there won't even be a partial shutdown, because Democrats and Republicans aren't really in disagreement over dollar figures. Barely a few billion dollars separate them in a budget of $3.5 trillion. They're haggling over ideological bumper-sticker issues like whether Planned Parenthood should get a few million dollars. They're playing a game of chicken over chickenfeed. They'll resolve it all after plenty of theatrics, which is what this has been about all along, and the bashers will go back to bashing the government they can't live without, knowing very well that a true shutdown would have hurt them where they live, literally, and shut them up.