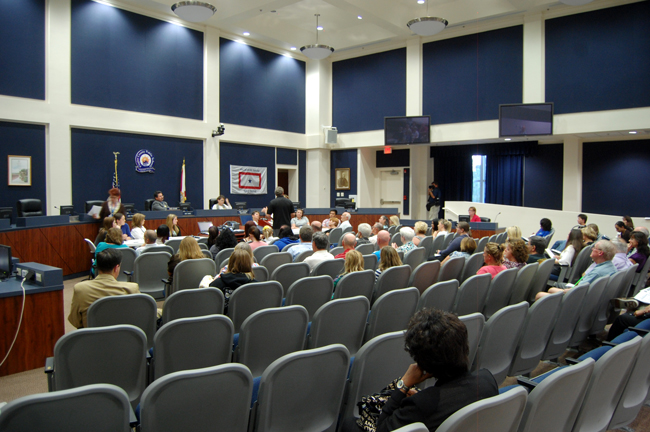 There's been an interesting debate here this week over the revelation that the very same administrators making from $70,000 to $100,000 are asking for their share of a 2 percent raise, which lower paid teachers and service employees have received. People are surprised by the size of school administrators' salaries, let alone the—and let's not mince words about this—obscenity of their request, given the context: the county's high unemployment rate, the district just cutting back the school day by 45 minutes (talk about obscenity), cutting back many employees' workdays, including administrators, and laying off a few dozen teachers.
This isn't the time for the richest employees to claim poverty or act like ego-driven adolescents: They're actually claiming that denying them a raise is showing them disrespect. Their request, so disconnected from the planet they're living on, is what's losing them respect. The school board is enabling the farce. It's groveling at the administrators' feet, playing up the disrespect card and scheduling a workshop next week, because it appears not to have anything better to do than bring up the matter for a third meeting in five weeks.
Bill McGuire, the candidate for Palm Coast City Council and a frequent presence at local government meetings, described himself amused by the indignation over the revelation, because he rarely sees very many people in these meetings, where they might have been better informed about the workings of the school board. "If the public doesn't show any interest in the workings of this board and stand up and be heard, can you fault them for any of their actions?," he wrote. "Posting an angry message or writing a letter to an editor is a half hearted reaction. Get off your butt, go to the meetings, stand up and tell them what you think and feel." I know what he means.
I hear this often, particularly from politicians who wail about apathy. But I must respectfully disagree on several counts. I happen to think there is virtually no relationship between the measure of people's involvement in public issues and attendance rates at government meetings.
First, I can fully understand why the majority of people prefer not to attend these meetings. Seriously: it's a wonder those of us who've been to them haven't blown our brains out from the stupefying bore of these things. We don't need Guantanamo. We have local government meetings. (I began writing this while sitting in a Bunnell City Commission budget workshop, so you see where I get my inspiration).
---
The Live Column
---
---
Second, no one attending these school board meetings would have ever known what these administrators, most of whom attend the meetings–and many of whom fight the hellish boredom by spending those hours fondling their school-issued ipads, at least when some of them aren't shilling for raises–get paid. That's not information that's ever imparted, at school board or other government meetings, where numbers are couched in more general terms and intractable spreadsheets.
All our politicians deal in numbers. But they have two sets of books: those they speak of publicly, and those they do their best never to speak of, such as people's salaries, perks, junkets. When's the last time any of the local government PR flackers released actual news in their "news releases," as opposed to sappy feel-good back-patting about self-serving awards to people merely doing their tax-supported jobs? Credit their administrations this much: the moment you ask for information, it's almost immediately produced, down to the last penny, whether it's the school administration, Palm Coast, Flagler Beach, even Bunnell.  But it won't be volunteered. In other words, relying exclusively on what you hear at meetings is not quite the story: it takes connecting a few documents. (The county's tourist council is an exception: it's a model of transparency where all sorts of numbers are in fact volunteered.)
Third, people are overworked, overstressed, overwhelmed (and in this county anyway, getting paid far less than school administrators). They put in their 60- and 70-hour weeks, too. It's cruel and should be unusual to impose on them presumptions of attending these meetings as a condition of calling them legitimately "involved." If they're going to work, raising children, volunteering, mentoring, going to school, organizing civic events and cultural happenings, they're involved, and involved in matters that are a hell of a lot more consequential and interesting than three hours in a government meeting. I'm not saying that what goes on at some of those meetings isn't consequential. Of course it is. But it has nothing to do with whether they're attended by people who are doing society more good by not being there.
Fourth, there's an older guy who speaks at almost every county meeting and who, for the past couple of meetings, has been railing about "secret" meetings of the county commission, because those meetings aren't televised. He hasn't been paying attention. I'll be first to tell you that I wish every local government meeting, workshop and (speaking of blowing my brains out) economic development summit were televised. They're not. Only certain meetings are. But almost all meetings are accessible on the web, usually live, with the exception of our 19th century school board, where much of that money that could give us live access is tied up in its top-60 hit parade. If anyone wants to be connected, anyone can be, and a surprising number of people are. We have our local C-Spans, in other words.
Finally, let's put the blame, if there is any blame, where it should be: the press, the "media," whose responsibility it is to inform. Its alleged liberalism isn't the problem (and that liberalism is history anyway). Its laziness and stupidity and shallowness and cheapness are part of the problem. And most of all its cowardice: we don't want to ruffle feathers for fear of upsetting advertisers and the "business community." That's the true Achilles' heel of modern, local journalism.
It's not true that the public isn't interested in serious journalism. They eat it up when it's there. These days, most media outlets are more interested in finding the cheapest way to make a buck than to provide the sort of public affairs journalism that makes a difference in people's lives, as opposed to the kind of pseudo-journalism that tells you the sun will rise tomorrow or jerk a tear or two from you over the latest lost-puppy saga. There is some stellar work when you look around. But it's the minority. The Florida News Service for example, provides the best state political coverage of any news organization in Florida. (We subscribe, but it's not cheap.)
Locally we do a good job of reporting wrecks and sensationally pointless news conferences, not to mention transcribing the humors and clichés of our elected and their staffs (every time I hear "low-hanging fruit" one of my many kidney stones grows a spur). But it takes a small army of reporters to cover a community the way every community deserves to be covered. There's no such army. Paintball journalism doesn't count.
So in essence the cover-up has disappeared because it's become unnecessary. Governments and businesses can hide in plain sight, knowing that what lights might be shined on their business will be low-wattage at best. The challengers aren't there. The result is clear: abuses left and right, and not just in government, the Great Recession being the result of an utter lack of oversight. Regulators didn't do their job. The press certainly didn't do its job, playing right into the hype of the housing bubble and uncritically adopting chamber of commerce propaganda about the virtues of deregulation, small government and getting out of business' way.
The resulting wreck is all around us. The private sector's carpet-bombing of the economy makes government's abuses look like child's play in comparison. If you think those school administrators' salaries are obscene, you haven't seen the double-digit raises and fat bonuses of private-sector CEOs lately, some of whose compensation packages could buy small African nations.
Still, they're heroes. They're captains of industry. They're deserving. All it takes is spoon-feeding a little PR to willing reporters. The rest of the non-story writes itself, with a smiley face. Is it any wonder our local administrators want a piece of that action? Attending government meetings won't necessarily change the equation. It merely gives our politicians more incentive to shine up those spoons and apply the lessons of private-sector snow jobs. So far, it's working.