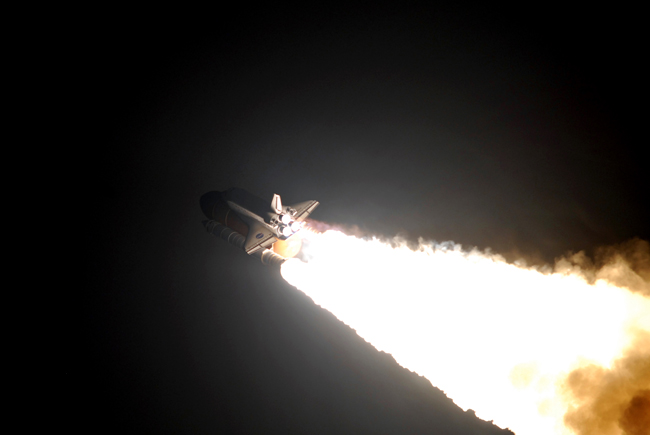 FlaglerLive Editor Pierre Tristam's weekly commentaries are broadcast on WNZF on Fridays just after 9 a.m. Here's this week's.
Ten days ago I was in Flagler Beach to watch the launch of Space Shuttle Endeavour and take a few pictures. It was moving, as always, to see what from this vantage point looks like an upside down candle quietly rise into the sky while closer to earth a few thousand hearts just as quietly rise into throats clenched against a repeat of 1986, when the Challenger exploded after take-off.
More people than usual had turned out perhaps because the commander of the mission is Mark Kelly, husband of the Arizona congresswoman shot in that madman's murderous spree in Tucson in January. Or because Endeavour's mission is the next-to-last in the shuttle's 135-mission history, going back to that first launch in April 1981—curiously enough, just a few days after John Hinkley's assassination attempt against Ronald Reagan, who ended up watching the launch on TV in the White House on his first day back from the hospital. But as Endeavour has been circling the globe at 17,000 miles an hour in low orbit, another space-age marker passed with hardly a word. It was 50 years ago Wednesday that John Kennedy appeared before a joint session of Congress for what he called a second State of the Union message to challenge the nation to spend up to $40 billion and put a man on the moon by decade's end.
---
The Live Column
---
---
He wanted to beat the Soviet Union to the Moon in "the battle for men's minds," as Kennedy put it. Congress put up the money and Neil Armstrong became the first of 12 apostles of American ambition to walk on the moon between July 1969 and December 1972. The Apollo program was a high point in man's ability to achieve seemingly impossible goals, but at a price. The program ended up costing $150 billion in today's dollars, a big price to pay for a little prestige against a nation that doesn't even exist anymore. And while the United States managed to send 12 men to the moon, it did so while sending 57,000 men and women to their deaths closer to home, in Vietnam. By the time that war and the Apollo program were winding down, no one was really interested in either. Both proved less necessary than advertised.
The 1970s deepened the gloom. As an account in The Times had it, moon shots "seemed to have gone the way of military invincibility, cheap fuel, the sound dollar and even unquestioning confidence in American technological supremacy." So when Space Shuttle Columbia first rose into the Florida sky 30 years ago, there was a good deal of reaffirmation in a faith that seemed on the skids.
But the space shuttle never captured that Apollo-size imagination, and it certainly never lived up to its original billing as a cheap, routine shuttle that would achieve great things in space. Its greatest achievement, besides its own existence as a job machine on Florida's space coast, is the dismal International Space Station, a white elephant once sold as the first step toward the stars, but that ended up being nothing more than a million-pound clunker to nowhere 200 miles up that, come decade's end, will ditch into the Pacific Ocean. Between that thing and the space shuttle, each of whose mission costs about $1 billion, twice as much money was spent as on the Apollo program. Besides the thrill of a launch or the entertainment value of celebrity passengers on the shuttle, it's difficult to justify the expense.
And to think that NASA was looking to the moon again and then to Mars, at costs twice those of the shuttle and space station combined. President Obama was right to put an end to the manned space program for now. We don't need a Babel Tower in orbit. If there's still interest in sending astronauts twirling around space, let the Russians or the private sector carry on. NASA's unmanned space program is more interesting and useful to science, at a fraction of the cost. The Hubble Space Telescope by itself has done more for science and humanity's knowledge about its place in the universe than all the shuttle missions combined. NASA's planetary explorers have done wonders, too, and can continue to do so, as would a new generation of space telescopes. That's where America's space future is.
So when Space Shuttle Atlantis leaves Cape Canaveral for the last time on July 8, I'll be in Flagler Beach again, but without the tears. As Spock once put it in the original Star Trek series, "We simply must accept the fact that Captain Kirk is no longer alive." Better yet: we no longer need him.