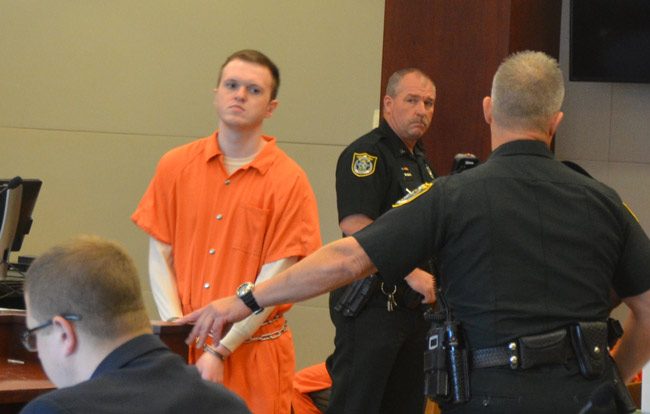 Last month a jury took a little more than a quarter of an hour to find Paul Dykes, 21, guilty of directing the rape of the 1-year-old daughter of his ex-girlfriend, who had herself been found guilty of rape a few months earlier. Dykes is to be sentenced on Jan. 30. He faces life in prison without parole.
But he was tried on only two-thirds of the charges he faced, with remaining charges the prosecution and his defense attorney, Public Defender Bill Bookhammer, split into two batches for two subsequent trials. He faced 38 charges in all, and has been found guilty on 24 of them. Both sides had agreed to discuss whether those two potential trials would be necessary in light of the outcome of the first trial. The implication was that if Dykes was found guilty on capital felony charges in the first trial, which he was, it could make the two other trials moot: whatever their outcome, he could not be sentenced to more time in jail, and if he was found not guilty in either trial, or both, the outcome of the first would still stand absent reversal on appeal.
The added incentive to resolve such cases before trials is to avoid the expense and the burden on both public defenders and state prosecutors. The discussion on how to proceed on those two trials was to take place today in a pre-trial hearing, with Dykes appearing in court again. But there was little discussion.
"Is Lewis going to make an offer that might resolve everything?" Circuit Judge Dennis Craig asked Assistant State Prosecutor Melissa Clark. The judge was referring to Assistant State Prosecutor Jason Lewis, who was not in court today but who has led the prosecution's teams against Dykes and Erin Vickers, his ex-girlfriend.
"I don't believe so, judge," Clark responded: Lewis intended to move forward with the two trials, with one additional pre-trial date in March and the next trial scheduled for March. Clark did not explain why.
It is possible that the prosecution is signaling its intent to still try Dykes pending Dykes's sentencing. It could change its approach after that. [Update: Lewis, in fact, confirmed that possibility in a brief interview Wednesday morning, saying he had no intention of wasting taxpayers' dollars, and that talks with the defense will continue toward a resolution.]
Dykes himself did not address the court today. He loses nothing by having additional trials, and may well gain, if minimally: rather than end up being transferred to state prison after his sentencing at the end of the month, he could possibly remain at the Flagler County jail, where his mother has been visiting him, pending the resolution of his trials. Because of the nature of the crimes for which he has been convicted, the local jail is also significantly safer for him than would be state prison, where inmates are notoriously brutal toward individuals serving time for child-sex crimes.