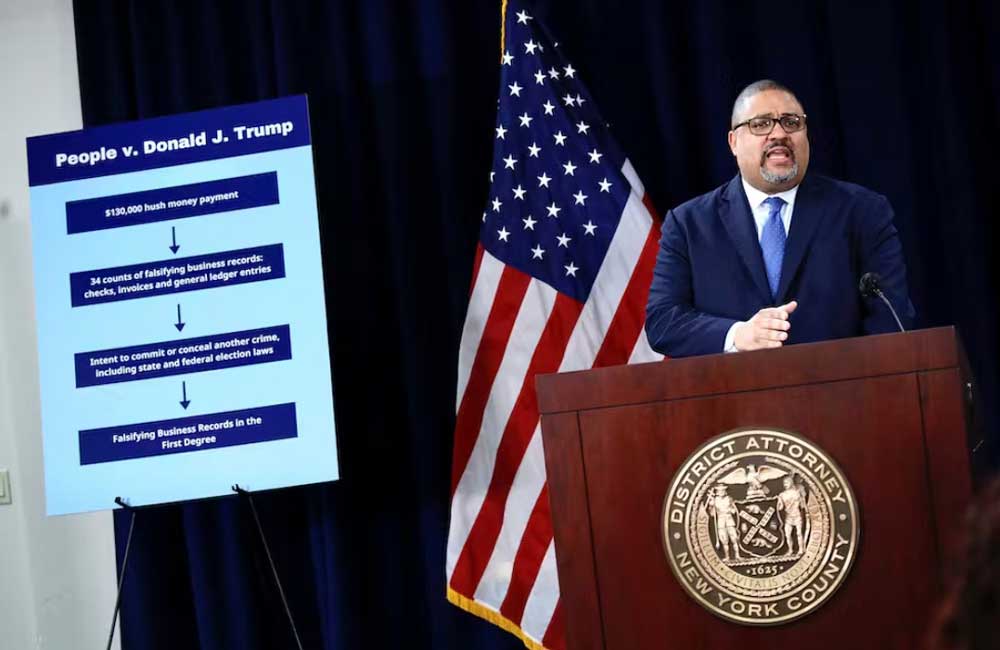 By Jeffrey Bellin
Former President Donald Trump was arraigned in New York on April 4, 2023. Shortly after, the charges that a Manhattan grand jury indicted him on were made public.




As anticipated, there were numerous counts of falsifying business records related to "hush money" payments made in 2016 to three individuals with potentially damaging information about Trump during his presidential election campaign. While porn actress Stormy Daniels and another woman allegedly had affairs with Trump, another person – a Trump Tower doorman – claimed to know about a child Trump "allegedly fathered out of wedlock."
Manhattan District Attorney Alvin Bragg and his office described Trump's alleged criminal activity as arising out of a "'catch and kill' scheme to identify, purchase, and bury negative information about him and boost his electoral prospects," according to an April 3 media release.
"Trump then went to great lengths to hide this conduct, causing dozens of false entries in business records to conceal criminal activity, including attempts to violate state and federal election laws," the statement continues.
I am a former prosecutor and law professor who studies the American criminal justice system. Now, with the indictment unsealed, The Conversation asked me to weigh in. Here are three key points to understand – and the challenges that lie ahead for the prosecution of the former president.
1. Falsified business records are the key issue
The unsealed indictment alleges 34 separate felony counts of falsifying business records. Creating a false business record with the intent to defraud is a Class A misdemeanor offense in New York. But the offense becomes a low-level Class E felony if prosecutors can prove that the false business records were created for the purpose of facilitating a second crime.




It is important to keep in mind that the alleged crimes are not the payoffs, but the false business records used to document those payoffs. That explains the 34 counts. The district attorney alleges a separate offense for each false invoice and business record involved in obscuring the true nature of the transactions.
Each count is punishable by up to four years in prison, but it is possible that, even if there are convictions on multiple counts, the judge will not mandate any incarceration for Trump at all.
One of the surprises in the unsealed indictment is that, while there is a second, separate crime Trump allegedly committed, that crime is not specified. A separate statement of facts released by the Manhattan district attorney's office lays out further detail, but again does not specifically identify the second crime.
Bragg said during a press conference on April 4, 2023, that New York law does not require him to list the underlying crimes in the indictment. The statement of facts hints at multiple legal theories that Bragg will rely on to elevate the misdemeanor offense to a felony. Specifically, this could include potential tax avoidance and campaign finance violations.
2. Bragg will have to prove Trump's involvement, fraudulent intent
The prosecution has a number of obstacles to overcome to prove its case, which will likely not go to trial until, at the earliest, late 2023 or early 2024.
Although there is still a lot that is not yet known – such as the specific evidence that the prosecutor will rely on – the indictment and statement of facts brings the key obstacles into focus.
Some of the challenges will be factual and others will be legal.
I see two primary factual questions. One will be whether the prosecution can establish Trump's personal involvement in creating the false business records. It will not be enough to show that Trump authorized the hush money payments at the center of this case.
The prosecution has to show Trump's personal involvement in the details, and specifically, that he directed others to create the false business records that allegedly hid the true nature of those transactions.




Second, the prosecution will have to prove that Trump's intent in creating these false business records was to cover up, or facilitate, another crime – such as campaign finance violations. If Trump merely sought to avoid embarrassment arising out of these alleged affairs, that will not be sufficient to prove the charged offenses. One way prosecutors try to prove criminal intent in cases like this is through the defendant's own words. This can be via recordings, if they exist, or testimony from witnesses about what the defendant knew and said about the records as they were being created.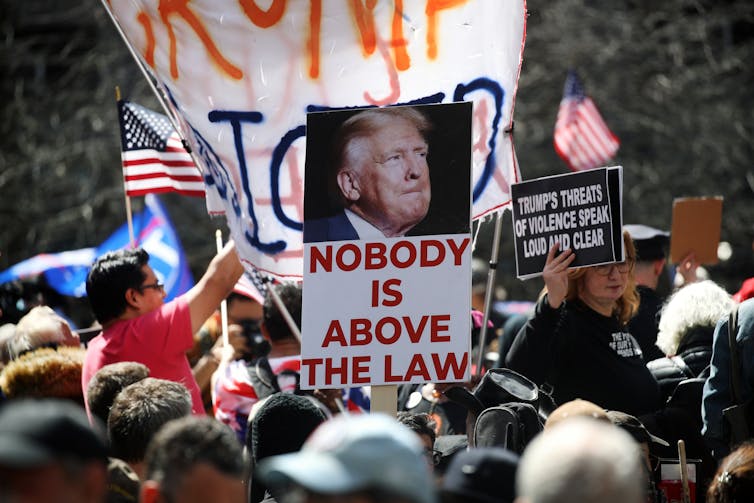 3. There will be other legal hurdles
There are also some complex legal questions that the trial judge and potentially an appeals court will be asked to resolve.
Typical prosecutions – for example, a murder trial or one involving drug dealing or insider trading – fall into familiar patterns that allow prosecutors, judges and commentators to follow the same basic blueprint.
There does not appear to be a familiar blueprint for this case – where a false business record was generated in an organization's records in furtherance of alleged campaign finance violations.
That doesn't necessarily mean this is a bad case for the prosecution to pursue, but it does mean that Trump's lawyers will have ample opportunity to launch legal challenges. The most obvious challenge I foresee is an attack on Bragg's legal theory that takes this case from a misdemeanor to a felony.
Until there is more clarity on that theory, however, it is difficult to predict how the courts will rule.
Beyond the legal and factual complexities, there will be a series of novel aspects of this case that arise because of the defendant's status as a former president and the apparent front-runner for the 2024 Republican presidential nomination. Every aspect of this case will be scrutinized and, while New York City courts are used to media attention, the attention in this case is likely to be unprecedented.
That attention will put a lot of pressure on a criminal justice system that is already overburdened and imperfect. It is difficult to forecast how this case will play out, but one thing to expect during these proceedings is the unexpected.

Jeffrey Bellin is Mills E. Godwin, Jr., Professor of Law at William & Mary Law School.

The Conversation arose out of deep-seated concerns for the fading quality of our public discourse and recognition of the vital role that academic experts could play in the public arena. Information has always been essential to democracy. It's a societal good, like clean water. But many now find it difficult to put their trust in the media and experts who have spent years researching a topic. Instead, they listen to those who have the loudest voices. Those uninformed views are amplified by social media networks that reward those who spark outrage instead of insight or thoughtful discussion. The Conversation seeks to be part of the solution to this problem, to raise up the voices of true experts and to make their knowledge available to everyone. The Conversation publishes nightly at 9 p.m. on FlaglerLive.
---
Previous Conversations: