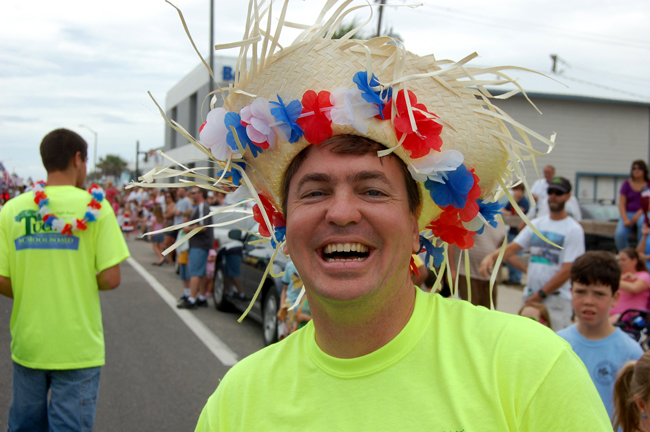 With all ballots counted, local races are over: Trevor Tucker has held on to the school board seat to which he was appointed in January to replace the late Peter Palmer. Tucker beat Marc Ray handily, 56 to 43 percent. But there'll be a run-off for the District 5 seat between John Fischer and Raven Sword. Fischer got 44 percent of the vote to Sword's 34 percent, with Peter Peligian pulling in 22 percent.
Four years ago, John Fischer forced a run-off when he ran against Evie Shellenberger, who's retiring from the seat this year. Fischer was in a three-way race back then, too. He barely edged out Frank Meeker by less than 1 percentage point, polling 27 percent, against Shellenberger's 47 percent. (Meeker eventually won a seat on the Palm Coast City Council.) In the runoff, Shellenberger beat Fischer by just four points, 52-48 percent.
The run-off was held then, as it will be this time, in the general election, scheduled for Nov. 2.
In the County Commission race, Nate McLaughlin defeated first-time incumbent Bob Abbott, 53 to 47 percent.
In the judges' races, Marc Dwyer had a good showing in Flagler County, polling first in a field of six, with 27 percent of the vote. Sid Nowell was second, with 23 percent, and Dennis Craig was third with 22 percent.
Neither Dwyer nor Nowell will survive, however, once ballots for the 7th Judicial District race are counted from Volusia, St. Johns and Putnam. In Volusia alone, Joe Horrox polled double Dwyer's numbers there, and four times Nowell's, with more votes yet to be counted.
Dennis Craig won the four-county vote tally with 25.89 percent; Joe Horrox had 24.85 percent; Marc Dwyer was third, with 19 percent. Sid Nowell had 10.21 percent.
In Group 3, which also affects Flagler County, Matt Foxman defeated George Pappas, 52-48 percent. In Group 10, Don Holmes polled 45 percent to Scottt DuPont's 32 percent. Eric Neitzke was third, with 23 percent of the vote.
Turnout was dismal. At 22 percent, it was worse than the last two off-year election primaries, four and eight years ago.
More detailed numbers in the chart below the graph and the picture.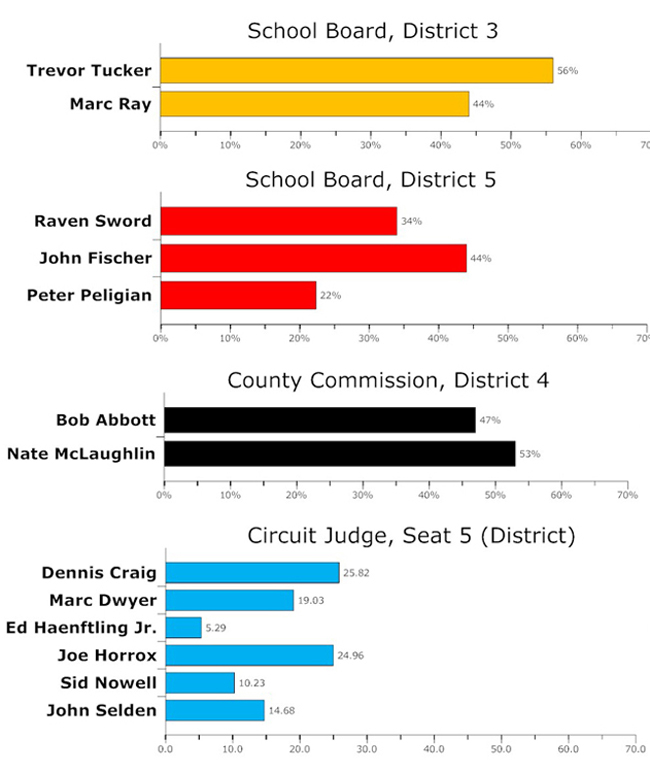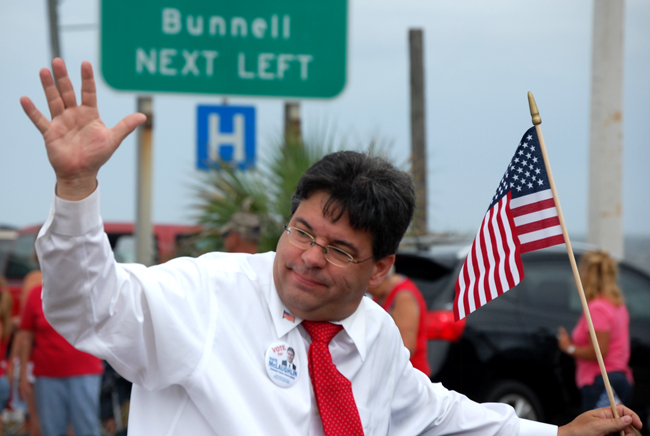 2010 Primary Election: Final Results
| Candidate and Race | Votes | Percent | Overall vote in Florida | Overall Percentage |
| --- | --- | --- | --- | --- |
| Flagler School Board, District 3 | | | | |
| Marc Ray | 2938 | 43.95% | | |
| Trevor Tucker | 3747 | 56.05% | | |
| Flagler School Board, District 5 | | | | |
| John Fischer | 3156 | 45.07% | | |
| Peter Peligian | 1565 | 22.35% | | |
| Raven Sword | 2282 | 32.59% | | |
| Flagler County Commission, District 3 | | | | |
| Bob Abbott | 3115 | 47% | | |
| Nate McLaughlin | 3512 | 53% | | |
| 7th Circuit Court, Group 5 | | | | |
| Dennis Craig | 2698 | 22.25% | 27,548 | 25.89% |
| Marc Dwyer | 3323 | 27.41% | 20,222 | 19% |
| Ed Haenftling Jr. | 459 | 3.79% | 5,669 | 5.33% |
| Joe Horrox | 1760 | 14.52% | 26,442 | 24.85% |
| Sid Nowell | 2784 | 22.96% | 10,868 | 10.21% |
| John Selden | 1100 | 9.07% | 15,647 | 14.71% |
| 7th Circuit Court, Group 3 | | | | |
| Matt Foxman | 5442 | 49.37% | 57,897 | 52.17% |
| George Pappas | 5581 | 50.63% | 53,071 | 47.83% |
| 7th Circuit Court, Group 10 | | | | |
| Scott DuPont | 3393 | 31.87% | 33,589 | 31.87% |
| Don Holmes | 4892 | 45.96% | 47,114 | 44.7% |
| Eric Neitzke | 2360 | 22.17% | 24,699 | 23.43% |
| Democratic Candidates for U.S. Senate | | | | |
| Glenn Burkett | 259 | 5.43% | 59,407 | 6.51% |
| Maurice Ferre | 150 | 3.14% | 44,592 | 4.89% |
| Jeff Greene | 1526 | 31.99% | 283,107 | 31.04% |
| Kendrick Meek | 2835 | 59.46% | 524,938 | 57.56% |
| Republican Candidates for U.S. Senate | | | | |
| William Escoffery III | 417 | 5.48% | 82,002 | 6.53% |
| William Kogut | 622 | 8.18% | 111,632 | 8.89% |
| Marco Rubio | 6566 | 86.34% | 1,061,836 | 84.58% |
| Democratic Candidates Governor | | | | |
| Brian Moore | 1174 | 26.4% | 199,815 | 23.09% |
| Alex Sink | 3273 | 73.6% | 665,417 | 76.91% |
| Republican Candidates for Governor | | | | |
| Mike McCallister | 724 | 9.32% | 130,272 | 10.13% |
| Bill McCollum | 3308 | 42.58% | 558,765 | 43.47% |
| Rick Scott | 3736 | 48.09% | 596,449 | 46.40% |
| Democratic Candidates for Attorney General | | | | |
| Dave Aronberg | 1756 | 42.01% | 337,896 | 40.92% |
| Dan Gelber | 2424 | 57.99% | 487,863 | 59.08% |
| Republican Candidates for U.S. Senate | | | | |
| Holly Benson | 2453 | 33.87% | 352,201 | 29.26% |
| Pam Bondi | 2578 | 35.60% | 456,031 | 37.89% |
| Jeff Kotkamp | 2211 | 30.53% | 395,358 | 32.85% |
| Republican Candidates for State Senate, Dist. 8 | | | | |
| Charles Perniciaro | 2210 | 31.30% | 20,150 | 38.19% |
| John Thrasher | 4851 | 68.7% | 32,618 | 61.81% |
| Republican Candidates for State Representative, Dist. 20 | | | | |
| Alan Kelso | 1817 | 27.87% | 5,426 | 28.56% |
| Bill Proctor | 4703 | 72.13% | 13,575 | 71.44% |
| Republican Candidates for State Representative, Dist. 26 | | | | |
| Vince Champion | 107 | 19.45% | 3,309 | 22.54% |
| Fred Costello | 261 | 47.45% | 7,333 | 49.95% |
| Nathan McDonell | 182 | 33.09% | 4,039 | 27.51% |