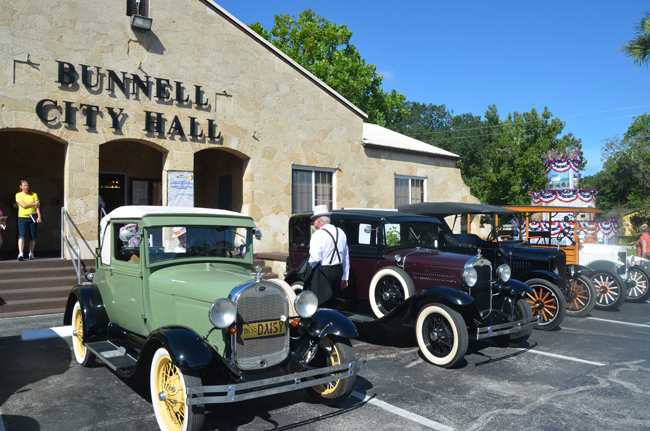 The U.S. Supreme Court's 5-4 decision today allowing explicitly religious prayers at local government meetings had two direct connections to Palm Coast and Bunnell. So the ruling had particular resonance locally—happily for some, not so happily for others.
The case was brought to the Supreme Court by Americans United for the Separation for Church and state, a national, Washington, D.C.-based organization whose Board of Trustees Chairman, Merrill Shapiro, is a rabbi who lives in Palm Coast. (Shapiro also chairs of the FlaglerLive board of directors.) Shapiro was not celebrating Monday.
"We were very proud to have our name on this case and to have brought it to the Supreme Court," Shapiro said. "In the end this has loomed very large for our organization and we are very disappointed in the outcome. We had some hope, but in the end, we're disappointed."
The case also had a direct bearing on Bunnell government. The Bunnell City Commission is the only local government that begins its meetings with an explicitly Christian prayer, a prayer usually delivered by one of the city commissioners (all of whom are Christians), though on occasion a local pastor is invited to do so. The city has never had a prayer or invocation by a non-Christian. Bunnell is also the only town or government entity to directly sponsor an annual Day of Prayer, as it did last week, inviting clerics, church groups and local officials to participate in something similar to a 90-minute revival on the city's clock. City commissioners have proudly and consistently defended both initiatives. On Tuesday, two of its most ardently religious commissioners were jubilant.
"I know that God is in control," Commissioner John Rogers said. "He's sitting on his throne." It was at Rogers's behest that the city started the Day of Prayer three years ago, when then-City Manager Armando Martinez, looking to build bridges with Rogers (who was not an ally) said he wanted to start the event so Bunnell could be "God's city."
"We're asking for guidance, for clarity and peace from God the father. I don't see a problem with it," Rogers said.
To Tucker, today's ruling "reflects what the founders had in mind. They wanted to not have any church established by government, so they wanted to keep church and government separate, but they didn't want to keep government and religion separate. I think that's all the city of Bunnell is doing. I'm thinking we're falling in line with what the Supreme Court has said now is OK."
But in the same interview, Tucker went far beyond today's decision, which while allowing specifically Christian prayers, also strained to be includive, and to reject any notion of prayers that would seem exclusionary, or would be made to seem preferential by, for example, projecting a Christian god as superior to other gods, or the absence of god. Tucker, however, made clear that prayers are meant to be offered to a Christian god specifically.
"Our society has certain basic moral principles that it follows," Tucker said. "They're based in that Judeo-Christian belief, and we believe in God. That's pretty well the truth. So if we have somebody that's an atheist, how is an atheist going to invoke the spirit if you will of God, if he doesn't believe in God? So what spirit is he going to invoke on the city of Bunnell? I don't know. That's a puzzle." And if he doesn't invoke god, "what good is it? When we say a prayer, as the New Testament tells us, we pray to a father in heaven, so that's to whom we're praying. If we're not we're praying to that father in heaven, then to whom or to what are we praying? It's generally understood that we're going to have a prayer and it's going to be said to our father in heaven."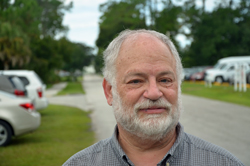 That's precisely why groups like Americans United for the Separation of Church and State oppose such explicit prayers at town meetings. "It tells a certain class of citizen that they do not have full standing, full regard, are not held in the same esteem that members of the class to whom the prayer is important is addressed," Shapiro said, "so that prayers that are offered sometimes in Jesus's name or somewhat are overtly Christian tell the Jewish citizens of Bunnell for example, the Muslim citizens of Bunnell, the Buddhist, the Hindus, that they don't have the same whole standing that their Christian neighbors have, and it divides our country rather than unites it."
Shapiro was echoing Justice Elena Kagan's dissent, where she states that prayers at meetings could not be reconciled "with the First Amendment's promise that every citizen, irrespective of her religion, owns an equal share of her government."
The case the Supreme Court decided today originates in the small town of Greece, N.Y., which holds monthly town meetings (Bunnell has twice-monthly meetings). Local clergy is invited to offer the opening prayer, when the audience is asked to stand, bow, and pray along. The prayer is not vetted beforehand. Anyone may request to give an invocation, but from 1999 to 2007, every prayer was Christian. Residents Susan Galloway—who is Jewish—and Linda Stephens—an atheist—complained and filed the suit that was decided today. Along the way, the city held a few non-Christian prayer services, but quickly returned to its all-Christian practices. A federal appeals court found the practice too obviously Christian. The Supreme Court disagreed, relying to a great extent on its own decision 30 years ago ratifying prayers and invocations that start legislative sessions.
Justice Anthony Kennedy's majority opinion diminished to the point of irrelevance the question of whether prayers at public meetings were a violation of the Establishment clause of the First Amendment. In sum, too many prayers are being recited against too little evidence that the prayers in any way reflect any government's desire to "establish" a particular religion.
And Kennedy went further than the precedent from 30 years ago, saying that prayers could well be sectarian—they could be explicitly Catholic or invoke the Christian god—but he also set out a series of tests. The prayers could not be coercive. The prayers could also not be included in the business portion of a local government meeting and have to be confined to the ceremonial part of the agenda—during proclamations, commendations and such—so as not to give the impression that prayer has bearing on any decision.  The government panel is not allowed to dictate what is in a prayer, nor is the government itself to be prayed for. The prayers could not disparage other faiths. And prayers had to be delivered in rooms filled mostly with adults. The court made that distinction because it did not retreat from another precedent banning prayers at school events where audiences are mostly under-age, and where such prayers may have a more coercive effect than on adults.
But such nuances rarely get heard, or enacted, beyond the main outlines of big decisions like today's, and that outline is being seen in Bunnell as an endorsement to carry on. Rogers, however, noted that he and his colleagues may want to have an open discussion about how to proceed in light of the decision—and whether to continue the practice of proffering prayers themselves or inviting others to do it. Either way, Rogers says he sees no problem.
"I want to thank God that the Supreme Court ruled 5-4 that Christian prayers given before meetings in the New York town council did not violate our constitutional rights," Rogers said. "Opening the city of Bunnell meetings with prayer is our freedoms, as our founders of our great nation themselves practices. We have the right to pray for our communities just as our founding fathers did for theirs."
Shapiro suggested that the Bunnell commission "needs to recognize that in no way, size, shape or form is the city commission of Bunnell the town of Bunnell. The town of Bunnell is made up of people, and people have different ways of thinking and different ideas about whether or not there is a god, and commissioners of Bunnell should never confuse themselves with the population, with the citizenry of Bunnell. They are their representatives, and as such they should recognize that not everybody in Bunnell agrees that there should be a god. When they express the fact that there is a god, they are not representing everybody in Bunnell, and I don't know that for a fact but I say it with great certainty."

Supreme Court's 5-4 Decision on Prayers at Government Meetings (2014)