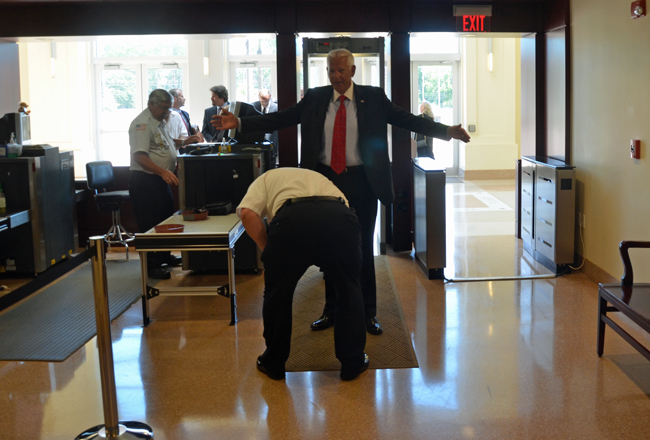 Last Updated: 7:42 p.m.
With four days left to make the Aug. 14 primary election ballot, John Pollinger, the Republican candidate for Flagler County Sheriff, arrived in court shortly before noon today to defend his qualifications as a Republican n an extraordinary case expedited before Flagler County Circuit Court Judge Dennis Craig.
After a 90-minute hearing, the judge adjourned, giving both sides until Thursday to turn in more briefs. The judge is likely to render a decision by Friday, though he's not required to do so.
The case was brought against Pollinger by a political opponent–Ann-Marie Shaffer, until weeks ago the campaign manager of Ray Stevens, another Republican running for sheriff–over Pollinger's past registration as a Democrat. New Jersey, Pollinger's previous state, did not officially annul that registration until January, when Pollinger requested the annulment. Florida law requires a candidate to swear an oath that the candidate, averring himself to be a member of a specific party, hasn't been a member of another party within 365 days of announcing a run for public office.
Pollinger registered as a Republican in 2009, but Shaffer claims he knew his registration in New Jersey had not been cancelled. In court today, Shaffer, through her Ormond Beach lawyer, Jake Kaney, was looking to prohibit Flagler County Supervisor of Elections Kimberle Weeks from including Pollinger on the primary ballot, as a Republican. Weeks was in court, represented by Ron Labasky, an attorney for the Florida State Association of Supervisors of Election. (The Flagler County Commission this morning voted 4-1, with Barbara Revels in dissent, to grant Weeks' budget an additional $2,500 for legal representation in this case.)
Michael Chiumento III and Ron Hertel are representing Pollinger. They argued that the case should be dismissed on its face, saying there is no case law that justifies keeping Pollinger off the ballot. "An injunction is absolutely improper here today," Chiumento said. The judge said he'd take the argument under advisement, but allowed the hearing to proceed. At 12:40 p.m., Pollinger took the stand.
Kaney asked Pollinger several questions that established the timeline of Pollinger's registration status and voter history in New Jersey and in Florida, where he first registered to vote in 2008, and as a Republican in 2009. Pollinger said he had registered as a Democrat when he was 20, in New Jersey.
Hertel, Pollinger's attiorney, had just one question for him: "Have you ever been a registered member of the Democratic Party?"
"No," Pollinger replied, making a central point of his defense: being a registered Democrat previously did not mean that he was a member of the Democratic Party.
Shaffer was then called to the stand, but only to establish the fact that she's a registered voter who intends to vote–and has standing to file suit against Pollinger. That was it for witnesses for either side. The two sides then began arguing for a judgment from Craig.
"All that the plaintiff has shown anyway was that Mr. Pollinger was a Democratic Party affiliated voter in the State of New Jersey," which, Hertel said, is not the same as having an active member of the Democratic Party.
Kaney did not buy the distinction so far as Pollinger's registration is concerned: he was registered in new Jersey, as a Democrat, until January 2012, Kaney said.
Only then did the case move to the merits of the case: the actual interpretation of law that would justify an injunction. Kaney argued that the law is written clearly and without qualifications–that the candidate must not be a member of another party when qualifying to run as a candidate of a different party. Kaney rejected Pollinger's defense that he had done what he was required to do, and that either New Jersey or Florida authorities hadn't followed through with the proper paperwork. "What we have here is the fact that he remained until January 24 of this year registered to vote as a Democrat, and he knew that," Kaney said, rejecting notions of ignorance of the law. "He did not take those steps to disaffiliate himself until January of this year." That disqualifies him to be sheriff as a Republican, Kaney concluded.
Chiumento went up next, starting with this line to the judge: "They're asking you to determine that Mr. Pollinger is guilty until proven innocent."
Chiumento then argued that there is nothing in law that makes it Pollinger's–or any prospective voter registrant's–responsibility to annul a previous registration in another state once the registrant fills out a new registration in Florida. But for the state's failure to send a registration notice to New Jersey, he said, "we wouldn't be here today." The only facts in the case are that he once registered as Democrat and that he changed address. Shaffer, Chiumento said, is "stirring the water" to look for reasons to question his qualifications. "There are no common law rights that they've talked about that gives them the right to be here," he continued, referring to Pollinger's challengers.
The last thing we want to do is this court to disqualify a candidate under this statute, because what it will be doing is creating a new law," Chiumento concluded, again focusing on the temporary injunction, not the underlying merits of the case–an injunction that "fails on its case."
Kaney retorted that the injunction is not aiming to keep Pollinger off the ballot, but to keep him off the ballot as a Republican only. He then argued that if Pollinger were placed on the ballot and won as a Republican, but was later deemed ineligible, the Republican Executive Committee would pick an alternative. Shaffer is part of a local political group, the Ronald Reagan Republican Assemblies of Florida, that has an ongoing, separate, legal case against the Republican Executive Committee.
But then Craig asked a pointed question to Kaney: what if New Jersey made a mistake? Is that enough to keep Pollinger off the ballot? "Yes," Kaney replied, New Jersey's mistake not being a defense.
Craig asked what the effect was on New Jersey, once an individual registers to vote in Florida. "Nothing," Kaney said. Craig was skeptical.
"So there's nothijng that stops people from registering in two states" absent informing the previous state of their change, Craig said. Kaney said that's a different issue. The case he's arguing is party loyalty, not eligibility to vote in one state or another, since it would have been unlawful of him to go back to go back to New Jersey and vote there. No one is alleging that Pollinger did that. But that's a separate issue, Kaney told Craig.
At 1:30 p.m., Craig said he'd take all those matter under advisement and give both sides an opportunity to define the legal issues more clearly by Thursday, end of business, suggesting that Craig would render a decision the following day, in keeping with the end of the qualifying period for the primary ballot. Court then adjourned.
But Craig is not required to render a decision this week, or according to any specific timeline. Absent such a ruling, and because of the timeline, Pollinger may qualify for the ballot as a Republican, pending legal changes to the contrary, at which point the supervisor would have to reflect the changes either with an addendum to the ballot or with special directions to voters that Pollinger does not qualify as a Republican candidate. In that sense, today's inaction by the court–at least on the merits of the case–was more a victory for Pollinger, who wanted to ensure that his name would appear on the ballot as a Republican, than for Shaffer, who was seeking a stop to that process today. Still: Craig may yet do just that this week.
Immediately after the hearing before Craig, Pollinger was at the Supervisor of Elections Office, signing his oath as a Republican, and qualifying himself for the ballot. A giant, invisible asterisk hung over the proceedings, pending Craig's next move.