Palm Coast Accident Lawyers
Helping Injury Victims throughout Flagler and Volusia County

The personal injury attorneys at Politis & Matovina understand the anxiety and pain often associated with a legal claim following an accident. With over a century of combined experience, and a detailed knowledge of the personal injury compensation recovery process, we work to provide the guidance injury victims need to seek compensation for losses sustained in Flagler County and throughout Central Florida.
Over the years, we have successfully recovered compensation for countless clients who have suffered losses in a wide range of situations, including:
If you have been injured or have lost a loved one, contact us immediately.
Personal injury claims can be frightening and frustrating to deal with alone.
Whether you have been injured in an accident or lost a loved one do to another party's negligence, it is important to understand your options for pursuing recovery.
Our Flagler County accident attorneys work diligently to provide personalized representation to each and every client. By carefully examining your case and tailoring our guidance directly to your unique needs, we work to improve your chances of obtaining compensation as quickly and painlessly as possible.
[media id=272 width=300 height=250]
Our work on behalf of countless accident injury victims has earned us a reputation for never backing down from a fight with insurance companies. Our aggressive approach combined with compassion toward our clients has earned us a number of word-of-mouth referrals and has helped numerous clients obtain compensation for their medical bills, lost wages, pain and suffering and continued care stemming from an accident.
If you have been injured, do not hesitate to consult an attorney. Contact our office online or call (386) 246-0911 to schedule a free consultation to discuss your personal injury concerns in the safety of our office, conveniently located in Flagler County.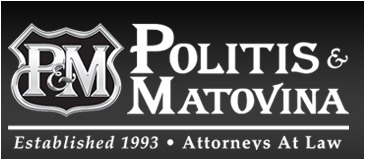 Our Office Locations:
Flagler Office
20 Airport Road #A Palm Coast, FL 32164-2318 – Telephone: (386) 246-0911 – Fax: (386) 437-0966
Port Orange – Main Office
730 Dunlawton Avenue, Port Orange, FL 32127 – Telephone: (386) 767-0911 – Fax: (386) 767-1994
Orange City Office
1200 N. Volusia Avenue, Orange City, FL 32763-8320 – Telephone: (386) 228-0911 – Fax: (386) 775-1994
Ormond Beach Office
170 East Granada Blvd., Suite A Ormond Beach, FL 32176 – Telephone: (386) 671-0911 –  Fax: (386) 672-8337


The Florida personal injury attorneys at Politis & Matovina P.A. represent injured people and their families throughout Central Florida including Port Orange, Daytona Beach, Deland, Flagler Beach, Palm Coast, New Smyrna Beach, Deltona, Debary, Orange City and St. Augustine. We are also dedicated to representing out of state travelers injured on I-95, the I-4 corridor and other local roadways.