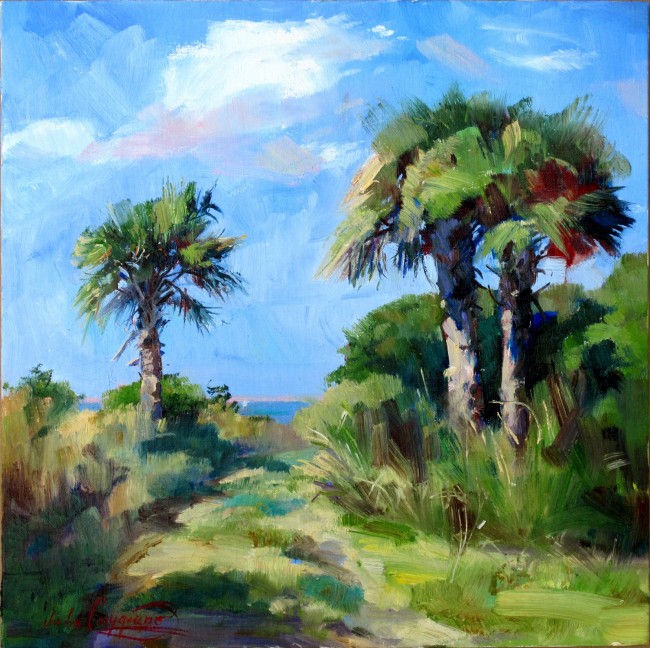 John Caggiano's art "Down and Around" was chosen as the poster art for this year's Canaveral Seashore Plein Air Paint Out in New Smyrna Beach October 21-27. (Plein air is French for in the open.)
The piece, "Down and Around," was painted at the end of Canaveral National Seashore, below the area at the turnabout. John remembered that he had been looking for a new location to paint. He walked down the dirt road that he knew stretched for a mile or so. The vegetation quickly became thick, blocking all views, so he turned back and then he saw it.
"My composition for 'Down and Around' was right there before me – two palms on the right, one on the left, road in between…perfect,"  Caggiano said. "With a little push here and there on the design and composition, I began to paint in the 90-plus degree heat. The paint flowed. My spirits rose. The painting was a success."

Throughout the six-day Canaveral Seashore Plein Air Paint Out event, there will be many opportunities to enjoy the seashore and to be a part of the art that is created. Visitors can talk to the artists as they paint unique works of art at the many picturesque locations.
The artists will be painting from dawn to dusk Oct. 21-27 during the Paint Out, and all of the works created will be for sale. As the paintings are completed, they will be hung in an on-site "wet room gallery" (open 10 a.m-5 p.m.) at the Eldora House at Canaveral Seashore and the newly remodeled Chamber of Commerce in New Smyrna Beach.  There will also be additional opportunities for art lovers and patrons to view and purchase paintings completed each day during special sponsored or ticketed evening events.
Caggiano was born in Brooklyn, N.Y., where he studied pre-engineering at Brooklyn Technical High School. He received a B.A. from Brooklyn College and an MFA from Pratt Institute, both with  honors. His education was supplemented by courses at The Brooklyn Museum of Art and the Studio and Forum of Stage Design in New York City.
He relocated to Rockport, Mass., in 1980, drawn to the physical beauty and unique quality of Cape Ann's light. He travels extensively in the United States and abroad, painting on location. This plein air approach enables him to capture the essence of the time and place that he interprets into his bright and colorful "Impressionistic-realism" style. The work is further enhanced by his daring use of a palette knife, enhancing the effects of his brushwork.
"Painting for me is the bold and dynamic use of color that infuses life into the subject of the painting," Caggiano said. "Color is the lifeblood of the painting. Nothing stimulates more than its pleasing harmony, whether strongly applied or toned and tranquil."
Caggiano loves the sea. He has always lived near it and feels withdrawal symptoms when traveling on one of his landlocked painting trips. Although he's been on an occasional sailing trip, his most intimate experience with Neptune has been as a crew member on a commercial purse-seiner in his youth. He is now more than satisfied to have his feet on dry land, recording the activities of others with brushes and paint. Caggiano has maintained a gallery and studio on Bearskin Neck in Rockport since 1981.
For more information anout the paint out, please visit www.FriendsOfCanaveral.com.