Flagler County government knew it was buying a clunker six years ago today when it paid Daytona Beach developer Mori Hosseini $5.5 million for the private utility serving the Plantation Bay development Hosseini built toward the south end of the county, off of U.S. 1. It just didn't know–or didn't want to know–how much of a clunker it was.
The county bought the utility even though it was demonstrably overpriced, according to an analysis by the Florida Government Utilities Authority, and even though it knew that repairing the utility would cost millions of dollars more. It just didn't know–or didn't want to know–how many millions.
But it's been finding out since. Total costs now may range up to $28 million, according to Commissioner Joe Mullins.
More critically: a sewer tank is "buckling," "bending," "indenting"–to use county officials' words, including those of the county engineer–and is said to be in such critical need of repair that the county commission on Monday voted to ask the Legislature for a $10 million appropriation to fix the sewer plant, but without really knowing why the current emergency repairs the county says it's undertaking (with a source of money that has itself not been specified) won't suffice for now.
It was a hasty vote on top of an earlier $2 million request from the Legislature for the same utility, but a different aspect of it. All that for a utility designed to run as its own "enterprise fund," meaning that Flagler County taxpayers at large (let alone state taxpayers) are not supposed to be paying a dime to underwrite operations, repairs or new construction at the utility. Only the utility's rate-payers are.
That's not been true, however: both the Legislature and the St. Johns River Water Management District have awarded Flagler County substantial dollars toward repairing the Plantation bay utility, the county itself is financing a loan to pay for repairs, while county staff is routinely used to work on the utility. Getting a further appropriation from the state for the utility also means diverting money to Plantation Bay that may otherwise have gone to broader needs in the county, the legislative pie being finite.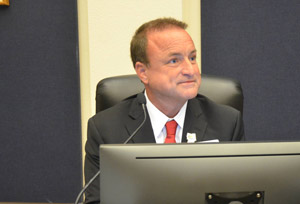 "I want to vote for this but I don't think we really understand the budget implications that this is going to mean to us in the next year or two," Commissioner Dave Sullivan said before voting on the $10 million request, echoing trepidation by Commission Chairman Don O'Brien over the vagueness and shape of the proposal as it was rushed up to the commission, with little administrative vetting, by way of Mullins.
"We need to hear from experts and staff on this," O'Brien said. "We have to know what we're asking for, we can't just say we need help and not have it specifically identified. The appropriations process, these bills are very specific. I'm not saying we shouldn;t prioritize it and get going on it, but I don't know how you do that at this late, last minute without having specific information."
Mullins held two community meetings with a group of Plantation Bay residents he referred to as a "focus group," pledging to them that there'd be action and transparency on their needs after touring the plant and discovering what he considers to be an emergency situation. 
"We are taking a huge risk every day," he wrote commissioners in an email last week. "I am told  the manager and former commissioner of district 4 knew about this issue.  I am not sure if you all did. The waste water tank  could bust and raw sewage would go all over the area at anytime. " He attached several images. "As far as I know, This issue has never been addressed or spoken about to the commissioners  and it by far is the most important."
Mullins  came to the commission's meeting Monday claiming that the $10 million request would have to be placed by Tuesday to be valid–a deadline O'Brien found dubious, considering the fluidity of legislative appropriations–and the fact that, committees aside, the legislative session doesn't start until March. County Engineer Faith Al-Khatib and Facilities Director Heidi Petito, briefing the commission on the utility's projects and needs, had proposed a workshop. Mullins didn't want to wait.
That was the context of Sullivan's discomfort. "I'm really worried that we're going to get ourselves in trouble here without having a little more" time, he said. He preferred to ask lawmakers for a "placeholder" until the county could vet what complications may be ahead.
"I know that's not what people want to move out, and I think we could do some design, but I'm really worried about saying $10 million for wastewater without specifying it more."
Staring at him was a chamber-full of Plantation Bay residents who'd come to see some action, though not nearly that specific of an action: the half dozen residents who'd spoken to the commission did so with remarkable restraint, conceding that what's done is done ("getting stuck in the past isn't going to get me the good water that I want," Lisa Hill told commissioners) but also looking for more urgency on the part of the government to get something done.
In fact, things are getting done, Petito and al-Khatib tried to impress on commissioners. Just not on the wastewater side. 
"We have been working with this project for a very long time, we advertised to replace the whole system out there in 2017," al-Khatib said, and phase one was awarded, with approval from the Department of Environmental Protection. That's under construction. As for the wastewater treatment tank, "there is a temporary solution right now, we are working on fixing it, but for a permanent solution we have to come up with the funding."
The county recently got a $6.1 million bid to build a reverse-osmosis plant, to be awarded "sometime soon." The funding would be acquired through a state loan.
Mullins spoke in more dire terms. "This sewer issue is very, very big., because if that thing goes, it's going to leak seepage into all over, and it could go any day," he said. "No one can guarantee me that it won't happen." He said the problem was known since the time the county bought the utility and that it's gotten worse since. But at least in degrees, his description of the problem was at variance with that of county staff's.
In the absence of more concrete analysis at the ready–what would have been the subject of a workshop, for example–the matter was reduced to a political decision: five commissioners facing the constituency of a powerful subdivision. They voted to send the $10 million request to the Legislature, knowing the request was not committing them or the county's budget to anything other than that extended hand. But it made Plantation Bay residents feel better–for now.