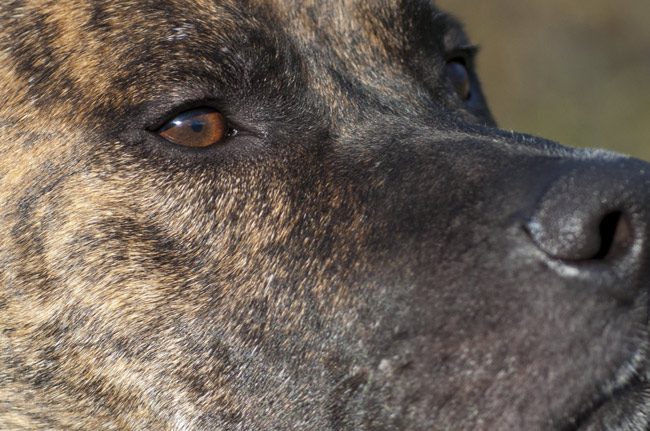 John Iles is a 76-year-old Palm Coast resident who delivers for Napoli Pizza, the business at Belle Terre and Palm Coast Parkway. Iles was on a delivery run in the P-Section early Thursday evening, but ended up at Halifax hospital in Daytona Beach after being attacked in the face by a pit bull boxer mix at one of his delivery destinations.
Jennifer Pepe, the 39-year-old resident at 25 Perkins Lane, had placed the delivery order. A little before 6 p.m., Iles walked up to the front door. As Pepe opened the door, "her dog squeezed between her legs, and attacked John," a Flagler County Sheriff's report states. "She advised that her dog [Charlie] jumped onto John, and she is unsure if it was his paws or mouth that caused the damage."
Sheriff's deputies, Flagler County Fire Rescue and Palm Coast Fire Department personnel responded. Paramedics were "almost immediately advising that John was going to be transported to Halifax," the report states, suggesting that the injuries were serious: lesser-injured patients are usually transported to Florida Hospital Flagler.
Iles was sitting on the front porch when deputies arrived, "with multiple lacerations to his face," the report states, with Pepe "attempting to wipe up blood." A Napoli Pizza employee responded to the scene to retrieve Iles's vehicle.
Charlie is a five and a half year-old brown and white male, about 70 pounds, according to the owner. She told deputies that he's only been publicly aggressive one prior time, about three years ago, when Charlie bit another dog. She showed proof of the dog being current on required shots.
Charlie would not have been registered as a dangerous dog after biting another dog: under Florida law, a dog would have to bit another animal twice, off its own property, to potentially be declared dangerous. But it takes only one aggressive, unprovoked attack of a human being to possibly lead to such a declaration. That's up to Palm Coast Animal Control, which investigates animal bites. Various criteria must be met before a dog may be declared dangerous, an unprovoked attack being only one of them. Meanwhile, Charlie was placed on a 10-day quarantine, but not removed from the property. The dog may not go outside except to relieve itself, and must be on a leash to do so.
Even if the dog is declared dangerous, a first-time designation does not require the dog to be removed from a property, though it does entail strict restrictions on the dog's freedom of movement and other requirements. Before animal control's decision is formalized, a dog's owner facing such a possibility may appeal the decision to a city hearing officer.
Dog bites and dangerous-dog issues are currently at the forefront of Palm Coast government issues because of the notorious case of another dog, "Cooper," that has so far been declared dangerous three times, and has been condemned to death. Its owner has appealed the decision to circuit court and supporters are pleading with the city–which says has no authority in the matter at this point–and the court to spare the dog's life and send Cooper to a refuge for dangerous dogs instead. The case goes before a circuit judge in less than two weeks.